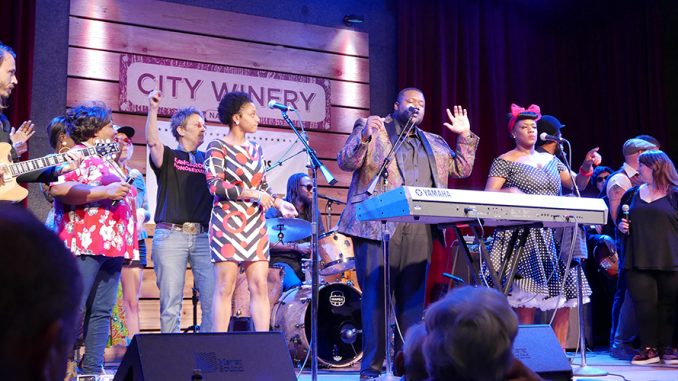 By Brian Wise
Americana Music Festival & Conference – Nashville, TN – September 11 – 16, 2018
Arriving in Nashville at any time you might get the impression that there is an Americana Festival going on. Even before this year's official starting date we had already seen Ben Harper and Charlie Musselwhite as well as Lucero and Langhorne Slim at the Ryman Auditorium and been down to Chattanooga for a day of the Moon River Festival.
With more than 250 artists across more than a dozen venues the Americana Music Festival and Conference has grown substantially in recent years, yet it is still manageable and relatively comfortable despite the 50,000 or so punters who are claimed to attend over the six days. Wristbands that enable access to the evening shows are at an absolute bargain price of US$75. Conference registrations that also include venue access and entry to the special sessions at the Country Music Hall of Fame are more expensive but early bird rates were as low as US$199 for this year. (The only glitch being that the RSVP emails were sent out at about 3.00am Eastern Australian time, meaning that most Aussies might have missed the chance to go). Ostensibly, the conference is of most interest to music industry personnel but there are plenty of sessions for the die-hard music fan as well.
The biggest problem you are likely to have during Americana is balancing competing demands. Most nights you have between 12 and 16 venues to choose from with at least 4 acts at each per night. (At the Cannery you have the Ballroom, High Watt, Mercy Lounge and One all in the same building!) If you are also a conference delegate you could be hopping from numerous industry functions in the afternoon and early evening to gigs at night, meaning at least 12 hours of music a day. Believe me there were people I know who put in those hours every day!
By the festival's official start on Tuesday September 11 we were at the City Winery to see John Prine, after which it was difficult to imagine that anything could possibly be better. Though it was just an hour and a quarter, this was one of those gigs that makes it worth the airfare alone.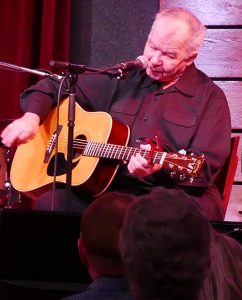 Prine's only Australian appearance was back in 1993 when he was forced to do a shortened set at the first Womadelaide festival. If you get the chance to see him, then you better make sure you take it. Last year I was unable to get in to see Prine present his 1971 debut album at The Station Inn with the help of Jason Isbell and Amanda Shires. There was no way I was going to miss this, even if we did have to line up at 4.30pm, two and a half hours before showtime!
Accompanied by some friends and collaborators, including Dan Auerbach of the Black Keys, Prine showcased his latest album The Tree of Forgiveness. Prine claimed that he would perform the album's songs in order because it was the only way he could remember the lyrics! While it might only be 33 minutes long, the new album exhibits all the qualities that have made Prine so beloved: his ability to sum up human foibles in a single line and a wry, if not wicked, sense of humour.
Prine steered the show but he gave a lot of room for his colleagues. Along with Auerbach on guitar and vocals, Roger Cook played acoustic guitar, Pat McLaughlin was on mandolin and acoustic guitar, Keith Sykes played acoustic guitar and Dave "Fergie" Ferguson was on stand-up bass. Apart from Ferguson they all got a chance to share the lead vocal duties.
Highlights included Prine's pleadingly beautiful 'Summer's End,' McLaughin on 'Crazy Bone' (aka 'Egg & Daughter Night, Lincoln Nebraska 1967'), Auerbach on 'Caravan of Fools' (his co-write with McLaughlin and Prine) and 'Waiting On A Song' (which Prine helped write). Then there was the wry 'The Lonesome Friends of Science (Prine), 'When I Get to Heaven' (Prine) and one of the five songs not from the latest album, 'Paradise.'
Approaching 72 years of age, Prine's voice has aged like Dylan's and he has settled into it. His stories remain as self-deprecatingly amusing as his delivery. Prine's songs not only invite you to see the world a little differently but they also make the ordinary become extraordinary. It is like sitting at the foot of a sage.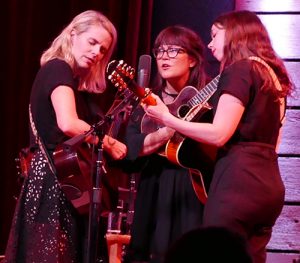 It might have been difficult for any act to follow John Prine but rising trip I'm With Her did an excellent job. Comprising Sarah Watkins, Sarah Jarosz and Aoife O'Donovan – all accomplished musicians in their own right – they didn't take long to charm the audience. It is easy to understand how they have quickly become this year's sensation. It was difficult to understand how they didn't win the Duo/Group of the Year award the next night at the Americana Awards (then again they were up against Jason Isbell!).
On any other night we would have stuck around to see Jerry Douglas and then Mandolin Orange but Caleb Cadle was on at The Local and we Ubered over there to catch his late set. The fact that things were running late gave us the chance to see Jacob Thomas Jr and his band from Lafayette. This lead to an observation that was to crop up time and time again this week. Thomas has been in Nashville for a decade and was quite good, but like many of the acts you see here he had two or three great songs and a killer band. Not even this is enough to get you into the upper echelons here.
From Winston-Salem, North Carolina,  Caudle has been around about as long as Thomas but has now has 7 albums under his belt. The latest album Crushed Coins is really impressive and this was reflected in his show this evening. In just 45 minutes Caudle showed why he is getting attention with a batch of great songs, including a couple of new ones, and the standout from is album. 'New York City In The Rain.'
On Wednesday it was conference time. We spent the first hour at the 'Australia – It's More Than You Think' panel on touring our wide brown land: basically, an information session for American musicians auspiced by Sounds Australia. Chaired by Mark Moffatt, the panel also contained Jeremy Dylan, Fanny Lumsden and Ruby Boots (who now lives in Nashville). One major takeaway seemed to be that Australia is too big and too dangerous to tour: if the travel expenses don't get you then the snakes and spiders will.
Then we spent a delightful hour in the company of kd lang who was being interviewed by Ann Powers of NPR and who was to be honoured at this evening's awards. It would be nigh on impossible not to like lang. I have seldom seen a musician of such high profile with such a humble attitude. Having interviewed her face to face in the past I am sure that lang's personality is genuine but how she has maintained this over so many years is somewhat of a miracle (though she is a practising Buddhist, which might help in this industry). Easily, one of the best session of the conference.
That evening the historic Ryman Auditorium hosted the annual Americana Honors & Awards. In the past, I have claimed that this should be the model for all music awards ceremonies but over the past several years I fear that it has veered off course. It is now way too long at three and a half hours, it was plagued by technical difficulties and the new hosts, the Milk Carton Kids, Kenneth Pattengale and Joey Ryan. They replaced the effusive Jim Lauderdale but were possibly a little too laid back. In the past few years they have been hilarious when padding out time. This year they seemed stilted and a little unsure. Put that down to first time nerves. Or maybe use the Milk Carton Kids and Jim Lauderdale alternating on the night.
Also, why do the presenters have to make deep and meaningful statements about the music or the category but give no information about each of the nominees? This is getting into Oscar and Grammy territory where you know they are just reading the autocue. The very best Americana awards show was the one that went for just 2 1/2 hours a few years ago. (Also, does the filming of the event interfere with the actual presentation?)
The technical faults with the sound, especially when Irma Thomas had no vocal mic and she was forced to repeat 'Time Is On My Side,' were totally unforgiveable. Even Emmylou Harris stood up in the audience mid-song to remonstrate with the sound crew.
Lifetime Achievement Award honourees – including Thomas, kd lang, Buddy Guy, Rosanne Cash and Olivia Records pioneers Judy Dlugacz and Cris Williamson – were all worthy. This recognition is always one of the best aspects of the evening. It has also been good in recent years to see the Americana organisation looking outwards to include soul and blues but you would have to wonder why there is no category for that most American of music – jazz.
Then there is the Jason Isbell problem. Winner in three of the four categories for which he was nominated, Isbell seemed almost embarrassed at the fact that he scoops the awards every year. In their opening, the Milk Carton Kids even included a song which referenced this when they sang, 'just open the envelope and give the award to Jason Isbell.'
In fact, a few years ago when I interviewed him and mentioned his dominance at these awards, Isbell was also wondering why. You could argue a long time about whether Isbell's latest album was the best Americana album of the year. (Someone in the Americana organisation must get over a serious fixation or we the voters need more choices).
There were plenty of great performances which is why most people would attend and the line-up is just about the best quality you can possibly get anywhere in one evening. With a backing band led by Buddy Miller – and with Don Was on bass and the McCrary Sisters on backing vocals – you knew it was going to sound brilliant. John Prine (Artist of The Year again) shone with 'Come On Home' and Brandi Carlile was dramatically impressive with 'The Joke.' Irma Thomas was superb on 'Time Is On My Side' (at the second take) and with War & Treaty on 'Chain of Fools' as a parting tribute to Aretha at the end of the show.
On Thursday, we again ventured to the Conference to preview the new Ken Burns documentary on country music. This was presented by Dayton Duncan, its writer and lead producer who talked about it and showed four excerpts. Just a taster of the 8-part series was enough to persuade me that this will be a must-see next year.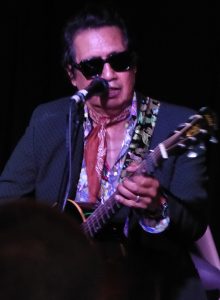 Late that afternoon we arrived at The Local to see a set from Texas music legend Alejandro Escovedo whose latest album The Crossing was recorded with an Italian band that he happened to have here with him. The album chronicles the story of two young men – one from Italy, the other from Mexico – who come to the U.S. looking for America in the sounds of rock and roll. It is no doubt a contemporary theme here. I'd never thought of an Italian band as being able to play American roots music but why not? They were all great players.
Friday epitomised the sorts of clashes you can have at Americana. While we could have gone to a Sounds Australia function at the Filming Station, Anne McCue and myself were recording Off The Record at Sound Stage Studios with an array of special guests in front of an audience. It was great to catch up with Tanya and Michael from The War & Treaty who have a whirlwind schedule this festival but still dropped in to chat and sing a song.
We also spoke to Eliza Gilkyson, Robbie Fulks (currently touring with Linda Gail Lewis) and Cedric Burnside, Mike Farris the Wild Ponies, Ben Douglas, Angela Perley and Ellen Starski. Our Aussie guests included the Laura and Andrew of the Weeping Willows, William Crighton, Jordie Lane and Ruby Boots
Three and a half hours of recording and an hour of production to send the show back and we were free to race off to the Ryman to see the Old Crow Medicine Show supported by Canadian bluegrass group The Ghost of Paul Revere. You have to hand it to Old Crow – they have an incredible amount of energy which transfers directly to the audience. Before they ended we headed off to Cannery Row to see Buddy Miller & Friends at the Ballroom and then Marc Ribot's trio (a version of his Ceramic Dog) in a midnight show upstairs at The High Watt.
Buddy is somewhat of the local hero here and he introduced Kinky Friedmam as one of his special guests for an appearance that included a version of 'Sold American' and displayed that, apart from his weird sense of humour, he has written some really great songs (and ones that are a lot more sensitive than he is given credit for).
Marc Ribot's set was fantastic and, along with John Prine, one of the two highlghts of the week for me. He had to cancel his recent Australian tour so I was exceptionally keen to see him after the release of recent album showing two sides of his musical personality. Armed with Ches Smith on drums and Brad Jones on bass Ribot, seated and with charts scattered around him, powered through an incredible 45-minute set that left everyone breathless – even those who didn't have a clue what was going on. Smith still looks way too young to have been around for more than a decade but his technique says otherwise! This is one powerhouse trio. However, this music is not necessarily for everyone and some might find it challenging though I am happy to see the definition of Americana expanded to include it.
Ribot played selections from his latest album Songs of Resistance 1942-2018 (which includes guests such as Tom Waits and Meshell Ndgeocello) and from the latest album with his avant garde jazz outfit Ceramic Dog, Y R U Still Here? I am not sure I will ever see a better guitarlst than Ribot. Sure, he is lightning fast (and amazingly so) but he is also incredibly rhythmical so a defiant song such as 'Muslim Jewish Resistance' also becomes exceptionally funky! 'We Are Soldiers' from Songs of Resistance, obviously lacked the guest vocals of Fay Victor who appears on the album but Ribot made it no less compelling. Ribot's short but powerful set still resonates.
Saturday was almost a rest day, spent first downtown at the Filming Station for an Ovation Artists reception with Lera Lynn, Mike Farris, Beth Nielsen Chapman and others, then in East Nashville for the Aussie BBQ at the Five Spot, which has become something of a tradition.
Sunday began early at the City Winery, arriving at 9.15am to line-up to make sure we got a seat for the 11.00am Gospel Brunch featuring The War & Treaty. A fabulous morning and early afternoon with some pretty good fried chicken!
We just had time freshen up before we headed downtown to the Ascend Amphitheater for Emmylou Harris's Woofstock, set up to help shelter dogs and youths at risk.  This is  a relatively new venue where last year we saw Van Morrison put in one of the best shows I have ever seen him give.
We thought we might be too early arriving at 5.00pm this time but that is when the music kicked off and stretched out for six hours. Emmylou was the host and appeared at regular intervals to inform us of the cause and sometimes fill in time. Elise Davis kicked off proceedings and was impressive. British duo Ida Mae followed and were not as good (is derivative too damning a criticism?).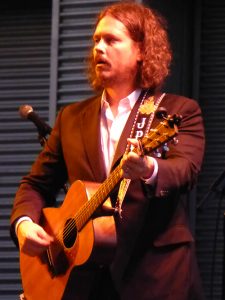 The Lone Bellow were entertaining but things really kicked into gear with Jon Paul White, one of the younger musicians helping to make Nashville hip. White has a voice that is so good that at times it is reminiscent of Roy Orbison. His song, 'What's So Good About The Good Old Days' says it all about Nashville. Jerry Douglas and Tommy Emmanuel were entertaining in a set of covers, the highlight being a totally instrumental version of 'Shenandoah' on which both shone.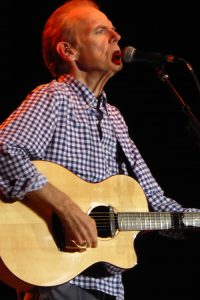 John Hiatt offered a terrific nine-song set with The Goners during which he played no songs from his new album The Eclipse Sessions (maybe because Sonny Landreth and Dave Ransom hadn't played on it). What we got was a great selection of most of Slow Turning which they have been touring on. This was brilliant. Jamey Johnson deserves to be one of the biggest selling country artists but I am not sure that he is. Great voice, great songs and an absolute presence. His song 'In Color' is a classic but there is plenty more where that came from. I hope he tours Australia soon.
Emmylou closed the show with an interesting selection of some of her classics, which she had obviously gone top some trouble to choose so as not to make it predictable: 'Guitar Town,' 'Two More Bottles of Wine,' Paul Simon's 'The Boxer,' 'Ooh Las Vegas' which she once did with Gram Parsons.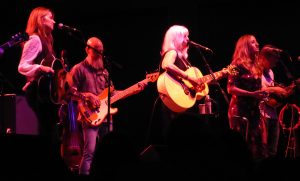 Harris's voice, obviously affected by her MC duties took a few minutes to warm up but she was soon at her best and she was later helped out by Margo Price and Matraca Berg. Apparently, Woofstock is planned to be an annual event anmd om the strength of this show should become one of the key events of Americana.
Next year's Americana is set for September 10-15. Will we be back? You bet!