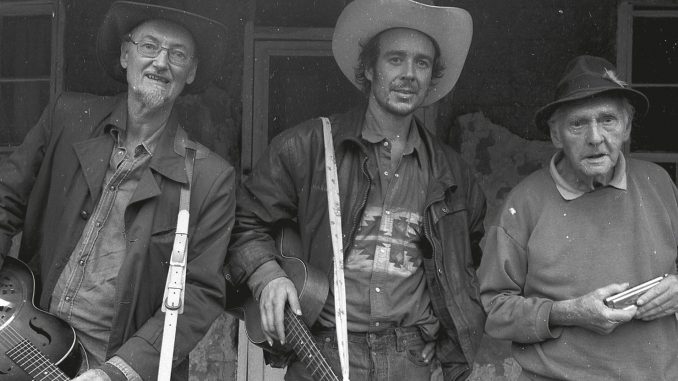 My Little Sweet Aussie Sweetheart is a sunburnt rambler and is as refreshingly humble as the man behind the voice that croons it.  It's a deceptively simple tune, but therein lies the charm, a timeless little lovesong that catches in your bones, sung in Archer's matchless and haunting voice.  The track was lovingly engineered by Alex Bennett (CW Stoneking) and recorded straight to tape, resulting in that perfect lo-fi feel.  Archer was honoured to put his spin on the classic, saying in his measured and thoughtful way, "It feels damn good to bring an old fair dinkum forgotten Australian love song out again.  It's a huggin' your Grandma kind of a song – livin' and dyin' music, somethin' or nothin' music."
::Rhythms is proud to premiere Archer single MY LITTLE SWEET AUSSIE SWEETHEART::
Archer has announced an epic national tour offering over 65's free tickets.) He'll also be visiting and playing for the folks in nursing homes in the towns he's visiting on tour.
FRI 17 MAR | OLD CHURCH ON THE HILL, BENDIGO VIC | ALL AGES
Tickets available from http://www.bendigobluesandroots.com.au/event/archer-livethe-old-church-on-the-hill-wgraciana-holland/
SAT 18 MAR | MAJOR TOM'S, KYNETON VIC | 18+ | Tickets available from  https://www.trybooking.com/OSUH
FRI 24 MAR | SMITH'S ALTERNATIVE, CANBERRA ACT | ALL AGES
Tickets available from http://www.smithsalternative.com/events/archer-27653?d=24%2F03%2F2017+9%3A30%3A00+PM
SAT 25 MAR | TOOSES, BOWRAL NSW | 18+
Tickets available from http://www.moshtix.com.au/v2/event/archer-plus-she-makes-pop/94213
WED 29 MAR | JANE'S, WOLLONGONG NSW | 18+ | DOOR SALES ONLY
THU 30 MAR | THE GRAND JUNCTION, MAITLAND NSW | 18+ | FREE
FRI 31 MAR | THE STAG & HUNTER, NEWCASTLE NSW | 18+ | FREE
SAT 1 APR | DJANGO BAR, SYDNEY NSW | 18+ | Tickets available from https://www.stickytickets.com.au/49823
SAT 8 APR | WEBB & CO, BATHURST NSW | 18+ | FREE
WED 19 APR | THE CAMBUS WALLACE, GOLD COAST QLD | 18+ | FREE
THU 20 APR | CAFE LE MONDE, NOOSA QLD | 18+ | FREE
FRI 21 APR | THE MILK FACTORY, BRISBANE QLD | 18+
Tickets available from http://theharbouragency.oztix.com.au/default.aspx?Event=71227
SAT 22 APR | BISON BAR, NAMBOUR QLD | 18+ | DOOR SALES ONLY
SUN 23 APR | PAPER MOON CAFE, BRISBANE QLD | ALL AGES | DOOR SALES ONLY
MON 24 APR | NO.5 CHURCH ST, BELLINGEN NSW | 18+ | DOOR SALES ONLY
WED 26 APR | ELEMENT BAR, COFFS HARBOUR NSW | 18+ | FREE
THU 27 APR | TAPP BAR – PORT PANTHERS, PORT MAQUARIE NSW | 18+ | FREE
FRI 28 APR | HASTINGS HOTEL, WAUCHOPE NSW | 18+ | FREE
SAT 29 APR | FOX DEN CAFE, GLOUCESTER NSW | 18+ | FREE
SUN 30 APR | FLOW  BAR, OLD BAR NSW | 18+ | FREE
FRI 5, SAT 6, SUN 7 MAY | LOST HIGHWAY FESTIVAL, KARUAH NSW | ALL AGES Tickets available from http://www.ticketebo.com.au/karuah/lost-highway-karuah-bluegrass-music-festival-2017.html
TUE 9 MAY | OLD BANK BAR, DUBBO NSW | 18+ | FREE
THU 18 MAY | THE GRACE EMILY, ADELAIDE SA | 18+
Tickets Available from http://www.moshtix.com.au/v2/event/archer-my-little-sweet-aussie-sweetheart-7-inch-tour/94180
FRI 19, SAT 20, SUN 21 | PENOLA ARTS FESTIVAL, COONAWARRA SA | ALL AGES | FREE
WED 24 MAY | THE LOFT, WARRNAMBOOL VIC | 18+ | DOOR SALES ONLY
Tickets available from https://tickets.oztix.com.au/?Event=71432&utm_source=Oztix&utm_medium=Website
FRI 26 MAY | SOUND RECORDINGS, CASTLEMAINE VIC | 18+
Tickets available from https://www.eventbrite.com.au/e/archer-7-record-release-show-the-diggers-store-tickets-32392300242
SAT 27 MAY | THE GASOMETER, MELBOURNE VIC | 18+
Tickets available from http://gasometer.oztix.com.au/?eventId=71270