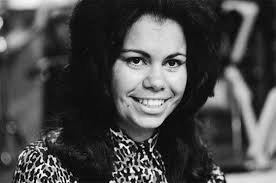 Rhythms are very sad to hear that Auriel Andrew has died today.
Here is a statement from CLINTON WALKER of Buried Country…
AURIEL ANDREW (1947 – 2017)
It is with great sadness we have to announce that Auriel Andrew has passed away. Auriel had had some health problems for a while but, typically, she brushed them aside in order to be part of the the first few Buried Country shows late last year. She died peacefully, surrounded by loving family and friends, on January 2 in hospital in Newcastle, where she was admitted in mid-December with advanced cancers spreading throughout her body. She was 69, and is survived by her husband Barry Francis, her children Serina and Reuben, 13 grandchildren, seven great-grandchildren and her sister Rhonda, plus the sprawling extended family that is a characteristic of Aboriginal life in this country.
Auriel is survived also by her legacy: by the wonderful music she made all through her life, and the courage and dedication it took to make that music starting at a time in the late 1960s when Aboriginal people were barely seen or heard in broader white Australia; she will be remembered and celebrated for that, by the great number of people who were touched by her and her songs, and she will be remembered for her selfless generosity and the inspiration that that provided too; and she will never be forgotten for her cheeky sense of humour that even as I sadly squeeze out these words, can still bring a smile to my face!
Auriel was an Arrernte woman, born the youngest of seven children in Darwin in 1947. She grew up in Alice Springs and it was as if ordained that she would go into showbusiness. As a singer, she had all the assets – and gags! – of a classic old vaudeville hoofer, and knowing her as I was privileged to do, I know she would be chuffed at that tag.
Raised in the bush by her mother and her 'Dad Simmo', as she related in the songs she belatedly started writing only recently, she only narrowly averted being taken away because her step-father refused to leave her in town, where the authorities could easily have stolen her as they did so many other children.
After making her stage debut at the Italian Club in Coober Pedy in 1968, she set out on her own, a slip of a girl at only 21, to go Adelaide to try and launch herself as a professional singer. And this she did, sustaining a successful career for the next five decades; yet though Auriel won numerous garlands through her lifetime – including an OAM – her achievements, given their degree of difficulty, still warrant greater recognition.
Auriel Andrew did everything and more that an Aboriginal artist could do in the 70s and 80s, and I've put that that way because the opportunities she was presented with were lesser than those that white artists would have enjoyed at that time. In Adelaide in the early 70s, she became a regular on national TV, on Reg Lindsay's Country Hour – she was, it has to be said, a babe! (as the clips on YouTube show) – and in 1971 she released her first album, Just for You. It was only the second album made by an indigenous woman in Australia.
​She moved to Sydney in the mid-70s, and thence on to Newcastle. She toured the country with legends like Jimmy Little, Chad Morgan and Brian Young, who called her 'Big Mamma'. She played the Opera House and the Tin Sheds, and did Playschool and your local pre-school. She recorded her second album in Tamworth in 1982, but it was when she cut her third, Mbitjana, for CAAMA in 1985, that she really came into her own. With its title that of Auriel's skin-name, the album saw her establish herself as the prime interpreter of the Aboriginal country music canon, singing songs by groundbreaking writers like Bob Randall, Herbie Laughton and others. She made her own Randall's anthem of the stolen generation "Brown Skin Baby."
I first met Auriel I suppose it was around the end of the 80s, after I'd gotten to know a few of the folks in the Koori country community, and I got to know her better through the 90s as I worked more on Buried Country. Like practically all the artists profiled in Buried Country, Auriel welcomed this whitefella into her world with open arms, and this was humbling for me, not to mention illuminating, and a general delight. If I said she was always friendly, funny and modest that shouldn't be to suggest she wasn't also equally forthright, and proud of who she was and what she'd achieved. It's probably worth adding at this point too – as Auriel herself would doubtless agree, if not without the addition of some sardonic qualifying wisecrack – she was always given great support and encouragement by her husband Barry, and her kids, Serina and Reuben, and by so many of her fellow country singers like Jimmy Little, Col Hardy, Brian Young and Roger Knox. Together with Roger Knox, in fact, she led what might be called the first family of Koori country, with the way her daughter Serena married Roger's son, guitarist Buddy Knox. Son Rueben too followed in his mother's footsteps, and is today a musician working on an international level as a member of the Viper Creek Band.
When Buried Country was effectively reborn in 2015 with the mounting of the further dimension of its stageshow adaptation, there was never any question that Auriel had to be involved, especially after her 2013 album Ghost Gums saw her finally penning some brilliant autobiographical songs of her own. In retrospect now, I can imagine she was already unwell even then, but again, knowing Auriel as I do, I know there was no way she was going to miss out – there's no show without Punch, after all! – and indeed, I'm just so pleased she got this opportunity to bask a bit, for this one last time, in the spotlight to which she was born.
The Buried Country show had its sort of off-Broadway premiere in Newcastle in August not least because this was Auriel's home town. One idea was that Auriel would in effect hand over one of the songs she'd become so strongly associated with, "Brown Skin Baby," to another cast-member, Leah Flanagan, to sing, like passing on the torch to a younger generation. Leah too was born in Darwin, was always close to the song, and it was one of the show's wonderful moments, with the affection that sparked between Auriel and Leah, and the moving rendition of the song as Leah performed it. The affection and rapport was obvious and touching too when Auriel's grandson Teangi Knox, who plays bass in the Buried Country house-band the Backtrackers, pulled up a stool next to his nan's to help her through "Ghost Gums," a difficult song to perform not just technically but also emotionally for Auriel, since it's about her mother.
Auriel conveyed emotion directly, which many a lesser, showier singer could learn a lesson from. She loved the spotlight. You couldn't shut her up. She was hilarious – but serious when seriousness was warranted too. The audience loved her. When she was ushered onto stage, to be introduced by her former son-in-law Buddy Knox ("the outlaw son-in-law!" she called him), and she was directed to her stool, Buddy quipped, "What, is that your throne?…" Perhaps my abiding memory though will be of Auriel after that Newcastle premiere, presiding over the after-party, and as I understand it (since I went home relatively early myself), the last to leave! In retrospect, again, I can imagine now how much all that – and the subsequent shows we did at the Melbourne Festival and in Dubbo – must have taken out of her. But – again – I know she wouldn't have had it any other way.
As at the very end – she did it her way. With pluck and stoicism, refusing to burden others. Sitting up in her hospital bed, still cracking wise! I loved her, like everyone did who was lucky enough to know her. She leaves as she lived, on the wings of a song…
CLINTON WALKER, 2 JANUARY 2017