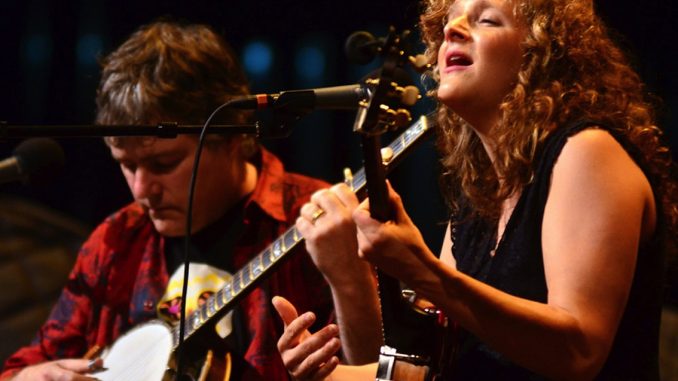 The pyrotechnics produced by the Punch Brothers quintet on the opening night of the 2016 Adelaide Guitar Festival at the city's Town Hall made them an awfully tough act to follow, but Bela Fleck and Abigail Washburn's duo turn 24 hours later (Friday, August 12) at the same venue proved to be anything but a damp squib.
While any act involving the maestro Fleck inevitably includes fleet finger picking and fretboard fireworks – not to mention enormous invention – the show was more in order of a Roman Candle than Catherine Wheel.
After recent duo outings with mandolin mandarin Chris Thile from the aforementioned Punch Brothers and the jazz piano legend Chick Corea, the world's greatest banjo player seemed perfectly content to play a relatively understated role predominantly accompanying his wife's singing.
The show proved to be a fascinating contrast and study in styles, Washburn's traditional folk clawhammer versus Fleck's syncopated three-finger technique and ever-inventive jazz inclinations. Overwhelmingly, the performance showed how well their different approaches complement and meld, and how well old-time Appalachian and gospel songs lend themselves to re-interpretation in the hands of such master musicians.
Washburn started the ball rolling, literally, setting up a compelling clawhammer groove for a re-invention of the old chestnut 'Railroad', which her husband enhanced with unorthodox chording and melodic counterpoint, cleverly weaving quotes from the classic banjo ballad 'Oh! Susanna'into the fabric of the song.
The banter between the pair was equally well matched, and decidedly down-home and droll. The pair could have well been occupying rocking chairs on their back porch in Nashville than seated centre-stage at Adelaide's most stately theatre as they swapped quips with each other and and a packed audience.
"Do they know that we don't play guitar?" Bela quizzed his partner in rhyme and life conspiratorially, in deference to the irony of being headliners at a festival supposedly showcasing strings of a different kind.
To compound their dry sense of humour – perhaps more British than American – the pair proceeded to play the instrumental 'Banjo Banjo', the title track of their recently released EP, and then the trad number 'Banjo Pickin' Girl', in the latter impishly changing a line to "guitars are what we play".
The bout of giggling that afflicted Abigail between said pieces abated for a heartfelt ballad "stolen from our three-year-old", with the pair offering different tonal colouring via a switch to Bela's ukulele banjo and Abigail's cello banjo.
Washburn then stunned the audience by singing a folk ballad from south west China that she learned during the 90s' as an exchange student, with superb sustain and ornamentation. "Abi is a fluent mandolin speaker," Bela quipped before accompanying his spouse with a simulation of classical Chinese style on bluegrass banjo.
The purity of Washburn's singing was emphasised in her solo a cappella rendition of a heart-rending Appalachian ballad written about the iniquitous Kentucky coal mining industry during the Great Depression. You could have heard a pin drop during her passionate delivery.
Fleck's solo-de-force was equally brilliant as he picked and strummed his way through a complex medley that covered the full range of his awesome prowess, jazzgrass et al. The furious bluegrass breakdown that ended his party piece would have wrought smiles from Bela's late mentor, the legendary Earl Scruggs.
Washburn showed she's no slouch as a banjo player when joining hubby for an attack on the old Flecktones toon, 'New South Africa', written by Bela on a tour of the republic during the early days of Nelson Mandela's presidency. The pair swapped rapier lines with the alacrity of long-time duellists.
As a prelude to the set's most riveting instrumental, Abi fired off a gutsy rendition of 'Shotgun Blues', a song she wrote to counter the fact that in murder ballads, her favourite genre, it's "always the girls that die".
Contrasting gospel songs, the beautiful 'What Are They Doing In Heaven Today?' and a call and response song relating to the joys that rain brings that required (and received) audience participation as well as some athletic clog dancing from the singer, and a bluesy reading of the traditional ballad 'My Home's Across the Blue Ridge Mountains' brought an eclectic and educative set to a conclusion.
Tony Hillier