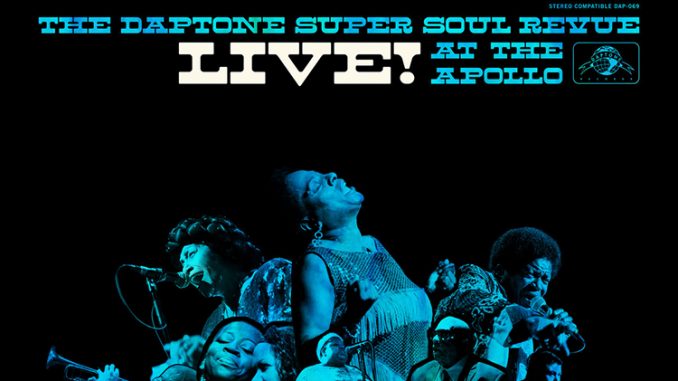 THE DAPTONE SOUL REVUE – LIVE! AT THE APOLLO (Daptone/Planet)
By Trevor J.Leeden
Downtown Brooklyn NYC 2001, and bassist Gabriel Roth (aka Bosco Mann) and tenor saxophonist Neal Sugarman saw a need for a record label to champion soul, funk and gospel. With the release of Dap Dippin' With Sharon Jones And The Dap-Kings, Daptone Records was off and running, so too the full on neo soul revival.
In 2021, it is timely to celebrate two decades of soul excellence in the true tradition, with a live showcase of the Daptone roster. Two problems arise; firstly, a pandemic has made live shows problematic and secondly, the two pillars of Daptone's up-front identity have passed away.
Cut back to Harlem, December 2014 when all Daptone's artists were present, correct, and ready to thrill. For anyone with the remotest interest in soul music, standing inside the auditorium of Harlem's Apollo Theater is a genuine spine-tingling experience; it is to soul afficionados what The Cavern is to Beatles fans, and over three electric nights the label's roster of artists performed to sell-out crowds. What a celebration it is.
Right from the opening announcement by Binky Griptite and the thumping brassy intro, it is one high voltage performance after another; with the awesome Dap-Kings acting as the house band, how could it not be so. On a stage that has delivered some of the greatest live albums in soul music (think James Brown and Donny Hathaway, to name but two), the Dap-Kings urge on a phalanx of 21st century retro soul testifiers. Saun & Starr, aka The Dapettes, kick off proceedings with a bracket that includes a delicious rendition of the soultastic 'Hot Shot', before handing over to the smokin' retro-funk sounds of the Sugarman 3. Naomi Shelton and the Gospel Queens take their non-secular songs by the scruff of the neck and instantly convert the auditorium into a heaving mass of true believers; full-on gospel can do that to you!
Tommy Brenneck's magnificent Menahan Street Band are a mainstay of the label and provide a typically tasteful instrumental interlude, pre-empting the arrival of "the Voice of America, the Screaming Eagle Of Soul, the one and only"Charles Bradley. Bradley was no stranger to the Apollo stage having forged his earlier career as a James Brown impersonator, and it is entirely appropriate that the night should belong to him. With sublime backing vocals from The Extraordinaires and the Menahan Street Band stoking the fire, Bradley channels the great soul icons as he audibly brings the crowd to a screaming frenzy. His performances are fabulous ('Let Love Stand A Chance' is a goosebump moment), and will evoke fond memories for anyone who has had the good fortune to have seen Bradley's tumultuous stage show (complete with multiple costume changes).
The Budos Band are an instrumental force of nature, their particular brand of pulsating music combining Afro-soul with a dash of funky psychedelia and heavy doses of thunderous hard rock; unique and intoxicating. There's more Afro-Beat percussive explosiveness from Antibalas before the Dap-Kings return to anchor the label's second pillar, Sharon Jones. Like Bradley, Jones is a mature age discovery who has become the standard bearer for Daptone. Here, the Dap-Kings brassy exhortations spur her on through an exhilarating set of soul stompers that lifts the roof off the Apollo; Sharon Jones embodies soul.
Finally, Binky beseeches the ultimate rhetorical question – "Do you want some more?", and the Apollo heaves as the entire Daptone Family take the stage for a shared farewell rendition of 'A Family Affair'; it doesn't get much better than this.
Roth's and Sugarman's vision has become a soul music juggernaut. Sadly, there have been casualties along the way, most notable Charles Bradley, Sharon Jones, Naomi Shelton and Dan Klein, the gifted lead singer of The Frightnrs. This wonderful release is a timely and poignant reminder of how truly great they were, and how great Daptone Records still is. It is available as a 2CD and 3 x LP gatefold with 48-page booklet; you should get both.