By Ben Quinn.
Dashville Skyline  – Belford, Hunter Valley, NSW – September 28 – 30, 2018
Throw my ticket out the window
Throw my suitcase out there too
Throw my troubles out the door
I don't need them anymore
'Cause tonight I'll be staying here with you
– From Nashville Skyline, Bob Dylan's 1969 country crossover masterpiece
Rambling purposefully alongside my ridiculously relaxed wife Melissa and our buzzing son Darcy Spencer up the dusty driveway to Dashville for the latest instalment in a long list of life-giving getaways to our musical Mecca, one gets the distinct feeling that even old prickly Dylan with all his world-weary, road-worn, rough-hewn cynicism would be seduced by the serenity of it all.
It is early on Friday morning, hours before the start of the fourth annual three-day Dashville Skyline cosmic country weekender, and pilgrims are slowly starting to trickle into the Johnston family property which will soon be pockmarked with swags, tents, lovingly decked-out four-wheel drives, campers, caravans and even the odd racing yacht set up on temporary leases under an honesty system straight out of the Coober Pedy opal fields.
''I'm heading straight to the skate ramp when we get set up,'' exales Darcy Spencer, who is celebrating his 12th birthday today. ''See who's around.'' He has knocked over plenty of these milestones out here in paradise with the converted and the wide-eyed newcomers, with the relentless young ones and ageless oldies backstroking through the fountain of youth without a care in the world, among the gum trees and crooning currawongs. Everyone smiles, waves and says g'day when he runs around like he owns the joint. Dashville is like that. Always has been.
''Righto mate,'' chorus Mum and Dad, pulling their pride and joy in for a tight family cuddle that might bother him more than a bit this time next year, Heaven forfend. But our son's inevitable embarrassment at overt public displays of affection is a river to cross down the track. For now it's beyond well and good to be home in the welcoming bosom of this unpretentious musical oasis in Lower Belford, home to the Gum Ball, Pigsty In July, Dashille Skyline and Thrashville festivals, in the agricultural heartland of the Hunter Valley.
I have three solid days of musical feasting and family nourishment ahead of me. What's more, I'll have the best seat in the house as master of ceremonies, a gig I have been privileged to hold at Dashville for nearly all the festivals here over the past 15 years or thereabouts. It dawns on me that I've had a rainbow shot up my rear end.
You see, we go way back with workaholic organiser Magpie Johnston and his wife Jessica through Dashville and the old-school music pub we own and operate in Maitland, the Grand Junction, the revered Junkyard. Magpie played in our front bar alongside his brother, Dan, with their high school band Johnny Real and the Lovemakers all those years ago. They are still playing regular gigs for us and our loyalists with their latest acts, Magpie Diaries and Baghead. Ours is a love affair that endures. Mutual admiration on a common path with the best bands in the country providing the soundtrack in our respective lounge rooms. Sounds perfect, doesn't it
Reviewing all 35 bands over the next three days demands a novella rather than a page in the roots gospel that is Rhythms, but I'll do my best to infect you with the peaceful, easy feeling of the escape by espousing my own personal highlights from a festival that features not a single dud. Fair dinkum, the programming is that good. Quality from the very top shelf borne of good ears and a willingness to take risks in the name of surprising a trusting audience.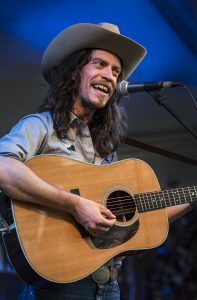 James Ellis and the Jealous Guys, a rollicking, rag-tag collection of Melbourne veterans with a pedigree that includes touring acts The Hello Morning, Big Smoke and Eagle and the Worm, among others, set the tone early on day one with a late afternoon set that owes as much to the honkytonk homeliness of Jerry Lee and country classicism of Merle Haggard as it does to anything of a more modernist bent.
The mighty William Crighton brings the curtain down with a thunderous performance featuring the dual drum and percussion work of Matt Sherrod and Reuben Alexander. I've seen the exponential growth of this distinctly Australian talismanic storyteller and bandleader from close quarters and the thing that impresses me most is his refusal to go through the motions. Songs old and new are blank canvases for wanton exploration. Crighton challenges, beguiles, soothes in lock-step with brother Luke on bass and wife Julienne on vocals and harmonies. Luke is one rough beast ever slouching towards Bethlehem to be born. The bloke is like a slab of ironbark, a flame opal, beautifully raw and unvarnished. Julienne's vocals, haunting, sublime, share some mystical communion with mournful bush curlews and whispering ghost gums.
Day two dawns bright blue and sultry, a gentle rustle in the treetops and the sweet bluegrass of Gleny Rae and her Playboys on the intimate veranda stage calling the sleepy to arms with much more subtlety than that distant cocksure rooster who was lunging it at full throttle for a good hour or so well before the sun and the kookaburras.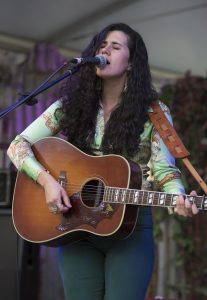 Morning passes effortlessly into afternoon with a little help from the Lyle Dennis Express (country Willie would get stoned to), Cat Canteri (a songsmith and multi-instrumentalist of the highest order) and Tori Forsyth (a psychedelic powerhouse going places fast), afternoon segues dreamily into night on the back of crowd favourite the Sunset Super Round where artists line up to have a crack at a favourite cover (more hands up here than stage manager Anna and this ragged MC can wrangle – and the same will be the case on Sunday), then we find ourselves under a strong spell contrived by the truly great CW Stoneking, a force of nature every bit as compelling as the crescent moon overseeing this starry, starry night. CW, playing solo, is pure mesmeric voodoo, summoning the ancient spirits of Blind Blake and Django Reinhardt, a long, cool drink of Coca-Cola in the thick of a equatorial mosquito swarm from a time when cocaine was the tonic's proprietary ingredient.
The final day goes to the pre-ordained postcard-perfect script with much-loved locals Steel City Su, Ben Leece, Grace Turner and Magpie Diaries ushering us safely to the Sunset Super Round and another stellar extended jam on some outstanding Danny Glovers.
The night belongs to West Australian evergreens The Waifs, who must take some of the credit for the record crowd of about 1500, which puts Dashville Skyline not far behind the mothership Gum Ball in terms of numbers. The perfumed country air resonates with a booming choir singing along to every word of time-honoured hits like London Still and Lighthouse. The Waifs, after all these years, remain a monument to the permanence of class.
There is an abundance of love in the room, as it were, when home-town big band and perennial crowd favourites Dashville Progress Society drag their knackered bums up to the stage for a barn-burning final set that includes Dan Johnston cutting loose on Neil Young's Down By The River, Magpie sashaying his way through Lonesome LA Cowboy by founding fathers New Riders Of The Purple Sage, Shannon McIntyre tearing Mia Dyson's When The Moment Comes a new one, an all-in love-in on the Doobie Brothers' Listen To The Music and even a humid duet by Melissa and I on Kenny and Dolly's Islands In The Stream leaving nary a dry seat in the house. There are 18 of us on stage – guitars, horns, vocalists, lapsteel, the mother superior Jess Hartigan keeping it rocksteady on the kit, the serene pedal steel from tireless sideman of the festival Jason Walker, miscellaneous others – and we're having the most fun you can have with your gear on.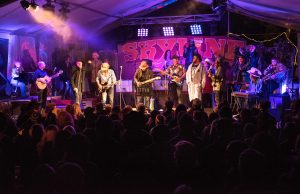 Backstage we settle in easily with instruments and voices and the various accoutrements of rock'n'roll. We see in the dawn and then some with all the stayers who refuse to quit, singing songs and trading licks, sharing one last waltz until we saddle up again at the next one. The drunken, sated consensus is that whatever Dashville does next, it can't come quickly enough.