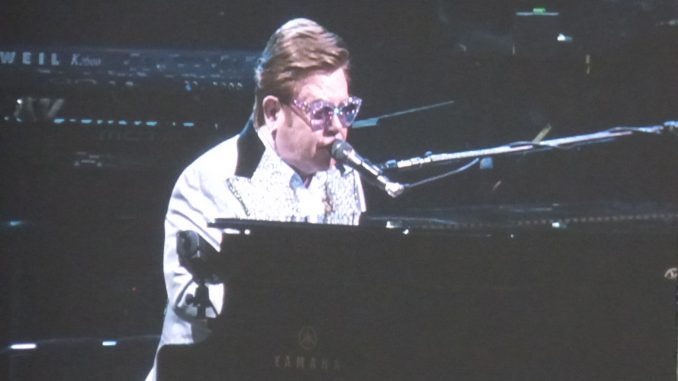 ELTON JOHN: FAREWELL YELLOW BRICK ROAD
A DAY ON THE GREEN, ROCHFORD WINERY – SATURDAY FEBRUARY 1, 2020
By Brian Wise
It seems astonishing that Elton John has been coming to Australia since 1971 and, therefore, not so astonishing that after nearly 50 years of touring here this was his final lap. Unlike a lot of other so-called 'farewell' tours this actually has an air of finality about it: from the posters to the artist's onstage explanation that he wants to devote time to his family. Before that happens he is undertaking just about the longest farewell in history: 300 dates over three years ending with at London's O2 Arena in December. By that time, he will probably need to retire from exhaustion.
Though who is to say that Elton John won't pop up for a season or two in Las Vegas, which is where I last saw him a couple of years back. On that occasion, at Caesar's Palace, he won me over, not only with the music and his showmanship but also his stagecraft and relationship with the audience. Suffering from a blood nose, which we have only recently found out was the result of a more serious illness, he soldiered on where others might have simply cancelled or postponed. (He suggested that the media would have a field day claiming he was back taking drugs). There were a lot of English fans in the audience and a few Watford supporters and at the end of the show he invited 40 or so to join him on stage for a singalong (the security must have been appalled). It was a totally brilliant show: so brilliant, in fact, that I insisted that my daughter and her partner had to join us at A Day On A Green because I suspected this was going to be a concert that they might remember as fondly as I recall the Stones at Kooyong in 1973!
Apparently, the only thing that stops John these days is the weather, which it did on the Friday night when he had to leave the stage after an hour and a half. But he did promise to make it up at some point.
This day, the weather was also a little unpleasant for a lot of the afternoon and early evening. The rain finally let up 20 minutes or so into the set. Support act Tate Sheridan was worthy but made me wonder why they chose a keyboard player as support. Maybe a guitar band would have been better.
Of course, it is not just the longevity of Mr John's career that has established his legend. The sheer breadth, quality and success of his (and Bernie Taupin's) song catalogue across five decades is astounding in itself. And that is why people from all eras were here: at some stage one of his hits would have been on the soundtrack of your life.
After a recording of his version of The Who's 'Pinball Wizard,' John took the stage backed by an incredible outfit that allows him to produce a full and rich concert sound with just six others. Guitarist and band leader Davey Johnstone guitar, drummer Nigel Olsson and percussionist Ray Cooper have been with John for decades. They are assisted by Matt Bisonette on bass, Kim Bullard on additional keyboards and John Mahon on percussion and backing vocals. It makes for an awesome sound, whether in stadiums or outdoor venues like this. Supplementing the music are the large video screens which not only allow punters at the back to see John clearly but also on occasion flash up meaningful videos to accompany the music. It is a dazzling multimedia experience.
Opening with 'Bennie and The Jets' – the song that actually got him airplay on black stations in the USA because it sounded so funky – John ran through the entire gamut of his career and, in the process, confirmed his legend. The two and three quarter hour set list speaks for itself. Along the way we also got: some explanations for the lyrics (he and Bernie Taupin write separately); some credits (to Aretha Franklin for recording 'Border Song'); some political observations ('most of us are governed by 'fucking fuckwits'); thank you to the audience (he has been coming here since 1971); and, a mention of his charitable foundation and it fundraising to combat AIDS.
John played just about every song that the audience could possibly want to hear in a generous 25-song set. Perhaps the highlight of the evening came with 'Funeral For A Friend/Love Lies Bleeding' which began with an extended video of a thunderstorm (apt for the night) and which allowed the band to really stretch out. It occurred to me later that perhaps this should have been the opening song as it would made for a more dramatic introduction. That is the only possible quibble. At the end of the evening we all walked out with smiles on our faces convinced we had seen a true music legend.
If you weren't convinced about John's legend beforehand it would have been difficult not to be a convert by the end of the show. My daughter's assessment says it all: 'Fantastic!' 
SETLIST
Bennie and the Jets
All the Girls Love Alice
I Guess That's Why They Call It the Blues

Border Song (Holy Moses) 


Tiny Dancer 
 

Philadelphia Freedom 


Indian Sunset 
 

Rocket Man (I Think It's Going to Be a Long, Long Time) 
 

Take Me to the Pilot 


Sorry Seems to Be the Hardest Word 



Someone Saved My Life Tonight


Levon 



Candle in the Wind 



Funeral for a Friend/Love Lies Bleeding 



Burn Down the Mission 



Daniel 



I Want Love 



Sad Songs (Say So Much) 



Don't Let the Sun Go Down on Me 



The Bitch Is Back 



I'm Still Standing 



Crocodile Rock 



Saturday Night's Alright for Fighting 



Encore:
Your Song 

Goodbye Yellow Brick Road