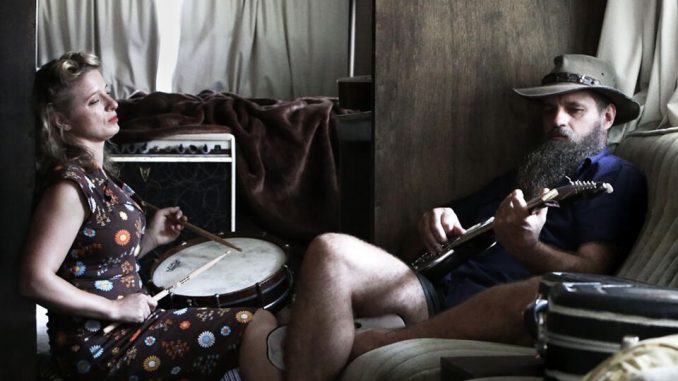 A unique combination of hill-style Gospel blues with old timey flavourings and stripped down to just voices, guitar and vintage drums, Hat Fitz & Cara's fourth album draws from their very different backgrounds growing up in rural Australia and the streets of Belfast respectively.
Engineered by Govinda Doyle, the man behind Angus & Julia Stone's No. 1 "Big Jet Plane" and mastered by Graeme Durham (Grace Jones, Sandy Denny, The Prodigy, Seasick Steve and Kitty, Daisy & Lewis) at The Exchange in London, 'After The Rain' is an album with soul and stomp. Robinson's soulful and belting vocal beautifully counteracts Fitzy's gravelly growl and the pair drive and dance their way through the album.
Their first single 'Doing it Again' was born from one of those 'heat of the moments' in which couples find themselves from time to time. When your musical partner is also your romantic partner, sometimes art can imitate life and sometimes, if you're lucky, you can get a ripper song out of a little frustration.

With their vintage sound and palpable live energy, this not-so-dainty duo have earnt an international reputation through performances in Canada, Australia, Europe, and the UK. Their 2012 album, "Wiley Ways" was voted Best Blues Album at the Australia Blues Awards and UK's Spiral Earth magazine. The Jeff Lang produced "Do Tell" spent 3 months standing at No.1 in the Australian Blues & Roots charts and entering the Amazon charts at No.17 in Europe. Hat Fitz and Cara were 2015's semi-finalists representing Australia in the International Blues Challenge. Cara was awarded Female Blues Vocalist of the Year in 2015 at the Australian Blues Awards chain awards Australia for their third album "Do Tell" and they have been listed as semi-finalist's in the International Songwriters Competition.
'After The Rain' is out in Australia via MGM on Friday 4 November. With their national tour soon to be announced Hat Fitz & Cara will be travelling the country and reaching out to gospel and contemporary choirs around Australia to join them on stage along the way. Stay tuned for more details!