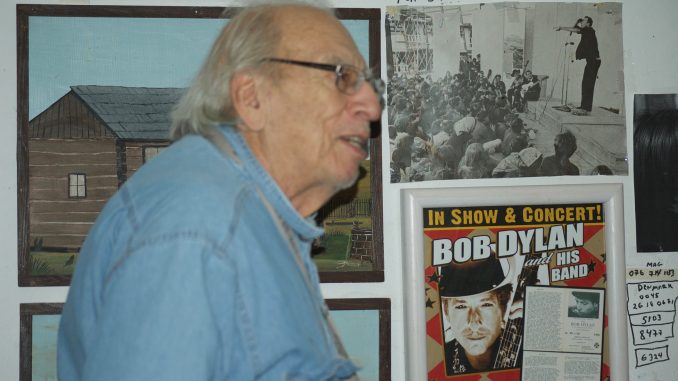 Just for starters, no doubt many will be asking themselves just who is Izzy Young. The answer to those old enough to be in the know: a genuine roots music giant, a guy whose huge lifelong collection of personal memorabilia has recently been taken, collated and archived by Washington's Library of Congress. On the day we meet he is having a rare, quiet time. Since Bob Dylan was awarded the Nobel prize in Literature, his phone has been ringing  non-stop with international television and radio interview demands.
Never a musician himself – he jokes about being the son of a Brooklyn baker and becoming a Greenwich Village bookseller – Israel Goodman Young was the helping hand to countless major, mainstream US folk and roots musicians back in the heady, hotbedding days of 1960s New York. Indeed, it's remarkable who he helped, knew and worked with over the years before relocating to live in the Swedish capital, Stockholm, forty years ago.
Back in the day, the young, Young, ran the famed Folklore Centre in New York's main music thoroughfare, MacDougall Street. Among his many regular visitors were Joan Baez, Dave Van Ronk, David Bromberg and Nobel Laureate and acoustic/roots living-legend, Bob Dylan with whom Young remains in fairly regular contact catching him when he visits and plays Stockholm most years: 'I usually meet Bob when he's in town, though he's always on the meter, with time at a premium. We talk, remember old times and even laugh,' he says, before adding, 'He always tells me to go down and help myself to anything I want.'  By which he means take any merchandise, CDs etc.,that might be of interest.
When I ask what he thinks about his protégé and the Nobel Award, Young shrugs, smiles and says: 'He always knew what he wanted,' an ambiguous answer that confirms Dylan's youthful ambition but gives little true hint about the international award itself. However, when pushed further Young confirms that he personally believes it is a well-deserved accolade and one that could have been given to Dylan many years previously.
And Young knows what he's talking about: Dylan wrote two songs especially for and about Young, giving him the rights to do as he pleased with, recognition of the fact that Young gave Dylan his first professional gig in New York in 1961, when both were still relatively youthful figures. Young confirms he sold the original, hand-written manuscripts many years ago for a pleasing six-figure sum that helped keep his folklore Centre afloat when times were tough.
'I always loved the music and started out with an interest in Square Dancing groups in New York. I moved on from that to putting on events. Sometimes there'd be a handful of people at the gigs but they went ahead anyway, taking a few bucks at the door. Almost all of it went to the artists.' He says with a laugh, a fact recently confirmed when I spoke to David Bromberg who remembers Young as giving him the confidence to have a go as a solo performer back around 1967 in a Washington Square Church venue.
Young remembers the likes of Pete Seeger, Woody Guthrie and Lead Belly all hanging out in the Village before Dylan turned up on the scene. 'Bob just sort of turned up. He is about the only guy I remember who actually worked his way through all the books I had on my shelves for sale. He read them all, always interested in writing,' he recalls with apparent surprise and evident pride and pleasure.
Turning once more to the Nobel Award, Young grins and taps a pocket to confirm he already has his invitation for the event and expects to meet up once again with his old buddy Dylan. 'We go back a long way. I've known Bob from the very beginning,' he laughs, and adds with a slightly rueful grin, 'This time I might just take him up on his offer. Take a big box and fill it with a few thousands bucks worth of stuff!' A joke, I think…
By Iain Patience