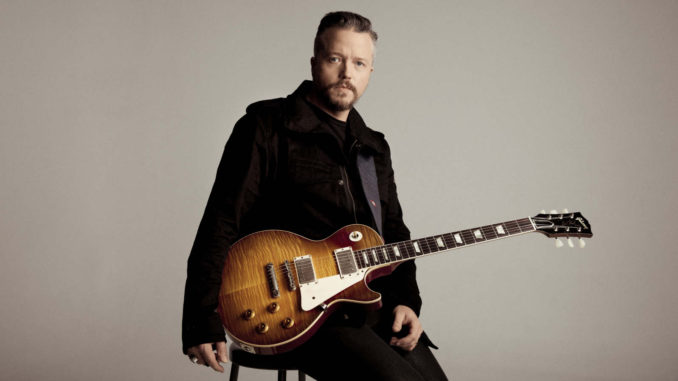 Jason Isbell's latest album with his 400 Unit , Reunions, helps him exorcise some demons.
By Brian Wise.
There's no doubt that Jason Isbell has done a lot of growing up in the past few years. Even a brief conversation reveals a man who has done a lot of thinking about his past, dealt with some major issues and faces the future with some assurance. 
When I first met Isbell years ago when he toured with Justin Townes Earle it was hardly a secret that he liked a drink. That turned into a serious problem that he was forced to overcome. Seeing him them you couldn't have foreseen that a decade or so later he would be one of the leading lights of the Americana movement, scooping up every award in the genre (even when he didn't tour or have a new release) and grabbing four Grammys along the way.
The change in Isbell's life and career has been remarkable. Over the past few years he has married to Amanda Shires and had a child, both of whom obviously has had a profound effect. The young man who started out as a guitarist in the Drive By Truckers and then searched for meaning in his solo career has grown into a thoughtful adult now at 41 and established himself as one of, if not the major Americana artist internationally. 
Reunions is Isbell's seventh album and fourth since becoming sober. The new album looks outward, not just in relation to how he deals with his life and those around him but also how he sees the world.
 'What've I Done to Help,' the opening track sums up Isbell's life so far. "Thought I was strong, until I finally had to fight," he sings after asking the question, 'What have I done to help, if not myself?" 'Be Afraid,' tells us not to just 'shut up and sing' but to beware of apathy. On Reunions, Isbell almost takes on the role of a moral conscience for those in the South – timely given recent events. 
Reunions is also Isbell's fourth album with producer Dave Cobb, who has to be the hottest production name in Nashville. The album also features ensemble playing from the 400 Unit: Sadler Vaden, Jimbo Hart, Derry deBorja, Chad Gamble and Amanda Shires. Seeing them last year I couldn't help but be impressed with how incredibly powerful the outfit had become. Having left the Drive By Truckers more than a decade ago, Isbell now has a band to match the potency of his former outfit and he has certainly exceeded it in terms of commercial success.
When I caught up with Isbell for a brief chat on the phone, he was in Nashville. It was not long after the death of John Prine, whom I mentioned to him would not only be a huge loss to music but was someone who had a tremendous effect on everyone who knew him.
"He did," agrees Isbell. "He had a big imagination and a big sense of humour and he cared a lot for people. I think John was probably the kind of person who wouldn't be as afraid for himself passing as he would be for the people that he left behind. He was selfless in a lot of ways. And yeah, he was hilarious. He was witty right up until the end."
But Prine is not the only friend that Isbell has had to farewell. 
"Well, I knew Adam [Schlesinger] from Fountains of Wayne a little bit," he admits. "I appreciated his work a whole lot. We weren't friends but we'd been around each other some in the past and that was a really sad loss. Then there was a fellow named Ron from New York, who was a big fan, who had come to all of our New York shows, and I'd met him multiple times. My wife had met him at her shows – and pretty much everybody in our community, musically, from Kacey Musgraves to Margo Price, to Brandi Carlile – he'd been in all those shows in New York over the years. He got sick and passed away. And now we have some friends who are coming down with it [Covid-19] now. Sturgill Simpson had it. I think he's on the path to recovery but he said it felt like he'd smoked a carton of menthol cigarettes in one day. He was having a hard time with it for a few days there."
"She's doing just fine," replies Isbell when I ask him about Amanda Shires. "She was unhappy about having to cancel most of her tour because she had a lot of work planned and she had to turn around and come home. But I think she's appreciating the time here and happy to be here with our daughter. She was doing a live stream. She did 30 in a row, where every day at five our time, she would go out and perform a few songs in our barn and I joined her for most of those. That was good. She raised a lot of money to benefit an organisation here that helps musicians out and raised some money for her band who's out of work right now.
"She's keeping herself plenty occupied, that's for sure. They had some shows planned. I don't know the status of those right now," adds Isbell, "but hopefully they'll still get to do that."
Shires was set to tour with The Highwomen – her collaboration with Brandi Carlile, Marren Morris and Natalie Hemby – that some might have called a 'supergroup.' Their eponymous debut was one of the albums of last year. (There was an hilarious moment in the Americana Awards last year – and the members of the group laughed along – when the hosts, Kenneth Pattengale and Joey Ryan, The Milk Carton Kids, suggested that they form a supergroup called The HighMen!).
I couldn't quite understand why The Highwomen didn't get the success and the profile that the group seem to deserve.
"Yeah, I thought so too," agrees Isbell. "I thought it was a fantastic piece of work. The songs were very consistent and really strong. But it's tough because they worked with a big record label; and, personally, I have issues with big record labels and I don't do business with them. I feel like in a lot of situations you don't get promoted in the way that you deserve when you're working with those folks. But I was just a guitar player, so I just took direction and did the best job that I could. 
"But I do feel like, yeah, they deserved more credit. And maybe when things get kicked up and get going again, they will get some more credit for all that work because it was really beautiful, a beautiful record."
I mention that based on seeing The Highwomen, just fleetingly, in Nashville during the Americana Festival last year I thought they were destined for huge things including a No.1 album. 
"That's the story of our lives, my friend. If I had a dollar for every record I thought it was going to be huge that didn't wind up being huge, I'd be a really wealthy man."
"Yeah, I know," says Isbell. "That's the story of our lives, my friend. If I had a dollar for every record I thought it was going to be huge that didn't wind up being huge, I'd be a really wealthy man."
Shires features prominently in the lyrics on Reunions, at least that is what you can read into the songs. On 'Overseas,' Isbell laments his absence from home. On 'What Have I Done To Help,' on which David Crosby does backing vocals, he ponders being a partner and his role in society.
"It was a dream come true to sing with David," says Isbell. "He and I have been friends for a couple of years now and his voice is still so incredibly loud and powerful. He sings on key and he still delivers. That was a beautiful thing because I learned harmony singing along with his records when I was younger. It was a really big deal to fly David in and have him appear on the record, and I think he enjoyed himself too. He seemed like it."
 On 'St Peter's Autograph' he sings about supporting Shires as she mourns the loss of their friend Neal Casal. 
"My wife had lost someone that was close to her and I was trying to let her know that it was okay to grieve in the ways that she needed to grieve," he says, "and that I wouldn't let my own ego or my own jealousy get in the way of her being sad about somebody passing. That's something that I've had to struggle with: I mean, to allow your partner to have their own feelings without relating them to yourself is a sort of next level maturity challenge for me. It took me a lot of practice to not think everything was about me."
Of course, his own life also features heavily. 'Be Afraid,' Isbell's most political song to date and 'Only Children' and 'Letting You Go' reflect his ruminations on growing up and relationships.
On the other hand, 'It Gets Easier,' inspired by his own experience of addiction, could be a new anthem for AA and is a realistic depiction of the problems of getting sober. "It gets easier, but it never gets easy," he confesses in the lyrics.
"I thought when I started writing that song that I felt a lot of people talk about the early stages of getting sober," he explains, "but you don't hear a whole lot about what happens a few years down the line where you're still trying to go about your day and try to make good choices and keep yourself clean. I thought I would try to tell it from my perspective now as opposed to what it was like when I was having major issues and figured out that I needed to change some things. There are a lot of moments in that song that I think will probably appeal more to people who've been through the program in some sense. But those folks deserve to be sung about too. They've done a lot of work to get to where they are, and hopefully, they'll recognize the similarities between my experience and theirs."
Reunions is available now through Thirty Tigers.