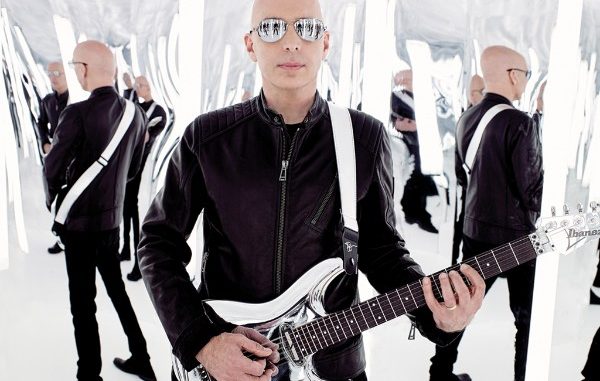 MELBOURNE, AU (July 27, 2018) – Guitarist Joe Satriani returns to Australia this November, thirty years after his first tour here in 1988, with Mick Jagger, bringing his latest album and world tour What Happens Next to Australian fans.
Tickets for all shows go on sale at midday Wednesday August 1. My Live Nation members can secure tickets first during the exclusive pre-sale beginning 10am Monday, 30 July. For complete tour and ticket information, visit: livenation.com.au.
Joining Joe Satriani on stage for his Australian tour are: Mike Keneally – Keyboards and Guitars – (previous tours include Steve Vai and Frank Zappa), Bryan Beller – Bass – (Dethklok Aristocrats), Joe Travers – Drums – (previous tours include Zappa Plays Zappa /Duran Duran)
Inspired to pick up the guitar by Jimi Hendrix, Satriani, an Italian-American native of New York state, has released 16 solo albums over his career – earning him six gold and platinum discs, 15 Grammy nominations, and album sales in excess of 10 million units worldwide – whilst never losing his focus on dedicating himself to the artistry of his instrument, the guitar.
For his latest album, What Happens Next, Satriani enlisted the help of Red Hot Chili Peppers' drummer Chad Smith, Chickenfoot bandmate, Deep Purple bassist and longtime friend Glenn Hughes and producer Mike Fraser to write a fresh, immediate and lively rock n' roll record.
While still a teenager, Satriani taught other budding six-string hopefuls including Steve Vai, Metallica's Kirk Hammett and Larry Lalonde from Primus. Since his 1986 debut release Not Of This Earth and the breakthrough follow up, Surfing With The Alien, Satriani's legendary status has been firmly cemented in rock 'n' roll fame for more than four decades.
This is Satriani's first Australian tour since 2014 and marks 30-years since his first visit down under.
JOE SATRIANI – WHERE TO NEXT AUSTRALIA TOUR
ASTOR THEATRE, PERTH
SATURDAY NOVEMBER 24HQ, ADELAIDE
MONDAY NOVEMBER 26
FORUM THEATRE, MELBOURNE
WEDNESDAY NOVEMBER 28
CANBERRA THEATRE
FRIDAY NOVEMBER 30
STATE THEATRE, SYDNEY
SATURDAY DECEMBER 1
THE TIVOLI, BRISBANE
SUNDAY DECEMBER 2
TICKETS ON SALE 12PM, WEDNESDAY AUGUST 1
Live Nation pre-sale begins 10am Monday, July 30 until 10am Wednesday, August 1.