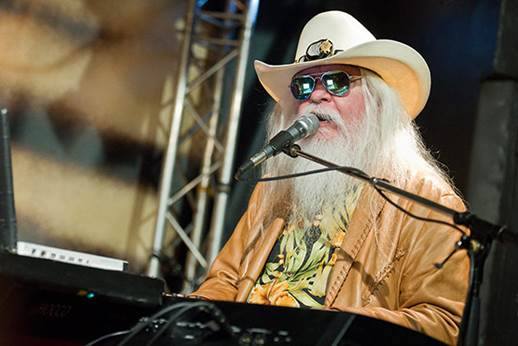 April 2, 1942 – November 13, 2016
Leon Russell passed on Sunday November 13, 2016, aged 74, in the country music capital, Nashville, Tennessee.  Instantly recognisable with his enormous, seemingly unruly shock of latterly grey hair and beard, he was a much loved figure in the Nashville scene where he worked with almost everyone of note during a career that spanned over fifty years. His output is as eclectic as those he worked with during his career: Doris Day, Bob Dylan, Mick Jagger, Frank Sinatra, JJ Cale, Barbra Streisand, Eric Clapton – the list is almost endless.
Born in Oklahoma, Claude Russell Bridges began learning piano while virtually still a toddler aged four before moving on to master guitar and mandolin in later life. Still in his teens, he kick-started his career playing for tips and dimes in clubs and bars around the Tulsa, Texas area before joining Jerry Lee Lewis's band for a few short months before moving to the heart of the burgeoning West Coast music industry, LA, in the late 1950s. Here he became a leading figure in the world-famous Wrecking Crew, an elite group of music sidemen, and went on to work alongside George Harrison, Elton John, Delaney & Bonnie, New Grass Revival and Willie Nelson.
In March 2011 he was inducted into the Rock & Roll Hall of Fame and was also an inductee of the Songwriter Hall of Fame a few months later. Perhaps best remembered for the Joe Cocker monster hit, 'Delta Lady' – written for country singer Rita Coolidge – his work was also recorded by countless others including The Carpenters, BB King, Ray Charles and George Benson.  As a solo performer he blew the house apart at George Harrison's Concert for Bangladesh with a stunning performance of 'Jumpin' Jack Flash' and 'Young Blood' that brought the house down.  And, never a man to be readily contained or constrained, in the 1970s he turned his spotlight on the then still vibrant Country & Western world for a while, using the name Hank Wilson as his new, surprising personna.
His keyboard work, at times redolent of searing southern gospel, features on Dylan's 1971 recording 'When I Paint My Masterpiece,' highlighting his talent for moving with the times and bringing added value to almost every project he worked with. Russell released his final solo album, 'Life Journey' in 2014. He suffered a heart attack earlier this year but was said to have recovered well, and had recently resumed touring and performing.  He died in his sleep at home in Nashville.
By Iain Patience