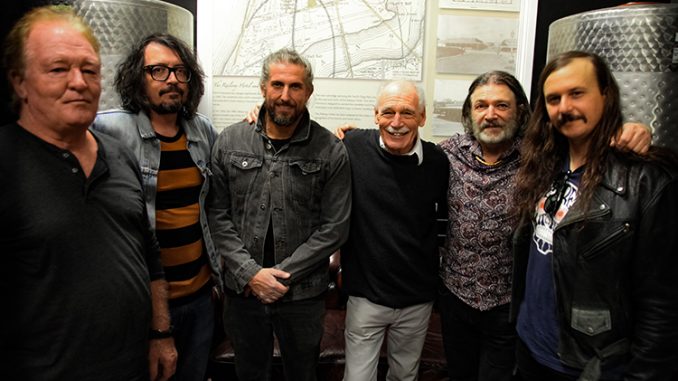 Internationally acclaimed Perth band Datura4 – the current outfit of iconic Perth rock 'n' roller Dom Mariani of The Stems and Someloves fame – has just released a brand new single, 'Going Back To Hoonsville', featuring legendary guitarist Dave Hole as guest. This version of the single, out today, is not the same as the album version on Neanderthal Jam, to be released on August 5.
Last month the band also had the honour of having 'Open The Line, ' the first single from the new album, chosen as 'The Coolest Song in the World' by Bruce Springsteen's righthand man Stevie Van Zandt aka Little Steven on his influential and much-loved rock'n'roll radio channel on SiriusXM, The Underground Garage. Dom, who is a long-time favourite of Stevie's, was also interviewed on the channel on their weekly 'Coolest Conversations' spot.
Beginning with Demon Blues in 2015, Datura4 have released 4 acclaimed albums for revered LA label AliveNatural Sounds Records (original home of the Black Keys!), and they're now set to return with their highly anticipated fifth album, Neanderthal Jam, eleven new tracks of psychedelicised blues and full-tilt heavy rock that were jammed out and recorded at their favourite south-west farmhouse studio during the early months of 2021. It sees them building upon and going beyond on another diverse collection of songs. 
Datura 4
Dom Mariani – Guitar and vocals
Warren Hall – Drums
Stu Loasby – Bass
Bob Patient – Keyboards
Joe Grech – Guitar and vocals