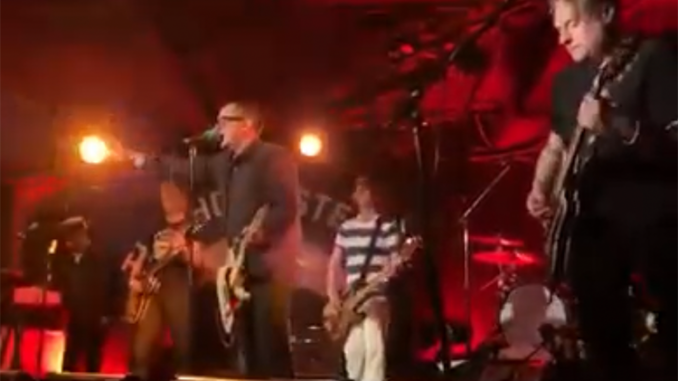 The Hold Steady – Boys and Girls in Australia, Croxton Bandroom 27 + 28 May 2022

By Nick Corr
After longingly reading about The Hold Steady's Weekender shows in New York, London, Brookly and Toronto – it was amazing they put one on in my hometown, even if we had to wait a few extra years for the experience.
As a concept, these Weekender shows are a great idea. The band setup in one city for three or four shows; rather than travelling to a different city each night. It means fans travel in for the shows – so The Croxton crowd included a lot of folks from Sydney, Perth and a ton of New Zealanders. It also must be far more cost effective for the promoter – they don't need to bother with internal travel or accommodation. It certainly creates a great sense of community around the band: as I witnessed first hand three forty-ish men who met at night one, and we're arm in arm like long lost brothers by night two.
Musically it allows the band to shun the traditional best-of setlist and stretch out musically planning setlists that stretch out over multiple nights so features many deep cuts and back catalogue favourites.
Another great feature of these weekend shows was the "Soundcheck Hang session" with fans who purchased the full weekend pass. Friday night's session was particularly great, moderated by clear Hold Steady fan Dan Condon from Double J Brisbane, the band answered questions about artists they are super fans of (Nick Cave and, not surprisingly, Joe Strummer) and played more relaxed versions of half a dozen songs including, on Saturday nights soundcheck, deep cuts like 'Cheyenne Sunrise' and '212-Margarita'.
For these Melbourne shows, the Friday night was a celebration of their breakthrough 2006 album Boys and Girls in America, while the Saturday night focussed on its follow-up 2008's Stay Positive.
Avoiding the traditional album show approach of playing the songs in sequence front-to-back, as Craig Finn mentioned as the VIP hang-out earlier – it becomes quite boring for the crowd and the band when you know exactly which song is coming next. Instead, Finn carefully structured a setlist each night that featured every song from the album being celebrated, but followed an ebb and flow sequence including a ton of material from their eight album catalogue as well.
As an example, Friday night opened with the joyous 'Constructive Summer'. This also led to some great juxtapositions like 'The Swish' from their debut album 'Almost Killed Me' sandwiched between 'Hot Soft Light' and 'You Can Make Him Like You' from Boys and Girls in America. Impressively, the band also included bonus tracks for each album as part of the show, so Friday night included 'Girls Like Status' and 'Arms and Hearts' which were included as bonus tracks on the original Australian CD release of Boys and Girls in America. Similarly, Saturday night included 'Cheyenne Sunrise' and the brilliant 'Ask Her for Adderall' which were bonus tracks on the initial CD release of Stay Positive.
Special call-out to Friday night support act Quivers – who provided guest vocals on a great 'Chill-Out Tent'.
Since their last Australian tour in 2011, The Hold Steady have grown into a muscular six piece. With the core original band of singer guitarist Craig Finn, guitarist Tad Kubler, bass player Galen Polivka and drummer Bobby Drake, fleshed out by keyboardist Franz Nicolay, who left the band in 2010, before rejoining in 2016, and additional guitarist Steve Selvidge, who joined in 2011 to replace Nicolay but remained after he re-joined.
As a result their already anthemic sound has somehow gotten bigger – especially evident on early songs like 'Your Little Hoodrat Friend' from their second album, 2005's Separation Sunday, which has become a monster in live performance. The band also fire up extended jams on 'Family Farm' and 'Heavy Covenant' from their most recent album 2021's Open Door Policy.
I didn't manage to get to the third and final show at The Corner Hotel, a celebration of fan favourites – but I saw the set also included more deep cuts like kicking off with 'Positive Jam' from Almost Killed Me.
A fantastic weekend with a brilliant band, hopefully we don't need to wait another thousand days for them to return.

FRIDAY NIGHT
Constructive Summer
Hot Soft Light
The Swish
You Can Make Him Like You
Party Pit
Hurricane J
Chips Ahoy
Heavy Covenant
I Hope This Whole Thing Didn't Frighten You
First Night
Stuck Between Stations
Same Kooks
Entitlement Crew
Girls Like Status
Arms and Hearts
Your Little Hoodrat Friend
Family Farm
Chill Out Tent (with Quivers)
Citrus
Massive Nights
Southtown Girls
The Feelers
Banging Camp
Sequestered in Memphis
Killer Parties
SATURDAY NIGHT
Constructive Summer
Barfruit Blues
Magazines
Chips Ahoy
Navy Sheets
One for the Cutters
Stevie Nix
Stuck Between Stations
Unpleasant Breakfast
Sequestered In Memphis
Lord I'm Discouraged
Yeah Sapphire
Joke About Jamaica
The Weekenders
Spices
Cheyenne Sunrise
Your Little Hoodrat Friend
Stay Positive
Massive Nights
Slapped Actress
Both Crosses
Ask Her For Adderal
How a Resurrection Really Feels
Killer Parties