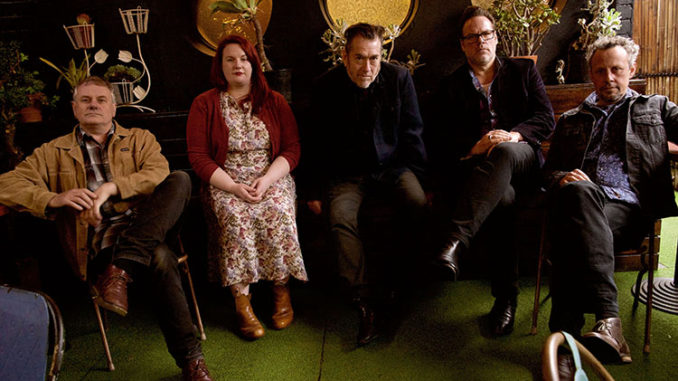 Mick Thomas has documented life in lockdown in the best way he knows how – with an epic single and new album as 'postcards' of the time, writes Jo Roberts.
February 2020. Mick Thomas and his band the Roving Commission meet to start planning the recording of a new album. "I reckoned I had 10 songs," says Thomas. They pencil in April 2021, in Tucson, Arizona. The Melbourne band's last album, 2019's outstanding Coldwater DFU, was also recorded in the United States, but in Memphis. Although a rewarding experience, after more than 30 years of touring the world in various guises, Thomas loves to visit new places.
"I just want to keep seeing the States via the studios – I still have this thing of loving to go away to record," says the singer-songwriter.
However, barely a month after that band meeting, suddenly no one was going anywhere – not to the local pub, let alone Arizona – as COVID-19 lockdowns, border closures and supermarket bog-roll brawls began. Life, as many of us knew it, changed completely.
Elbow bumps are still the go at Thomas's home when we meet in early June, though at least a couple of rooms away there's the sound of some return to normality, with the sing-song voices of his young daughter and a friend playing. And the family dog Rudie is having none of this distancing palaver (he's a staffie cross, after all).
Thomas has been busy doing interviews for his new single, 'See You When I'm Looking At You'. Initially released in May as a fundraiser for the Asylum Seeker Resource Centre, it's now the epic centrepiece of the new Mick Thomas' Roving Commission album, See You on the Other Side: a Postcard from 2020, out on June 19.
The making of not just the single, but the album, is an epic story in itself. An iso-triumph over distance and technology challenges, the songs are all about these strange times, recorded in a way that could only have come from … well, these strange times. But technology remains ever the frenemy.
"During this pandemic, the amount of tech stuff we've had to deal with, it's doing my fucking head in," says Thomas. " 'Oh, you gotta do this interview using Tieline' What in the fuck is Tieline? 'You have to do this ABC interview on Skype'. Skype? I haven't used Skype for fucking years, I have to find my fucking password."
The conversation with Thomas, and another with his co-producer, Craig Pilkington of Audrey Studios, is peppered with plug-ins, interface units and apps, as they talk about the mammoth task of recording a single with more than a dozen guest artists – some of whom had never self-recorded at home – as well as an album that only started coming together in early April.
See You On the Other Side is the second Mick Thomas' Roving Commission album, featuring his ex-Weddings, Parties, Anything bandmate Mark 'Squeezebox Wally' Wallace (recording from Ocean Grove), bassist Ben Franz (recording from Western Australia), singer/guitarist Brooke Russell (Reservoir) and drummer Dave Folley, who was the only member to record his parts live at Audrey in Coburg, albeit under strict social distancing.
The only album track recorded pre-COVID is 'Mint Condition', a power-pop gem Thomas penned as the title track to the online mini-series made in Melbourne about a single mum who opens a record shop. (Fun fact: Thomas scored a cameo in the 5th episode, chatting up the record store owner Audrey, played by Sibylla Budd).
The song harks back to the early rock-pop of the Weddings, a fact Thomas thinks is often overlooked. "With the Weddings, everyone sort of talks about our Celtic connection, which was strong, but the rock 'n' roll element of what the Weddings did was power-pop, because that was the time; it was the Smithereens and Replacements. Wally's big go-to is the Smithereens."
For all the hard work, safe to say it's paid off for Thomas, who has never been afraid to try something new. Though he is still known by many for Weddings, Parties, Anything, the band he founded in 1984, he has deftly kept a foot in each camp of tradition and reinvention. There would be few, if any, fans these days who come to his shows to just hear the clutch of 'Weddoes' songs he still includes in his sets. He has continued to evolve as a composer, performer, playwright and author and soundtrack composer, always having at least a couple of new projects on the go.
Last year, he even released a graphic novel with cartoonist and comic artist Angelo Madrid, Coldwater Chronicles, based on the songs of his Coldwater DFU album, which many critics considered one of his finest works to date.
With 'See You When I'm Looking at You', Thomas has raised the bar yet again. "With this track, I've tried not to get too excited about it, but I just love all the people on it," he says. "The one thing they've got in common is I f-cking love them all.
See You on the Other Side: a Postcard from 2020 is out now.
The complete Mick Thomas feature will appear in the July/August edition of Rhythms. You can subscribe here: SUBSCRIBE