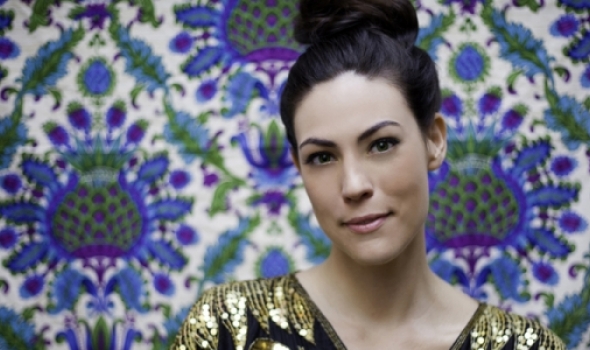 Martin Jones previews the forthcoming 2018 Mullum Music Festival.
It's not easy to conjure the magic recipe for a top shelf music festival. Ironically, when you do, it's even more difficult to maintain it. There are so many variables – venue and personnel changes, economic demands, artist availability, even the weather can all conspire to ruin an ideal vision. Mullum Music Festival not only managed to come up with a unique and successful model from Festival One, they've fought hard to protect that model.
What makes Mullum unique? First, there's the town itself. Rather than ship big stages in, the festival relies on the existing halls, clubs and pubs, each with a character of its own. Everything is within walking distance, the bars keep their prices low, there's even a huge public swimming pool in the centre of town for when the kids start overheating.
Then there's the music. From Day One Mullum has harboured diversity. Just check out this year's headliners for example – African guitar whiz Bombino, Guyana's dub reggae legend Mad Professor, Irish duo Saint Sister, British singer-songwriter Ben Ottewell, Melbourne modern folk outfit Husky. If you can't find something to like at Mullum, then you probably only listen to classical opera or death metal.
As enjoyable as Mullum is for audiences, it's particularly engaging for artists, who are invited to play multiples sets in different venues, encouraged to collaborate with other artists, and often set up in workshops and as mentors to younger artists.
Rhythms rounded up some of this year's artists to get their take on what makes Mullum Music Festival what it is.
GEORGIA FIELDS
As a first timer at Mullum Music Fest what have you heard about the festival and what are you looking forward to at this year's festival? 
I've heard that it's a 'listening' audience! That people are there to experience live music. I've also heard that the programming team take great care to curate a very eclectic line-up of musical moods, from theatre style performances from solo singer-songwriters, to raucous party bands. I'm looking forward to catching sets from Gordi, Kaiit, Gabriella Cohen, Lior with his string quartet, and making some new discoveries too.
What's your favourite thing about playing festivals as opposed to club/pub shows?
Festival audiences are curious, and typically they buy in for a whole weekend so they're more willing to take a punt and check out someone they haven't seen before. I love playing to new audiences and getting the opportunity to make connections with people I wouldn't have ordinarily had the chance to meet. There's a festive air, everyone is there to have a great time… As far as touring goes, there's just nothing like it.
Mullum has a strong mentor program, have you had some important mentors along the way and what have been some of the most valuable lessons you've learned? 
Absolutely – mentoring has been a huge part of my musical upbringing; it's such a valuable exchange and ideally it continues on throughout your career. I remember just before my first album came out in 2010, Clare Bowditch heard me being self-deprecating and doubting my work, and she very wisely said that "you have to believe that the music you put out into the world means something, that it's worth something… If you operate out of a place of ego, you will not survive in this industry." Those words have been a beacon for me over the years. I also remember playing the Queenscliff Music Festival main stage with grunge pioneer Kim Salmon, as part of the RocKwiz Live show a number of years ago. We were backstage and I was totally nervous about going on, and I asked Kim if he had any advice for someone starting out like me. He looked a bit exasperated, laughed and said, "Georgia… You worry too much!"
You've toured in a variety of formats and collaborations in recent years, what form with the shows at Mullum take? 
I've always loved collaborating with other musicians, whether it's my band, or my string quartet or the 'mini-indie-orchestra'! Over the past two years I've done a lot of touring and it's forced me to re-work my song arrangements into a solo show, which has been equal parts challenging and rewarding. I can play a few different instruments, and we've got a modest collection of weird little vintage keyboards at home, so for Mullum I've put together a little rig of pedals and various sounds that I use throughout the set with my electric guitar. I'd describe it as DIY alt-pop / indie-folk. I'll be performing a number of new songs that haven't been recorded yet, which is gonna be super fun too.
AINE TYRRELL
You've obviously embraced this area as your home, what makes this area so special for a musician and where does Mullum Fest fit into that for you?
Much of the things I love so much about this area are also reflected in Mullum Festival so my move up to here coinciding with my first ever Mullum Music Festival was quite fitting I suppose. On my first visit to the Northern Rivers I felt a sense of place in the area, which I hadn't felt in many other parts of Australia that I had visited. There is a sense of deep respect for the land and culture here that I had really missed when I moved to Australia from Ireland. When I was based in Victoria, I never felt in any of the areas I lived that the community truly connected with who they were in terms of the land and cultures that have come before them. My first visit to the Northern Rivers, I was overwhelmed by that feeling. The diversity of the area, the activism of the community to protect everything that is special about this area, and the forward thinking of so many in this area are even reflected in the conversations that people have every day just having a coffee. It truly is testament to this area being the change we all wish to see in the greater community of Australia. I really feel that Mullum Fest reflects ALL of that as well. They are a beacon of light as to how Australian festivals can be curated and presented to reflect diversity and promote community involvement.
You've been a vocal advocate for diversity in festival bills, which is something Mullum Fest has always embraced. Who and what are you excited to see at this year's festival? 
Yes, I have been vocal and it truly is the time for everyone to be vocal about this as it is small part of a huge conversation that is happening worldwide. I am just back from the first ever Australian Women in Music Awards last night and being in a room celebrating not only women's contribution to the musical landscape in Australia, but more importantly celebrating the diversity amongst women in music was just so incredibly powerful. There is a shift and a change happening and the more conversations and education about diversity in line ups the better for all of us, as every young child of every race, gender and ethnicity deserves to see themselves reflected in some way on our festival stages and in our media. Mullum Fest have always programmed diversely as I actually think they wouldn't even know WHY they would program any other way as they are programming to reflect their community which is so rich. For me, Mullum Fest is always a time that many of my other musical sisters from around Australia are on a bill. Normally one or two of us get into a festival line up, but Mullum Fest is like we will have them ALL! So the thing I am excited about is the collaborations that happen when you bring that many bad-ass women together on a festival line up. Magic happens.
What do you personally enjoy about playing at a festival compared to a pub/club show? 
Mullum Fest makes you feel like you are part of this big epic Mullum Fest family, so the festival is like one big beautiful musical family reunion really. All your brothers and sisters and aunties and uncles are there jamming. Most of us are touring so much that we don't get huge amounts of time to soak in other people's shows, so Mullum Fest is a HUGE chance to hear and feel everything that is musically happening right now! A pub or a club show is just about you presenting your work, but Mullum Fest is about adding your little flavour into the much bigger musical sharing that happens over the weekend. And then the bonus is the random collaborations that come from that. Actually, I will be releasing a new song ahead of Mullum Fest on November 8th and that song was written with Cara Robinson (Hat Fitz and Cara) also on the bill this year. Cara and I met back stage of opening night at Mullum fest a few years back when Mandy Nolan said you two will LOVE each other. And we did and we do and the seed was planted at that festival that grew into a new song! That's Mullum Fest and that's what creativity lives for.
Mullum has a strong mentor programme, have you had some important mentors along the way and what have been some of the lasting lessons you've learned?  
I have been blessed to have had many musicians who have been in this game a lot longer than me impart amazing nuggets of gold along my path that I call on daily to help me keep keeping on as a creative person. Last year, when I mentored a young artist Ruby Gilbert, on the Youth Mentorship at Mullum Fest it actually made me fully realise the amount of inspiring advice I have been given. I could write a whole book on their influence on me, but a few that I call on every day would be; my dad telling me so early on that I needed to "sing like myself"; Clare Bowditch and Sarah Carroll showing me there was a model for being a mother AND a musician, I just had to invent my own path; to Glen Hansard telling me to "hang on for good news". The path as an independent musician can be tumultuous, but in those down times I always remember his words and that everything can change in one email or one performance or one song and it ALWAYS does. A weekend like Mullum Fest is one of those good news weekends, I can't wait. I need a dose of what Mullum gives!
HUSKY & GIDEON (This year's Official Festival Patrons)
Congratulations on the honour of Patrons of Mullum Fest. Praps you could take us back to the very first time you played at Mullum, what you were expecting from a small northern NSW town and what the experience ended up being for you. 
We first played Mullum Fest in 2012. I'd never been to the festival before but I'd heard about it through some of my musician friends here in Melbourne. Two things stand out in my memory from that gig. Firstly it was hot. And secondly, people were dancing in a way that us Melbourne folk aren't used to. People are often too cool to dance here, but up in Mullum, people let go and are ready for a good time. The other thing that struck me was how the entire town was taken over by the festival. It's one big fun party.
One thing I notice at Mullum is the interaction between musicians, some who have never even met before. Have you made some lasting friends and contacts? 
One of the great things about Mullum fest is the way that the musicians and festival goers all come together. There's no separation. A beautiful little community is created over those days and you leave with more friends than when you arrive. We've formed some great bonds with people in the area through the festival, especially some of the kids we've met through the mentor program.
What do you enjoy about playing a festival as opposed to a pub/club show? 
Festivals are really important for people. We save up our pennies and our energy for festivals and there is something magical that can happen as a result. There is a unique type of delirium that kicks in after a day or two at any good festival where excitement, inspiration, euphoria and fatigue all combine and that's when things can really lift off.
Mullum obviously fosters a strong mentor program, have you had some important mentors along the way and what have been some of your more valuable lessons learned? 
The mentor program is a highlight of the festival for me. We've been involved a number times and we're always blown away by the young kids in the area. I think everyone has or has had a mentor of sorts in their life, especially in creative life. It's a kind of natural order of things – you're always learning from the people who've come before you and the people around you. There are so many bits of good advice I've gotten over the years but perhaps the most important thing I've learned is to find something you love to do, and do it a lot! That's a good start anyways…
It looks like you're being encouraged to step out of your comfort zones and try some new things at this year's Mullum, tell us a little about what you're doing outside of the shows as Husky?
That's right. Husky will be debuting his brand new solo work, which is really exciting. We'll be performing separately and together at the opening night Gala as well as playing with the full line up on Friday evening. I'll be also be performing at and curating the Piano Bar as well as in Tracey Miller's new project 45 Packin Mama, a tribute to the great blues woman, and with Lachlan Mitchell's improvising band Uncomfortable Science. Oh and the street parade. And of course the mentor program. I think that should be enough for one weekend…
WANDERERS (answered by guitarist Dusty Lee)
As first timers at Mullum Music Fest what have you heard about the festival and what are you looking forward to at this year's festival? 
It's definitely a festival that's come highly recommended from anyone we know who's been. I'm really looking forward to soaking it all up, getting in the spirit and checking out a bunch of amazing artists. As well as being super keen to hit the stage, always a good time.
What's your favourite thing about playing festivals as opposed to club/pub shows? 
It's such a good chance for music lovers to abandon their every day lives and let go. It's incredible to see, especially from the viewpoint we have from the stage. It's pure joy, expressed through music, shared by everyone. Amazing.
Pub shows are great, but in a different way. A more concentrated kind of electricity in the air. And the backstage areas are substantially smaller, haha
It's been over a year now since the release of your Something For A Distraction EP, have you been working on new material? If so what shape is it taking and when can we expect it? 
We released our single 'Off My Back' a few months ago and have been blown away by the response. The song has really resonated with people and it's been humbling to see, as we worked bloody hard on it and took a big leap in a new direction.
The next single comes out soon and taps into some 'late 70s hip shaking California yacht rock vibes.' Not sure how we ended up there, but we're pretty chuffed with it and can't wait for everyone to hear it.
Mullum Music Festival takes place in Mullumbimby, NSW from November 15-18.  All details at: www.mullummusicfestival.com2018