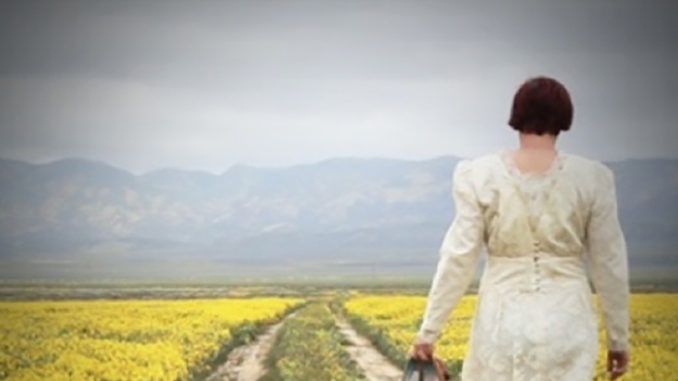 It's one thing to write a song for contemporary times. It's another thing entirely to write a song that will still be relevant in a hundred years. That's the challenge Natalie D-Napoleon set herself when writing 'Wildflowers,' the new single from her album You Wanted To Be The Shore But Instead You Were The Sea.
View the "Wildflowers" video directed by Minnesota-based filmmaker Jeffery Finc here…
"I'm a fan of folk and country music" D-Napoleon said. "So I've always wanted to write a song that would stand the test of time. It's a cliché I know, but it's a challenge every songwriter sets themselves. I wrote "Wildflowers" with the view that it could be sung in a hundred years' time and still be relevant to people's lives. I wrote it on my old timey, small scale, Tacoma Papoose guitar, which was the perfect instrument to get across a timeless love story."
As Natalie alluded, the sense of timelessness was an important consideration within the song's orchestration. Like the rest of the album, "Wildflowers" was recorded in a historic chapel using a single microphone. With D-Napoleon and her Papoose, James Connolly's haunting bowing of his upright bass, Doug Pettibone's mandolin, Dan Phillips' percussion, and Jesse Rhodes' banjo, the rustic instrumentation perfectly served the song's cause while Freya Phillips and Susan Marie Reeves joined in on harmonies.
The Californian desert also served as an emotive muse. D-Napoleon spent the past 12 years living in California and theme of the song was inspired by the desert's spring bloom, a time when the dusty expanses of tumbleweed and needle grass give way to a cavalcade of colour.
"Spending a lot of time on road trips out in the deserts of California certainly influenced the song," D-Napoleon admitted. "For the past few years the desert has been having these 'super blooms' where the entire landscape transforms into a sea of colour. Once you've experienced a super bloom, all you want to do is to go and lay down in a field of poppies and die of happiness. But there's a melancholy to that too – knowing the flowers will soon wither and die. They're the feelings I wanted to capture in this love song."
'Wildflowers' is from Natalie 's Australian Independent Record Label Association top five album… You Wanted To Be The Shore But Instead You Were The Sea