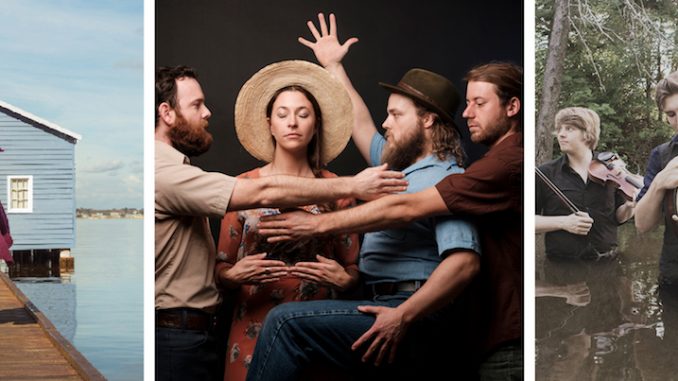 The National Folk Festival have released another round of lineup announcements in the lead up to the 2018 festival.
The festival has announced Hat Fitz and Cara, Daniel Champagne, Chris While and Julie Matthews, The Good Lovelies, Marcia Howard, and Fred Smith amongst others. You can see the full lineup announcement below. More acts are to be announced.
The 52nd National Folk Festival will be held from March 29 to April 2, 2018.
For more information, head to: http://folkfestival.org.au/
The National Folk Festival Lineup

Amazing Drumming Monkeys (SA)

Amistat (VIC)

Belshazzar's Feast (UK)

Breabach (Scotland)

Bush Gothic (VIC)

Cara (Scotland)

Cat and Clint (VIC)

Chaika (NSW)

Charm of Finches (VIC)

Chordwainers (TAS)

Chris Duncan, Catherine and Jennifer Strutt (NSW)

Chris While and Julie Matthews (UK)

The Coconut Kids (SA)

Daniel Champagne (NSW)

Faustus (UK)

Fred Smith Band (ACT)

Frumious (TAS)

Gina Williams (WA)

The Good Lovelies (Canada)

Gordie MacKeeman and His Rhythm Boys (Canada)

Hat Fitz and Cara (QLD)

John Flanagan Trio (VIC)

Katey Brooks (UK)

Lindsay Lou (US)

Madhouse Circus (VIC)

Marcia Howard Quartet (VIC)

Mick Thomas and The Roving Commission (VIC)

19-Twenty (NSW)

Pirateman Michael (WA)

Ryan Garth and Emily Wolfe (TAS)

Sparrow-Folk (ACT)

Steve Poltz (US / Canada)

The Tassie Devil's Own Band (TAS)

Ten Strings and A Goat Skin (Canada)

The Western Flyers (US)