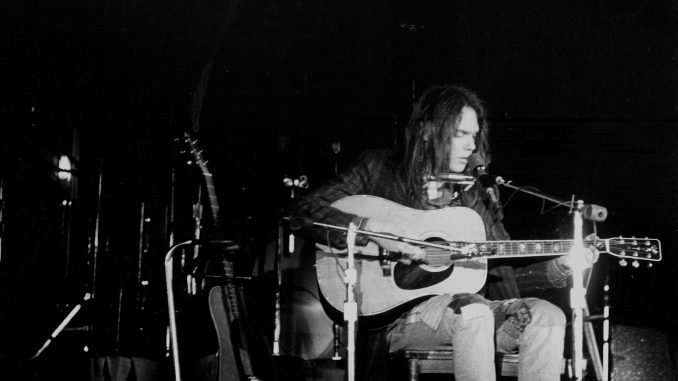 Neil Young's Tuscaloosa 
Live recordings from The Loner's craziest tour.
By Michael Goldberg.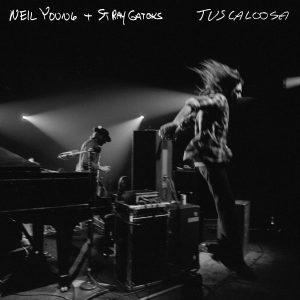 "Neil had the wasted Charles Manson mountain man deal going, hair shaggy-uncombed past his shoulders, a wrinkled black-on-black striped film noir jacket, denim cowboy shirt with the tails out, and beat-up boots, but it wasn't his clothes or his hair, 'cause even from afar there was something else same as he'd lost something he'd never get back. He was done tired, that was the vibe, and if this was what success does to a man, fuck, gotta wonder.
"Still, one thing gave me hope, and that was his jeans. Old fucker jeans patched with squares of different size and pattern material, some with polka dots, some with plaid, some with checks, same as someone grabbed any scraps of material they had in the rag drawer. Only how those jeans were patched is what Neil's all about, and even in his ravaged corrosion, still he grabs at ideas and images and experience, takes the low-down heartbreak chaos of life, and makes art."
Those words are from my 2015 novel, The Flowers Lied, which includes a chapter set at a Neil Young concert that took place March 10, 1973 at the Santa Cruz Civic Auditorium in California. That concert really happened – I was there – and that was how Young looked on the stage that night. That was how he sounded: ravaged corrosion. The concert, which featured Young and the Stray Gators (Jack Nitzsche, piano; Ben Keith, pedal steel; Tim Drummond, bass; and Johnny Barbata, drums, was part of the Time Fades Away tour. What was particularly unusual about this tour, in addition to how fucked up Young and the band were during it, is that Young played a bunch of new songs, recorded them live, and released many of them later that year, in October; he called the album Time Fades Away.
Absent from that tour was Crazy Horse guitarist Danny Whitten, whose raw guitar playing augmented that of Young's on Young's second solo album, Everybody Knows This Is Nowhere. Whitten was originally going to be one of the Stray Gators. He had arrived at Young's ranch in the fall of 1972 to rehearse for the tour. Producer Jack Nitzsche said later, "I could tell he was using [heroin]."
During the rehearsals Whitten was a mess. "The guy was asleep standing up," drummer Kenny Buttrey, who played on early dates before being replaced by Johnny Barbata, said. "I just thought, 'This guy can't play a note, man. What's he doin' in our band.' "
"Last time I saw him, he was really wasted," Young told his biographer, Jimmy McDonough. "Couldn't keep it together to remember what he was doin' in the sessions. I had to tell him he wasn't in the band. That was a drag. Then he went home and OD'd. That was devastating."
On the night of November 18, 1972, the day he'd left Young's ranch and flown to LA, Whitten was found on the bathroom floor in a friend's house; dead from "acute diazepam and ethanol intoxication" – he'd overdosed on a deadly mix of valium and alcohol.
Young took Whitten's death hard; he said it had a "big effect" on him. "I felt responsible," Young told McDonough. "But really there was nothin' I could do – I mean, he was responsible. But I thought I was for a long time."
Young had other troubles – problems with his girlfriend, actress Carrie Snodgress, who had given birth to his son Zeke in September of '72. And then there was Harvest, Young's fourth album, which would eventually sell over four million copies in the U.S., and which charted at #1 and was the best-selling album of 1972. 'Heart of Gold,' a single off the album also reached the top of the Top 40. The success of Harvest and 'Heart of Gold' should have made Young happy, but somehow it didn't.
"Whenever Neil's had a big success, he's had to do something to counter it or he can't appreciate it," his manager, Elliot Roberts, who died earlier this year, said many years ago. "Always. His whole life. After every big album he'll do something inane – like put on blackface and do a minstrel show."
The day after Whitten died Young wrote 'Don't Be Denied,' the best song on Time Fades Away, and one of the best on Tuscaloosa (Shakey Pictures Records), which would have almost been a 'best of' collection if it had been released back in '73 or '74, instead of this year.
In early January 1973, Neil Young and the Stray Gators hit the road; on January 4 they played the first show of a three-month, 62-date tour in Madison, Wisconsin. The musicians were fucked up on drugs and alcohol from the start, and it didn't get better. The eight tracks on Time Fades Away were recorded at seven different shows.
For decades after it went out of print, Neil Young refused to re-release Time Fades Away. "I think it's the worst record I ever made," he told a journalist 14 years later, in 1987. "But as a documentary of what was happening to me, it was a great record." (Though it can now be downloaded, Time Fades Away is only available on CD or vinyl as part of a four-album boxed set currently going for about $80 (CD) and $112 (vinyl) at Amazon.)
Now, finally, 47 years later, more music from the tour has been officially released. Tuscaloosa was recorded at the 25th show, on February 2, 1973 at the University of Alabama in Tuscaloosa, Alabama.
It's easy to understand why Young, now 73, wanted to release the University of Alabama recording after it was discovered in his tape archive. The band and Young himself are in top form here. While Young and his band, by their own account, were overindulging, you wouldn't know it from either the playing or singing. Everything is well-played, on the beat, perfect. But what was thrilling about both the tour, at least the shows I saw in Santa Cruz and at The Forum in L.A., was the edginess of the performances. And a raw, almost punk quality. The Time Fades Away album documents the discord in Young's life at the time, and in a nation still fighting over the ongoing Vietnam war as the Watergate scandal escalated.
There is another problem with the 52 ½ minute album. It includes only 11 of what may have been as many as 20 songs performed that night. Engineer John Hanlon said some of the two sets weren't recorded, 'The Loner' was excluded because it's out of tune and 'On the Way Home' has already appeared on too many live albums.
"We don't like to release a lot of songs on many albums, so 'On the Way Home' went by the wayside," Young wrote in a letter to a fan that appears on his website. " 'The Loner' was just not good enough. I still make those decisions because I am here on the planet. However, those two versions will be available in the archives for members to hear. I have no plans to release everything I have ever recorded. Some of it is just not good enough."
I have bootleg recordings of other shows and the absence of a third or more of the songs played that night disrupts the continuity of the concert. Young conceived of his Time Fades Away concerts as a two-set evening of music. Though his set lists varied from night to night, there was a method to the sets each night. Here, with songs missing, the album feels truncated.
That said, the performances of the songs that are here are excellent; a highlight being an eight-minute version of 'Don't Be Denied.' For those of you who want to hear superb live versions of the songs included here, this album is for you. 'Heart of Gold,' for example, is as good or better than the studio recording. Young's singing is terrific throughout.
There is no complete set list for the Tuscaloosa show. Based on other shows from the tour, I have a pretty good idea of what the entire set list likely included. What is most interesting about this tour are not the well-known songs. Playing to the largest audiences of his career at that point, Young challenged his new fans by playing eight or nine songs not yet released at the time, or in many cases even recorded. This was and remains unheard of – no artist of Young's stature ever played so many unreleased songs.
Still, his fans did get much of what they came for as Young did offer up at least five songs from his hit album including 'Harvest,' 'Out on the Weekend' and 'Heart of Gold.' And there were also familiar songs off Everyone Knows This is Nowhere and After the Gold Rush. Further challenging the audience at the Tuscaloosa show, Young played 'Alabama,' which directly confronts the racism that to this day lives on in the state known as the 'Heart of Dixie.' Did the audience know what the song is about? You can hear applause at the conclusion, so Young's student fans seem to have agreed with him.
There's a 'Desolation Row' aspect to some of the then-new songs. 'Lookout Joe,' which Young introduces as "a song for the soldiers coming home from Vietnam," is about the freak show that America has become, and that the military men will confront on their return. "A hip drag queen and a side-walking street wheeler…/ They're all your friends, you'll come to love 'em." The chorus – "Old times were good times" – likely alludes to back in the day before the guys left for Vietnam. Those times are gone.
The song 'Time Fades Away' begins, "Fourteen junkies/ Too weak to work/ One sells diamonds/ For what they're worth/ Down on pain street/ Disappointment lucks." The final verse is a repeat of the first, only the "fourteen junkies" are reduced to "thirteen junkies." One (Danny Whitten?) is gone.
Introducing the autobiographical 'Don't Be Denied,' which concludes the album, to the University of Alabama audience, Young said, "This is a song about an inspiring young folk singer who tried to make good in Hollywood."
'Don't Be Denied' is played at a languid pace set by Kenny Buttrey (the drummer on Harvest) that makes it impossible to avoid the lyrics. In contrast to drummer Barbata, who played on the Time Fades Away version, Buttrey is sparse in his playing. He hits heavy, directly on the first and third of the four/four beat, leaving out the extra beats that Barbata would play later in the tour. With Buttrey playing, you can hear how the rhythm is a variation of the 'Heart of Gold' beat (which Buttrey played on Harvest).
The lyrics tell a version of Young's story. Growing up in Canada, his father leaving when he was a young boy, beat up at school, dreams of stardom, leaving Canada for Hollywood, courted by "business men" who came to hear "the golden sound." The key verse is the fifth one, especially coming as it did after the success of Harvest. Neil Young writing to himself, writing to his dead friend, writing to every wannabe rock star.
"Well, all that glitters isn't gold/ I guess you've heard the story told/ But I'm a pauper in a naked disguise/ A millionaire through a business man's eyes/ Oh friend of mine/ Don't be denied."
And the chorus, which at times during the tour he would scream: "Don't be denied/ Don't be denied/ Don't be denied /No no, don't be denied."
On this version however, he reprieves the fourth verse, the one about business men coming to hear the "golden sound."
On a tour where Young was challenging his audience with an album's worth of new material, perhaps with this song he was insisting one has to follow their vision, no matter the cost. Certainly, he was saying there's more to life than money – something he certainly knew by then. "'Don't Be Denied' has a lot to do with Danny, I think," Young told McDonough. "…I think that's the first major life-and-death event that really affected me in what I was trying to do… you kinda reassess yourself as to what you're doing – because you realize that life is so impermanent. So, you wanna do the best you can while you're here, to say whatever the fuck it is you wanna say. Express yourself."
Michael Goldberg, a former Rolling Stone Senior Writer and founder of the original Addicted To Noise online magazine, is author of three rock & roll novels including 2016's Untitled.