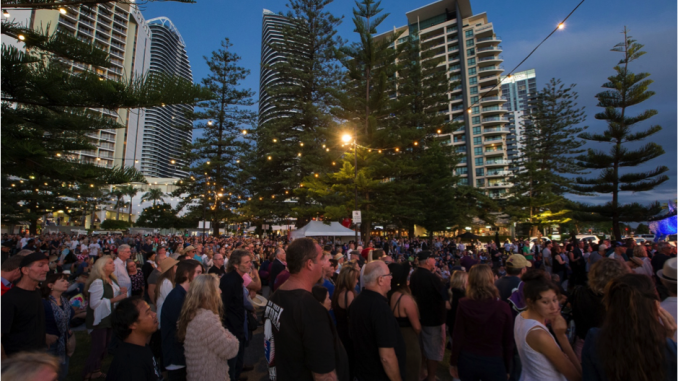 The Broadbeach Country Music Festival may now be under the new name of Groundwater, but its reputation of bringing together a world-class line-up of country stars hasn't changed one bit. Broadbeach Alliance is proud to present a packed 2018 line-up with still more to be announced, including the major award winners at the recent Golden Guitars
THE McCLYMONTS, US country stars GRANGER SMITH, LILLIE MAE and JOSHUA HEDLEY, along with Aussie icon BILL CHAMBERS, multi-award winners ADAM HARVEY and O'SHEA, crowd favourites TROY KEMP and CASEY BARNES, and many more.
Groundwater Country Music Festival is Australia's fastest growing country music festival and is held July 27-29 across 10 performance stages in the Broadbeach precinct on the stunning Gold Coast, the sixth biggest city in Australia.   Best of all…the event is completely free! The city is no longer just a beachside town, it is adding to its depth economically, socially and culturally and in April will have the eyes of the world cast on it for the Commonwealth Games. Gold Coast…it's your time to shine.
Roll the drums please….
THE McCLYMONTS
GRANGER SMITH (USA)
Featuring Earl Dibbles Jnr
ADAM HARVEY – O'SHEA
CATHERINE BRITT & THE COLD COLD HEART
LILLIE MAE (USA) – BILL CHAMBERS
JOSHUA HEDLEY (USA)
TROY KEMP – KIRSTY LEE AKERS – CASEY BARNES
TRAVELLIN' STILL: THE SONGS OF SLIM DUSTY
WITH PETE DENAHY & THE TRAVELLING COUNTRY BAND
THE HILLBILLY GOATS – HURRICANE FALL – DOUG BRUCE
THE MORRISONS – MELODY MOKO – COUNTRY MUSIC COCKTAILS
…and more still to be announced…