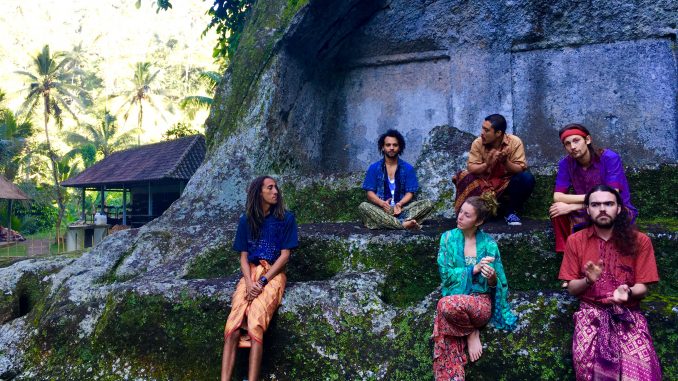 As you may be aware, Rhythm Underground in Jenolan Caves has been cancelled for 2016, whilst some environmental studies are undertaken. We look forward to returning to Jenolan Caves in 2017. One Rhythm will take place on Friday 18th November in Bondi Junction, and Saturday 19th November in Katoomba.
RHYTHM HUNTERS + SI MULLUMBY + SNAIL
Saturday 19th November
Katoomba/Leura Community Centre
Doors 7pm
Presale tickets $20
Door tickets $30
One of Australia's most dynamic and busy festival groups, Rhythm Hunters are bringing their infectious dance grooves back to the Blue Mountains for a once off show at the Katoomba/Leura Community Centre. Supporting Rhythm Hunters, and also joining them on stage as a special guest will be Si Mullumby of Wild Marmalade fame. Also supporting on the night is local folk trio Snail. One Rhythm is sure to entrance your ears, tantalise your musical tastebuds and leave your feet aching for more.
RHYTHM HUNTERS A dynamite force in world roots music, adored for their frenetic drum choreographies and infectious dance grooves, Rhythm Hunters bring cutting edge physical percussion, western horns, Asian flute, deep grooves and electro beats, making them one of Australia's most exciting and in demand festival acts. Rhythm Hunters have played alongside acts such as Nahko and Medicine for the People, Evermore, Blue King Brown and The Melbourne Ska Orchestra. Festival slots include The Woodford Folk Festival, Peats Ridge, The Dreaming, The National Folk Festival, National Multicultural Festival, Winter Magic, Psyfari, Moomba, Jungle Love Festival, Subsonic, Mullumbimby Music Festival, Island Vibes, Illawarra and Cygnet Folk Festivals.
|| http://www.therhythmhunters.com/ || https://www.facebook.com/TheRhythmHunters ||
SI MULLUMBY (WILD MARMALADE) Leading contemporary didgeridoo player Si Mullumby has pushed the boundaries of what can be done with Australia's iconic instrument. As a solo act, Si reveals his hidden multiinstrumental self. Combining flamenco guitar, spanish cajon and drums, he creates a world music framework to support his unique didgeridoo sound. Musically influenced from 20 years of travelling throughout the globe, Si delivers a unique experience born from choosing to walk the road less travelled.
|| http://www.wildmarmalade.com || https://www.facebook.com/wildmarmalade ||
SNAIL Snail is a trio of three pals. Holding their dear collection of special stringed instruments in their hands, this band weave influences of RnB, hip hop, soul and a little bit of jazz, creating their own quirky and contemporary sound. Over the last year, the freshly formed group have been playing shows in and around Sydney and the Blue Mountains at events such as Art Party, Folkswagon and The Blue Mountains Folk Festival.