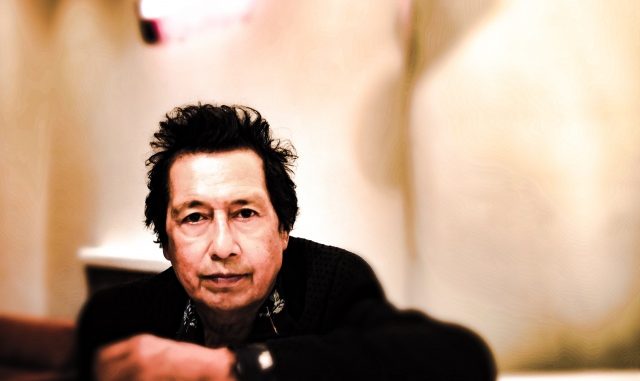 By Brian Wise.
One measure of the esteem in which Alejandro Escovedo is held is that last year he received the Townes Van Zandt Award at the Austin Music Awards, joining other Texas legends Joe Ely and Terry Allen as a recipient of the prestigious accolade. You can add to that his status as No Depression magazine's Artist of The Decade.
But those awards came after decades during which Escovedo established himself as one of his home state's most revered musicians. So revered, in fact, that when he became critically ill in 2003, admirers such as Lucinda Williams, John Cale, Steve Earle, Charlie Musselwhite and other recorded an album of his songs, Por Vida, to raise money to help pay his medical expenses.
Fifteen years on and Escovedo is touring Australia – mainly solo but with Tim Rogers of You Am I tagging along for some gigs. It's a long overdue visit for a musician whose name has become synonymous with Texas music.
Born in San Antonio, Escovedo first came to attention in the late-70's with San Francisco punk band The Nuns (who opened the Sex Pistols' final show in 1978). He moved to Austin in the 80s where he helped form alt-country rock (or 'cowpunk') pioneers, Rank & File before founding the True Believers with his brother Javier and Jon Dee Graham.
By the time he released his first solo album in 1992, Escovedo was already an integral part of the Austin music scene – though for the past four years he has lived in Dallas and has become an avid advocate of his new home's scene.
I have lost count of the number of times I have seen Escovedo in Austin and elsewhere over the years. Most often it was at the Continental on South Congress for a midnight show. Sometimes he would appear with a string quartet, most often it was incredibly loud and always he seemed to do a great version of the Rolling Stones 'Beast of Burden' as an encore. (Although after Bowie's death he added 'All The Young Dudes.'
It was at one of those gigs that I first met Escovedo when I was introduced to him by his keyboard player 'Aussie Dave' Boyle who I also met at the gig. (When I greeted Boyle by saying, 'I'm Brian. I'm from Australia too', he laughed and said, 'That's the worst Australian accent I have ever heard!').
So, it was a bit of surprise when in 2017, at the age of 66, Escovedo teamed up with Italian band Don Antonio, led by musician and former journalist named Antonio Gramentieri, and recorded an album in a little town near Bologna, Italy.
Released in 2018, The Crossing, was to become one of Escovedo's most highly acclaimed – and maybe most unusual – albums to date. The thematic album follows the story of two young immigrants, one from Mexico and one from Italy, as they come to the United States to pursue their American dream and in search of their punk rock idols. It features a host of guest musicians, including The Stooges' James Williamson on 'Teenage Luggage' and Wayne Kramer from the MC5 on 'Sonica USA' (both band names are mentioned in the lyrics as well). 'Waiting For Me' features Peter Perrett and John Perry from The Only Ones, recording together for the first time since 1980. Joe Ely appears on his own track, 'Silver City'. 'Rio Navidad,' a spoken word song about a Texas ranger, was written by novelist and Richmond Fontaine/The Delines' bandleader Willy Vlautin and read by his bandmate Freddy Trujillo.
When we caught up by phone to talk about the album and the tour, we had to discuss Escovedo's love of Australian bands and surf music before we could talk about the latest album.
"I love Australian bands," he says. "I've always loved The Scientists and The Beasts of Bourbon I love and the Cruel Sea. The Saints were one of my favourite bands of all time. I first started playing in punk rock bands and I heard their album. I just love them very much and, of course, all the musicians. You know, I love this guy, [Andrew Kidman] who directed that film Glass Love.
And they have a band too and they do a bunch of music and I love the music they make too for their films. A very cool bunch of guys. I love his films though. His films are awesome. So, yes, I'm a big fan of the Byron Bay era when Miki Dora was there and Rusty Miller and those guys.
So that was my introduction. Midget Farrelly, Nat Young, of course, and all those guys. Because I grew up in Huntington Beach, right? And I was there the day that they broke David Nuuhiwa's surfboard, you know, Matt Young and those guys. And hung it from the pier……..because he was riding a short board.
Surprisingly you've never been to Australia before.
No, sir. This will be my first time. Very excited. But better now than never, right?
The latest album that you recorded, The Crossing, is with an Italian band. I saw you in Nashville and I also saw you in Austin with the band. Now, tell us how that came about. And you recorded the album in Italy.
Well, what happened was about almost two years ago now, I was going to tour Europe and I couldn't afford to take my band. So, the gentleman that was helping me in the UK offered me three different bands to back me up while I was there. Two of them were English and one was this Italian band Don Antonio. And I fell in love with Don Antonio. I sent them a list I think of about 30 songs, probably, to learn.
And when I got there, I met them for the first time. They picked me up at the airport in Bologna. We then drove to their little village where they live and had dinner immediately and met all their friends and then walked over to the study and started playing for about a couple hours that first night that I met them. And, right away, I could let that they were very different than the bands that I had played with prior to that. They really kind of learned and soaked the material into making it their own, which was very admirable in my eyes and made it something different, and yet, I was comfortable with everything that was happening musically.
A couple of days later I think it was, we left at six in the morning and drove ten hours to Frankfurt where we played our first gig. We did 35 shows in 40 days and there was five Italians and my wife and I doing that whole tour with the equipment in the back. It was very punk rock again. And were just kind of traveling in the van with stuff in the van but we had a hell of a time.
And the music we made was especially open, it was free, there was a lot of improvisation. They brought something out in my music that I hadn't felt before and I just fell in love with them. I went back two months later; we toured Southern Italy. And that's when I began to talk about the concept of the new record and how I'd like to record with them. And that's kind of how it started right then and there.
I don't know if I was sceptical – I don't know why I should have been sceptical – because you wonder what an Italian band will be like playing with this artist from Texas, but it worked quite brilliantly.
Yeah, it always surprises … even the Italian guys who have known of me and knew my music and when I was going to play Italy, they were all a little sceptical as to what was going to happen. But afterwards, they all came to me and said, "This is the best music you've ever made." I'm very proud of the band and, suddenly, we were all onboard.
But, yeah, I think people tend to think an Italian band doesn't … I don't know what it is about it, but there's something that kind of stops them from believing that it can work, right? And if you try to think of them as a rock 'n' roll band, which most people see me with most of the time, they're not a rock and roll band in the sense of an English rock band, or like the Stooges or the New York Dolls or something. But they're very different in their approach to music.
What I loved about it though, was it brought out the poetry in my music and the kind of atmosphere in my music. They're not afraid to get outside of the kind of form that we're playing at the time. So, it definitely opened my ears to a lot of possibilities and that's why I thought we could make a great record together. And the results? In my eyes, it's one of the best records I've ever made so I'm very happy with what's happened.
And you recorded it over there with them?
Yes. We recorded in a little town called Villafranca, which is about 20 miles from them headed towards the sea. And we recorded in an old farmhouse out in the country. We had our own Italian chef and she cooked for us every day. Every day when we left the studio, there was pasta laid out for the meal the next day. We had these wonderful sessions. It's funny, but once the music started to take shape the lyrics and the story really started to become inspired by what I was hearing. It's funny because I wrote most of the lyrics, I'd say probably 90% of the lyrics in the studio while we were working.
We had an idea already. We had a concept of what the story was about. We knew that it was about these two young men from Italy and Diego from Mexico. And we knew that they were young boys who loved punk rock. That they loved literature of the 50s and the 60s, like beat poetry and stuff. They were well-read. They loved films of the 70s; John Huston and Dennis Hopper and Sam Peckinpah, people like that. So, we knew that they had those aesthetics. So, then they go looking for this America that they believe still exists within those aesthetics and what they find is very different. They find an America that is very unwelcoming, that is very closed – especially very closed to people who don't speak the language or look the same and come from other countries. So that was the gist of the story.
It sounds almost like a film script in some ways.
Well, we thought of it as a soundtrack to a film that hasn't been made yet. That really was the mindset Antonio and I had when we wrote the songs together. So, yeah.
It's got a really relevant story to what's happening in America today.  I guess events over the last couple of years must have spurred the particular subject matter.
I didn't want it to pertain to what's happening now but, obviously, it was influenced by what's happening in this country. But you have to remember that my father came from Mexico and my father suffered the same sort of indignities that these young boys are suffering, or experiencing I should say.
So, when I grew up in the '50s we left Texas to move to California. In the late '50s early '60s in California, we found California to be even more prejudiced and discriminating than Texas was. Because we lived in San Antonio when we lived in Texas. All our relatives were around us. We had a horse, we had a dog, we had a lot of the same kind of things. The food that we ate was all Mexican food. The language that we spoke was Spanish. So, we felt very comfortable.
Suddenly, we're placed in this other kind of a world in which I was going to school. There was no bilingual program. There was just a lot of things being said to me as I was growing up that made me feel very conscious of myself and maybe less of myself as a result of it. It was an interesting time to grow up – especially, if I wanted to be a surfer because in California in the early '60s, if you were a surfer they usually fought with the Mexican kids. Those were the two factions that really battled it out. There was, to me, and I don't want to … it's a very general statement but surfers were very conservative in a way – and very kind of racist in a way, to be quite honest. So, that was the California that I grew up in. So, I took those experiences and kind of built them into this character.
It's a long way from California now, isn't it? Where more than 50% of the population there speaks Spanish.
Yeah, it's different now. But back then it wasn't as it is now. It was a different scene altogether.
The album, certainly, is relevant. You may not have intended it to be what's happening in America and the whole issue of immigration and everything has become such a huge issue there. The same thing's happening here in Australia too, I might add. So, it's kind of become a huge issue worldwide, hasn't it?
Yes, they're having the same problems in Italy. They're having the same problems in Holland. And also, 2016 Trump had just been elected when we were touring in Europe. I can't remember the name of the woman who was running in France was.
Marine Le Pen?
Marine Le Pen, yes. And then there was that guy; the Trump of Holland. Do you remember him? He ran too, that guy that kind of looked like Trump. All of that was happening and so, of course, being conscious of what's happening in the world around you as a writer all those things kind of seeped into the story in a way. So, it is relevant, but we didn't want the narrative to place us in any particular time and place. We wanted to be kind of timeless in a way, if we could make it that.
You've got some pretty special guests on the album. Where did they record and how did that come about?
Well, I wanted people who played in the story. They love the MC5, they love The Stooges, they love anything that's outside the norm. They despise Journey and REO Speedwagon and all that stuff. They were not into that. There's a line in one of the songs that says, 'We love The Stooges and we hate you U2.' People think that I'm saying, 'you too' – like I'm pointing the finger at someone – but it's actually the band U2. So, their aesthetics are really for something that's more raw, real rock and roll.
Who better yet to play but Wayne Kramer of the MC5, who's doing wonderful work with MC50. Then, also, James Williamson who's been one of my top-five guitar player heroes. So, it was great that I asked them and they were very generous with their time. We sent them the tracks and they cut them in their studio. So, that's how that worked.
Then we got Peter Perrett and John Perry are the only ones who hadn't played together in quite a while, I believe. And they both guested on the song, 'Waiting For Me.' And I love Peter's voice so that was really special. And Joe Ely of course.
Wayne's got a book out at the moment.
It's a serious book. I got to interview Wayne in Austin when he had a book appearance at Book People and I went and interviewed him for the book. And then the next night I got to sing with MC50. I did 'Shakin' Street', that song off of the MC5 album so it was really special. That band he has now, it's just killing, man. It's an amazing band.
Let me ask you about a couple of tracks here if you've got time. 'Sonica USA, which refers to all that kind of punk and new wave stuff, doesn't it? 
Yes, it does. 'Sonica USA', where he says, "I saw The Zeros" – and The Zeros are my younger brother's punk rock band. They were all Mexican kids from down in San Diego area. So, what we were trying to say in that song was that when you see someone like The Zeros, The Plugs, Los Lobos, let's say, who are Mexican guys who are rock and who are doing something interesting it gives you that much more confidence to do it yourself.
The thing is that in rock 'n' roll I found that there's as much prejudice as there is in any avenue that you might pursue in life. So, it was important that they see The Zeros rock so that they believe that it's something that they can do too.
I remember as a kid whenever Sir Douglas Quintet or even Sam The Sham or Love or different bands like that who had Mexican guys in the band it was always very special. Of course, there were bands like Thee Midnighters and then I also mentioned Cyprus Hill and Jurassic Five because these guys are really into all kinds of music.
When you say there's prejudice in the music industry was it amongst the bands? Or do you mean from record companies towards those bands?
Well, in the song 'Teenage Luggage', he goes, "You don't know me. You don't know me. You think you know me. You're just a bigot with a bad guitar." So, that refers to the people who actually play the music that have some pretty fucked up ideas about race and social issues. So, some of it was about the industry and then some of it was about personal experiences in bands.
Then, again, a song like 'Outlaw For You' sort of invokes a whole lot of different names of other people in sort of another sphere, doesn't it?
Yeah. That's where he's saying, and I figured it was just a kind of a cool way to name drop the influences that we've had over the years. Whether it be Gregorio Cortez or Allen Ginsberg or Jack Kerouac or Cesar Chavez or different people, Zapata – All these kind of like iconic figures that gave you inspiration to move in the right direction I think. In a way it's a love song "Outlaw For You", but in a way it's kind of like this revolutionary stance too.
Tell us about 'The Crossing.' You were referring to a metaphorical crossing, I presume. But there are a number of important crossings that you could be referencing.
I think that The Crossing is not just literal in the sense that they cross the river, they cross the borders. But also, in 'The Crossing', Diego really talks a lot about the choices that he made to get there and the things that he lost along the way. So, in 'The Crossing' he is really becoming someone else as he grows, as he matures into a person who has experienced the murder of his friend and the loss of his family. The loss of his identity, in a way, because of the obstacles as he faces in his language and his culture is concerned.
There's a lot of different types of crossings, so it's not just about the physical crossing of borders. But the kind of spiritual crossing and inner crossing that you do when you grow older and experience what the world is really like.
What bands did the members of Don Antonio listen to? It seems to me as though they must've listened to the same bands that you did, like The Stones and everything like that. Is that the case?
No. I think, first of all, they were into a lot of Italian artists that I've been turned onto by them. And everyone from Paulo Conti to other artists that were more kind of rock and roll. But they also love Texas music. They were really into Jimmy Vaughan, The T-Birds, Los Lobos, I think Green On Red – those bands that came from that era. And the '80s I think were a big influence on them. But they have a lot of influences; Marc Ribot, The Lounge Lizards, people like that.
I saw Los Lobos, recently – fantastic as usual – but it's hard to remain true to what you're doing, isn't it? Like they have. They could've easily gone a particular commercial route but they still play all the Spanish songs and they still stay true to how they started. That's hard to do in the music industry isn't it?
That's very hard to do. I think they made a choice when they had a hit with 'La Bamba'. But everyone just waits for them to play 'La Bamba', I think that kind of repulses them in a way. They made a choice not to just capitalise on that song but stay true. Then they would've made a record like Kiko, which is not a commercial album at all. Or Pistola, which was all in Spanish. They're very brave. They're very courageous and probably some of the greatest musicians that have ever been around at all. So, I love them very much. They've always been a big influence.
In a way you've done exactly the same thing, haven't you? You've just stuck to what you wanted to do.
Yeah. There was never any plan and there was never any kind of idea that I was going to be a pop star or anything like that. It was all about just really playing the kind of music I loved and the music I wasn't hearing on the radio. And somewhere along the line I kind of found my own voice. So, once I found that and got comfortable with that and became more confident, it was easy to make these different records with different line-ups and different orchestration and stuff. I've had a good ride. It's been fun.
You've got some big fans. I've recently seen you in a video on stage with Bruce Springsteen who, obviously, loves your music as well.
Yeah, yeah. That's a big treat. Bruce is very kind and he's very generous with us and I admire him greatly and I've been lucky. When we were in The True Believers I remember our first record had just come out. We were playing a show at The Club Lingerie in Hollywood and we were playing 'I Want To Be Your Dog' and Iggy Pop was dancing in the audience to our song. So, things like that are things you can't buy and that kind of set me on the road that I'm on now.
All these guys that I've met; Ian Hunter, that's been so supportive and really great. Joe Ely. Townes was really cool to me, Townes Van Zandt. I've just been very lucky in that way.
Well you won the Townes Van Zandt Award, didn't you?
I guess I did, yes. To me it's hard to wrap my head around that because I have such admiration for Townes. I was telling Charlie Sexton the other day, I go "I don't know, man. It feels weird." He goes, "You've got to stop that. You deserve it." And I said, "I don't know." I've never been the kind of person that feels like I deserved anything so it's really a great honour though, because I got to tour with Townes and know him and it's really special. So, I'm very proud of that.
ALEJANDRO ESCOVEDO – AUSTRALIA/NEW ZEALAND MARCH 2019
SUN     MAR 3                         CAMELOT LOUNGE, SYDNEY
MON   MAR 4                          CAMELOT LOUNGE, SYDNEY
TUES   MAR 5                         LIZOTTES, NEWCASTLE
WED    MAR 6                         JUNK BAR, BRISBANE (early & late shows)
SAT-MON MAR 9-11             PORT FAIRY FOLK FESTIVAL
TUES   MAR 12                       THORNBURY THEATRE, VELVET ROOM, MELBOURNE
WED    MAR 13                       CARAVAN CLUB, MELBOURNE                                                              
FRI      MAR 15                        TUNING FORK, AUCKLAND
SAT     MAR 16                         CAROLINE, WELLINGTON
SUN     MAR 17                        BLUE SMOKE, CHRISTCHURCH