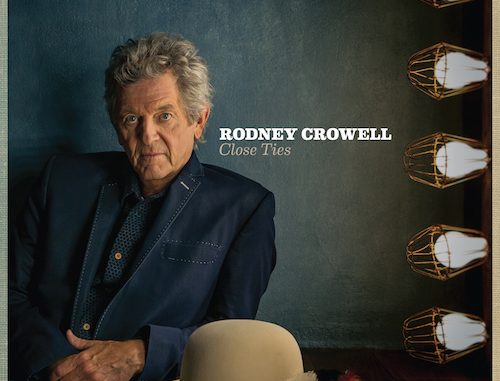 Rodney Crowell's highly anticipated new album Close Ties is out now via New West Records and available digitally, on compact disc, and LP Here. The album debuted on Billboard's Top 200 chart; as well as at #5 on Americana/Folk Albums, #8 on Top Country Current Albums, #9 on Independent Record Label Current Albums, #41 on Top Current Albums, and #51 on Overall Digital Albums. Co-produced by Jordan Lehning and Kim Buie, Close Ties is the multi-Grammy Award winning troubadour's first album in over three years. The 10-song set features a duet with Sheryl Crow on the haunting "I'm Tied To Ya," and a vocal collaboration with Crowell's ex-wife Rosanne Cash and John Paul White on the album single "It Ain't Over Yet." In celebration of the release, Crowell was joined by Cash and White for their first-ever live performance of the single on CBS This Morning Saturday. Rolling Stone Country previously premiered the official music video for the "intoxicating tune," which features legendary harmonica player Mickey Raphael as well as the trio and can be viewed/shared Here.
In addition to its commercial success, Close Ties has also gained considerable critical acclaim with The Wall Street Journal raving, "[Close Ties] proves energizing, engaging and often fascinating;" and the Associated Press adding, "The set ranks among his best." The Los Angeles Times calls it "exceptional," while No Depression notes, "Whether he'll accept it or not, [Crowell has] now assumed the mantle of the late Guy Clark and Townes Van Zandt, two poets who could zero in on our emotions by telling wry, straight-as-an-arrow stories about the desiccated desolation of the failures or triumphs of relationships, or the battered denizens of small towns searching for truth, comfort, love, or refuge in their own halting ways."
NPR Music premiered a full stream of the album as a First Listen in anticipation of its release stating, "…Crowell's new album Close Ties unfolds like a history lesson, both of his personal mythology and the music that shaped it," continuing "There's no doubt that Crowell was an architect of Americana as we know it, and with Close Ties, we're fortunate to have a look at his blueprints." Close Ties' narrative begins with album opener "East Houston Blues," which CMT calls "a jumping acoustic number that authentically captures the working class neighborhood that shaped Crowell as a kid growing up in Houston's Third Ward," and it's bookended with "Nashville 1972" that lovingly namechecks Guy & Susanna Clark, Townes Van Zandt, Willie Nelson, Tom T. Hall, Steve Earle and more. Paste Magazine premiered the video for the album closer Here, which was shot on 16mm black-and-white film and includes archival and modern day images depicting the Nashville Crowell arrived in over 40 years ago and the Nashville in which he currently lives. The East Nashvillian's must-read cover story on Crowell by Holly Gleason states of the song, "A patchwork of details and moments, the talent percolating is superseded only by Crowell's self-effacement," continuing, "'Nashville 1972' sets the stage for restless songwriters trying to craft poetry from life on the fringes."
Close Ties both demonstrates Crowell's strengths as a songwriter and illustrates how he has learned to balance personal recollection, literary sophistication, and his profound musical reach.  It's at once his most intimate record and his most accessible, the product of years of understanding the ways songs can enter – and be entered by – life. It is a roots record, in the sense that Crowell himself has deep roots that stretch back into the alternative country scene of the early seventies. But it defies easy classification. Is it country? Is it a singer-songwriter record? "I have declared my loyalty to Americana. It's a hard category for people to get their heads around, or at least the terminology is. But all the people who represent it – Townes Van Zandt, Guy Clark, Lucinda Williams, Steve Earle and more recent stars like John Paul White and Jason Isbell – share a common thread, and that thread is poet. Whether they are actual poets or their music exemplifies a poetic sensibility, generally speaking, the Americana artist shuns commercial compromise in favor of a singular vision. Which resonates with me."
Fifty years after Crowell first started playing as a teen in Houston garage bands, he has moved into elder-statesman territory, and continues to extend the path carved out by the top-tier songwriters who preceded him. His songs have been recorded by country legends (Johnny Cash, Waylon Jennings, Willie Nelson, George Strait), to current country chart toppers (Tim McGraw, Keith Urban) to blues icons (Etta James) to rock and roll legends (Van Morrison, Bob Seger). He is a Grammy award winner, a member of the Nashville Songwriters Hall of Fame, recipient of the 2009 Lifetime Achievement Award for Songwriting from the Americana Music Association, and the author of his memoir, the stunning Chinaberry Sidewalks.
Rodney Crowell Close Ties Track Listing:
1. East Houston Blues
2. Reckless
3. Life Without Susanna
4. It Ain't Over Yet (featuring Rosanne Cash & John Paul White)
5. I Don't Care Anymore
6. I'm Tied To Ya (featuring Sheryl Crow)
7. Forgive Me Annabelle
8. Forty Miles From Nowhere
9. Storm Warning
10. Nashville 1972