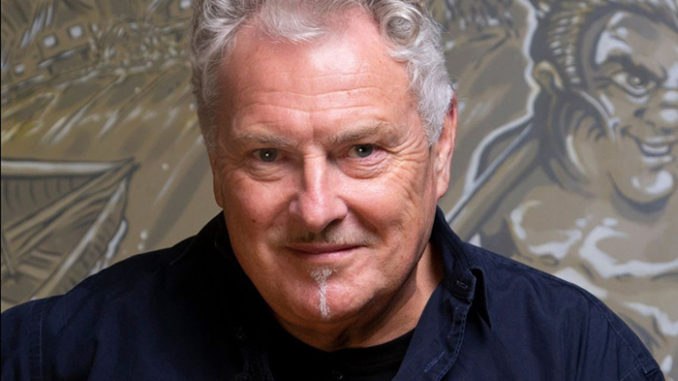 Ross Wilson will be presenting Living in the Land of Oz – featuring Ross Wilson & The Peaceniks, Mick Thomas' Roving Commission and Jessie Lloyd's Mission Songs Project – on January 26, 2021, at Melbourne Pavilion Live Outdoor on Racecourse Road Kensington. The special concert also marks Survival Day 2021.  
This very special event takes its name from Ross Wilson's groundbreaking 1976 first solo single, the first white rock record to address Indigenous issues. It is also Wilson's first show in a year that marks the 50thanniversary of the record-smashing first Daddy Cool album and his signature song 'Eagle Rock'.
Ross says of the concert: "I'm looking forward to playing my songs in context on Survival Day in support of First Nations people. 'Living In The Land Of Oz' was released in 1976 and sadly its lyrics of dispossession & institutional racism still resonate today." [#changethedate]

'Living in the Land of Oz' is a significant song in Wilson's repertoire. Written and first recorded in 1976 it was his first solo single, it was not only first white rock record to address Indigenous issues, but also the theme song to the 1976 feature film Oz (a.k.a. Oz – A Rock 'n' Roll Road Movie)  by Wilson's old mate Chris Löfvén.

Its bright, celebratory vibe veiled brilliantly dark and subversive lyrics. Lyrics like "150 years ago the black man lived in peace and the land was still / Now a city of millons covers the soil and the blacks have all been killed" and "Now I don't know how it happened but it happened just the same / Now the whites are rich and the blacks are dead and no one seems ashamed".

The song also addressed our nation's then still-recent White Australia policy: "The government of this wonderful land, they sent men all around the world / Just to tell everyone it was the perfect place to raise their boys and girls / If you're white you can come alright but if you're black you'd better get back /  Because they took a lot of trouble just to kill 'em all off, don't wanna have to do it again."  

And no it wasn't a hit. But while the song predated similarly-themed material by the likes of Goanna, Midnight Oil and Paul Kelly by half a decade, it has endured. In 1989 it was featured on the groundbreaking collection released by CAAMA entitled Building Bridges (Australia Has A Black History) collection alongside the aforementioned artists and the likes of No Fixed Address, Yothu Yindi, Coloured Stone and others.

For his first gig of the year – the year that marks the 50th anniversary of 'Eagle Rock' and the record-breaking first Daddy Cool album – Ross Wilson and his band the Peaceniks have chosen to highlight the sentiments of 'Living in the Land of Oz' with this special show. The song will of course be part of Ross's set, alongside classic material from Daddy Cool, Mondo Rock and his solo work.  
Joining the line-up will be Jessie Lloyd's Mission Songs Project, an award winning show which has toured globally. Melbourne-based Lloyd, originally from North Queensland and the daughter of influential Indigenous musician Joe Geia, conceived the project to collect and bring new life to  songs that were composed and sung on Aboriginal missions and settlements during the 20th century. In 2017  the Project produced an album, The Songs Back Home, which featured guests including Archie Roach and Lou Bennett of Tiddas, and which The Age described as a collection of  "Islander rhythms, campfire country and defiant humour celebrat(ing) simple joys" and "melancholy ballads (which) chart a journey of blood, sweat and tears…" 

Also joining Ross and band will be another iconic Melbourne artist known for both his strong sense of social justice and his feeling for Australian history (he featured with Weddings Parties Anything and his song 'Hungry Years' on the aforementioned Building Bridges collection), Mick Thomas & his Roving Commission. Mick's appearance follows the release of last year's See You On The Other Side album, and his latest single, a summery cover of Cold Chisel's 'Forever Now' with guests including Tim Rogers and Angie Hart, and it precedes the formal announcement of his new album – his second recorded in COVID Lockdown, entitled City's Calling Me –  which will be out in March. Mick's live set includes solo classics and WPA hits 'Away Away', 'Monday's Experts' and 'Father's Day'.