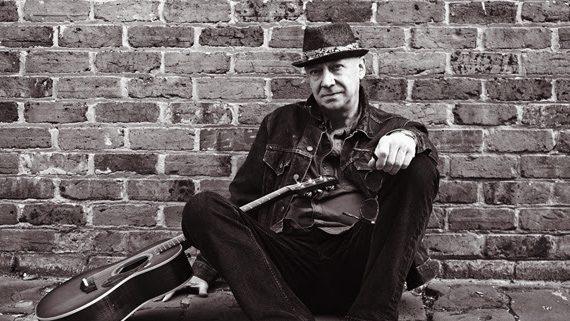 CONFIRMED FOR EXCLUSIVE APPEARANCE AT SANTANA & THE DOOBIE BROTHERS ADELAIDE SHOW
In a huge coup, local music icon RUSSELL MORRIS was yesterday presented with the ARIA Award for Best Blues & Roots Album for his critically acclaimed release 'Red Dirt – Red Heart'. Nominated alongside lauded artists Jimmy Barnes, The Cat Empire, The Wilson Pickers and Kev Carmody, Russell was presented with the award at a stunning event for the 30th annual ARIA Awards, at Sydney's The Star.
Over the past four years, Russell has been nominated three times in the Best Blues & Roots Album category. After claiming the ARIA Award in 2013 with his chart-topping release 'Sharkmouth', which became the highest-selling Australian album of the year, Russell received a nomination for the follow-up 'Van Diemen's Land' (2014).
Music lovers, industry and critics alike have praised all three installments of Russell's Australiana trilogy, which see the artist return to his early influences of American Blues & Roots.
"It's a fantastic thrill and a great honour to be presented with this award", said Russell. "Red Dirt – Red Heart' is an album that is deeply meaningful to me, and to win, let alone be nominated alongside such talented artists is a privilege".
"Russell Morris is one of Australia's most prolific artists, and Chugg Music couldn't be more proud that he's won a second ARIA Award for Best Blues & Roots Album", said Michael Chugg.
Currently traversing the country on national tour dates, it was this week announced that Russell Morris will join guitar virtuoso Santana and the legendary Doobie Brothers for a special one-off performance at Adelaide's Botanic Park on Sunday 9th April. He will also play alongside Jimmy Barnes in Werribee VIC this Sunday 27th November, and will take the stage ahead of Rodriguez at Perth's Kings Park Concert on Sunday 10th December.
Since mid-2016, Russell has been making headway in the United States, with his Sharkmouth album released in the United States in September, and gaining traction at US blues and college radio. He performed at this year's Nashville's Americana Music Festival, and will be touring select American cities in support of Sharkmouth early next year.
Don't miss the multi ARIA Award-winning Russell Morris live in action, as he takes the songs and stories of his Australiana trilogy to music lovers across the country.
RUSSELL MORRIS – NATIONAL TOUR DATES

Saturday 26th Nov – Fly By Night Club, Fremantle WA
Sunday 27th Nov – Werribee Concert VIC (with Jimmy Barnes)
Friday 2nd Dec – Burvale Hotel, Vermont SA
Saturday 3rd Dec – Sphinx Hotel, Geelong VIC
Saturday 10th Dec – Kings Park Concert, Perth WA (with Rodriguez)
Thursday 15th Dec – Chequers Hotel, Bullsbrook WA
Friday 16th Dec – Fly By Night, Fremantle WA
Friday 20th Jan – Caravan Music Club, Melbourne VIC
Saturday 28th Jan – Lizotte's, Newcastle NSW
Sunday 29th Jan – Lizotte's, Newcastle NSW
Saturday 18th Feb – Mitchelton Wines, Nagambie VIC
Sunday 9th April – Botanic Park, Adelaide SA (with Santana and The Doobie Brothers)