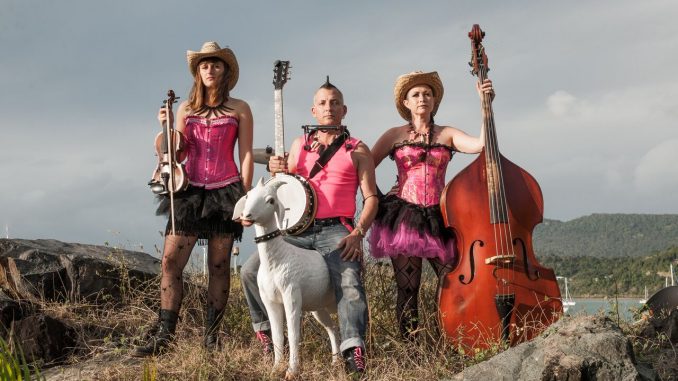 Listen to the single now!
Flat out banjo, driving fiddle and three part harmonies are the hallmarks of 'Cumberland Gap', the latest single off the album, 'Down Foggy Mountain' by Aussie festival favourites, The Hillbilly Goats.
Produced & recorded by Nash Chambers (Jimmy Barnes, Kasey Chambers, Archie Roach, Paul Kelly) at his Foggy Mountain Studios in the NSW Hunter Valley, 'Cumberland Gap' is the second single off the album 'Down Foggy Mountain' – the third studio album for the Hillbilly Goats released in January 2016.
In true Goat form, Bryce and Mahney Wearne have succeeded in keeping the traditional origins of this Appalachian folk song, then amping it up to the punk-rock energy they are renowned for in their gutsy live performances, winning them fans all over the country.
"The Cumberland Gap was a highly travelled mountain pass in the late 1700's by migrants heading west," explains Mahney. "The Union and Confederate armies battled for a year to take control of the gap during the Civil War".
"It became a popular folk song in the 1800's. We upped the tempo of the song to create a feeling of movement through the mountain. Being the opening track, it sets a feel and opens a space for the rest of the album."
The Hillbilly Goats incarnation of the song features Bryce and Mahney on vocals, banjo, ukulele, backing vocals and bass, Bill Chambers on acoustic guitar & backing vocals, Nash Chambers on percussion and Brannon Crickmore on fiddle.
'Cumberland Gap' is released Thursday 15th Sept 2016 and available on iTunes. Check out the video clip at  https://youtu.be/62Fi6xQ8nME and touring schedule at www.hillbillygoats.com.au.
THE HILLBILLY GOATS TOUR DATES
2016
18/09: Coast Acoustics Music Fest, Nerang
24-25/09: Bikes, Bulls, Buggies & Bands, Donnybrook Station, via Mackay
28/10: Imperial Hotel, Eumundi
04-06/11: Airlie Beach Music Festival
07-08/11: KC's Bar and Grill, Airlie Beach
12/11: Toowoomba City Golf Club, Toowoomba
13-21/11: Cruisin Country, Royal Caribbean Cruises
25/11: Mooloolaba Yacht Club, Mooloolaba
26/11: Heads Shed, Wolvi
29/11: The Leap Hotel, The Leap
30/11: Prince of Wales Hotel, Proserpine
01/12: Townsville Folk Club, Townsville
02/12: Ingam RSL, Ingham
04/12: Yorkeys Knob Boat Club, Cairns
16/12: Casino RSM Club, Casino
17/12: Wadeville Woolies XMAS Fun Day, Wadeville
18/12: Harrigans Drift Inn, Jacobs Well
2017
06/01: Sawtell RSL, Sawtell
07/01: South Grafton Services Club, Grafton
08/01: Laurieton United Services Club, Laurieton
13-15/01: Illawarra Folk Festival, Bulli
15/01: Shady Pines Saloon, Sydney
20-29/01: Tamworth Festival, Tamworth 04/02: Dubbo RSL, Dubbo
12/02: Commercial Club, Albury