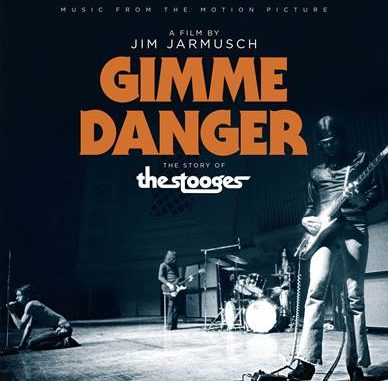 Celebrated filmmaker Jim Jarmusch says Gimme Danger — his critically acclaimed documentary about The Stooges — is more an "essay" than a document. "It's our love letter to possibly the greatest band in rock 'n' roll history…" Named an Official Selection to the New York, Toronto and Cannes film festivals, Gimme Danger presents the band's story and explores its influences and impact, complete with some never-before-seen footage and photographs. The film is now showing in select theatres.
Rhino offers the perfect complement to the film with Gimme Danger: Music From The Motion Picture. This new compilation will be available digitally on January 13. The same music will arrive on CD February 24 and on LP on April 7 and is available to pre-order now. Slightly truncated, the LP version features Stooges songs and has a selection of tracks previously only available on CD and digital formats, including the vinyl debut of the outtake Lost In The Future.
The digital and CD versions include 14 songs that focus on the group's first three studio albums – The Stooges, Fun House, and  Iggy and The Stooges' Raw Power — and feature band members Iggy Pop, Ron and Scott Asheton, Dave Alexander, and James Williamson.
Both Jarmusch and Pop helped select songs for the soundtrack, which mixes indelible studio recordings (I Wanna Be Your Dog, 1969 and Loose) with rare studio outtakes (I Got A Right, I'm Sick Of You and Asthma Attack.)
Fellow Detroit natives MC5 make an appearance on the collection as well with Ramblin' Rose from the group's 1969 debut, Kick Out The Jams. The oldest songs on the collection pre-date The Stooges and spotlight Pop with his previous bands, the Iguanas (Again And Again) and Prime Movers Blues Band (I'm A Man).
Emerging from Ann Arbor, Michigan amidst a countercultural revolution, The Stooges' powerful and aggressive style of rock 'n' roll blew a crater in the musical landscape of the late 1960s. Jarmusch says: "No other band in rock 'n' roll history has rivalled The Stooges' combination of heavy primal throb, spiked psychedelia, blues-a-billy grind…There is no precedent for The Stooges, while those inspired by them are now legion."