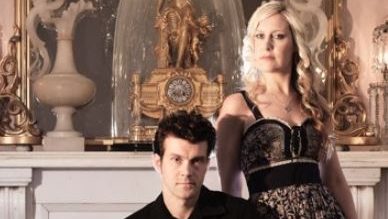 The 45th Country Music Association of Australia Awards nominees were announced yesterday with alt-country duo The Weeping Willows featuring prominently. The ceremony took place at Carriageworks in Sydney and featured an all-star line-up of Australian talent including the Melbourne based newcomers who earned nominations in 4 categories for their critically acclaimed album 'Before Darkness Comes A-Callin''.
The duo of Laura Coates and Andrew Wrigglesworth were nominated for Alternative Country Album of the Year, Bluegrass Recording of the Year ('River Of Gold'), Country Music Capital News Group or Duo of the Year (also for 'Before Darkness Comes A-Callin'') and Qantaslink New Talent of the Year (once again for 'River Of Gold').
"We are so honoured to be nominated for four Golden Guitars at the 45th CMAA Country Music Awards of Australia. We have such respect for the hardworking people of the Australian Country and Alt-Country community so it means so much to us to be recognised and welcomed into the family," said Laura and Andy.
Recorded in Los Angeles with multiple Grammy winner Ryan Freeland 'Before Darkness Comes A-Callin' was produced by the duo and released independently in April this year with international distribution by Redeye Worldwide (home to the likes of Gillian Welch, Dave Rawlings Machine, Willie Watson, Iris DeMent and more).
As displayed on their recent Australian tour The Weeping Willows are a couple of old souls, steeped in bluegrass tradition & draped in gothic Americana imagery. Together they regale their audience with stories of sunshine and romance, God and The Devil, murder and decay.
The single, 'Golden Days', co-written and performed with fellow Golden Guitar nominee, Allan Caswell, currently sits at #6 on the Country Tracks Chart and has just been added into rotation on CMC. 'Fallen Ring', the second single from 'Before Darkness Comes A-Callin' will be released in the coming weeks.