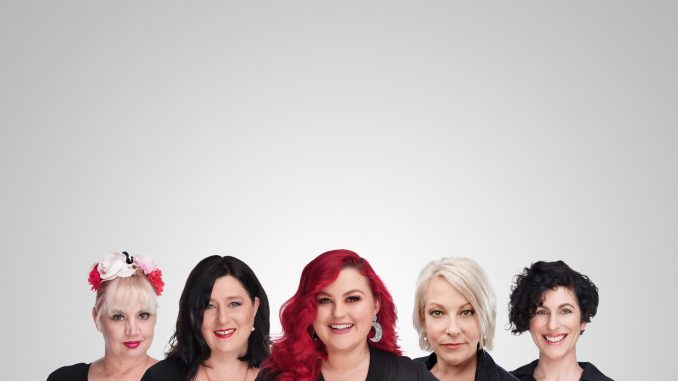 Cabaret group Women in Voice will be celebrating their 25th year this November with a concert at the Brisbane Powerhouse.
The group started in the West End, and have since performed in Brisbane and throughout Queensland for 25 years.
The group has performed with a number of artists over the years, the announcement said:
"As well as giving trailblazing artists, including the likes of Chrissy Amphlett, Deborah Conway and Jenny Morris, the chance to share something new with their audiences over the years, WiV concerts have also provided opportunities for dozens of emerging artists to take important steps in their musical careers paths. Other WiV alumni include Deborah Cheetham and Kate Miller-Heidke, as well as Christine Johnston and Annie Lee, of The Kransky Sisters fame."
Women in Voice founder Annie Peterson elaborated in the announcement:
"It is a testament to the depth of Queensland talent that we are now celebrating 25 years of Women in Voice, and it keeps getting bigger and better every year," reflected Ms Peterson.

"What started as a fairly low-key event at The Sitting Duck Cafe in West End quickly became a favourite show on the music and theatre calendar in Brisbane."

"From the sheer beauty of Katie Noonan singing the songs of Joni Mitchell, to local legend Leah Cotterell exploring her own potent original work, Alison St Ledger getting her 'Elvis' on and the hilarity of Queenie van de Zandt allowing her alter-ego Jan van der Stool to assail the audience as MC, the surprises in store at WiV concerts always delight," said Ms Peterson.

"For this landmark 25th anniversary year, we are delighted to partner with Brisbane Powerhouse in a show that will have all the hallmarks that have made Women in Voice the enduring phenomenon that it is," said Ms Peterson.
Women in Voice will perform at the Brisbane Powerhouse this November. More information can be found at: brisbanepowerhouse.org
Women in Voice Tour

10-11/11: Brisbane Powerhouse, Brisbane