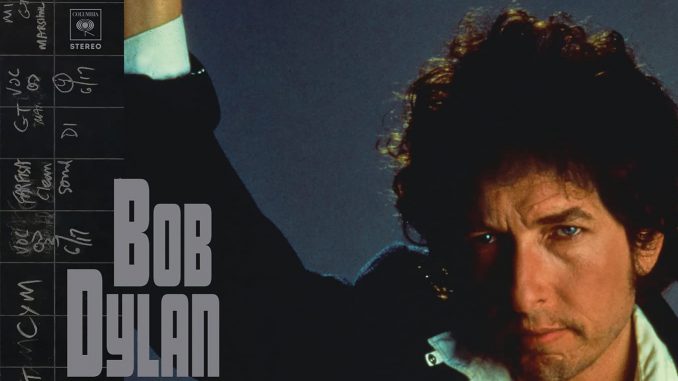 With Springtime in New York, we discover that Dylan did record great tracks in the '80s, they just mostly didn't make it onto his albums
By Michael Goldberg
The 80's were bad years for fans of Bob Dylan. Things started to go south even before that decade began with 1978's Street-Legal, and then Dylan found Jesus, and that resulted in 1979's Slow Train Coming, 1980's Saved and 1981's Shot of Love. What a bummer. And the little I remember about the four albums that followed is that each was a big disappointment.
In the '60s Dylan recorded a string of great albums beginning with his debut, Bob Dylan, and peaking with two of the greatest rock albums ever made: Highway 61 Revisited and Blonde On Blonde. Sadly, by the end of the '70s it looked like it was all over for Bob Dylan; it seemed he had lost his way, something he confirmed in his memoir, Chronicles: Volume One. I had always considered myself Dylan's biggest fan, but I stopped caring. Many of us wrote him off, only realizing our mistake with 1989's Daniel Lanois produced Oh Mercy. In the decades that have followed, Dylan recorded many musically solid, lyrically deep albums, culminating in the masterpiece, 2020's Rough and Rowdy Ways. These days, I again look forward to each new Dylan album.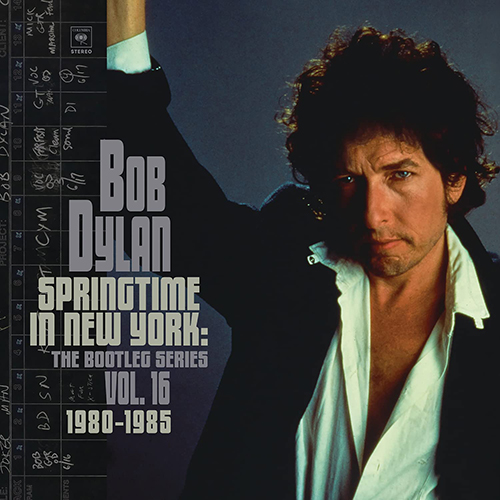 Still, my distaste for his '80s recordings had not softened. So, I had some trepidation when, months ago, I read about the 16th volume of Dylan's Bootleg Series, Springtime in New York, five CDs of material Dylan recorded in the late '70s and first five years of the '80s. I should know by now, after the revelation of the Another Self Portrait bootleg set, that no matter what ends up on Dylan's official albums, plenty of great music ends up in the vaults. Such is the case with Springtime in New York, which turns out to be a Dylan goldmine.
With the first track, an alternative slowed-down take of 'Señor (Tales of Yankee Power),' a song from Street-Legal,recorded at Dylan's rehearsal space, Rundown Studios, it's established that Dylan fans are in for some great listening. Though most of Street-Legal was disappointing, I always dug 'Señor.' But this version is so much better. Not only do I prefer Dylan's man-of-mystery vocal, but there's a ghostly quality to the music, and even the background singers—one of many reasons I had trouble with the Street-Legal album—make sense here.
I've always loved this opening verse:
"Señor, señor
"Can you tell me where we're headin'?
"Lincoln County Road or Armageddon?
"Seems like I been down this way before
"Is there any truth in that, señor?"
'Señor' combines the South of the Boarder musical vibe of Dylan's soundtrack for the Sam Peckinpah film Pat Garrett & Billy the Kid, with the surreal imagery of his mid-to-late '60s writing.
Across the five CDs are exquisite covers—a loose 'Mystery Train' with blistering guitar from Fred Tackett, a heartbreaking 'Let It Be Me,' and a lovely 'Angel Flying Too Close to the Ground,' with terrific guitar from Mark Knopfler and Mick Taylor are three favorites—alternative takes or official album versions stripped of the original superfluous instrumentation, and Dylan originals that were shelved until now.
An absolute masterpiece is a Dylan original, 'Too Late' recorded during the Infidels sessions. It's presented here in two versions: an acoustic take with Dylan and Mark Knopfler on guitars and Sly Dunbar providing low-key percussion and a full band version that adds Mick Taylor on guitar, Dire Straits' Alan Clark on keyboards and Dunbar's partner, bassist Robbie Shakespeare. Dylan, who plays harp on the outro of the full band version, is in great mid-'60s voice, the melody and arrangement are perfect, and he delivers many striking lines. There's a great chorus too, which works when Dylan sings it:
"But it's too late to bring him back
"Too late, too late, too late, too late, too late to bring him back"
I read the following lyrics from the fourth verse as indicting corporate corruption; I can't not laugh when Dylan sings that fourth verse-ending line:
"From the stage they'll be doing the bumps and the grinds
"A whore will pass the hat, collect a hundred grand and say thanks
"They like to take all this money from sin and build big universities to study in
"And sing 'Amazing Grace' all the way to the Swiss Bank"
And ending the next verse:
"They don't believe in mercy
"And judgment on them is something you'll never see
"They can put your face on a postage stamp
"Turn your home into an armed camp anyway they want you
"That's the way you'll be"
And this one-liner: "In these times of compassion where conformity's a fashion"
Dylan spent a lot of time during the two-month Infidels sessions working on this song. There were 47 takes, and according to Damien Love's excellent liner notes, he was "constantly rewriting" the lyrics. Dylan eventually turned 'Too Late' into 'Foot of Pride,' but in the end he left the song off Infidels. There was a late (in the sessions) version of 'Foot of Pride' on the Bootleg Series Vols 1-3. Here a tougher electric version with Mick Taylor's slide guitar is included. But for me, it's that early acoustic take of 'Too Late' that I keep coming back to. Dylan begins with one of his classic it's-all-up-in-the-air opening lines, "Well whether there was a murder, I can't say, I wasn't there/ I was visiting a friend in jail…," which seems to be, once you've heard the whole song, possibly beside the point given that the song, in this particular incarnation, seems to be an indictment of those with money and power.
Another highlight is a band version of 'Blind Willie McTell' with Dylan's harp and Mick Taylor's slide guitar doing a dance. Ever since we heard the moving guitar/piano version on The Bootleg Series Volumes 1-3, this song has been praised as one of Dylan's best. While the acoustic version is my favorite, you need to hear this one too.
I love the bluesy 'Fur Slippers,' an absurd song of lost love that I keep returning too. Dylan sings about how he feels so alone, doesn't have a girlfriend anymore, how she was here yesterday, but she's gone today and she even took his fur slippers. While Steve Ripley and Fred Tackett deliver raw blues guitar, Dylan delivers the perfect chorus, "Whoa, ain't got no fur slippers now."
Other keepers: the first take of a beautiful ballad, 'Angelina,' a wonderfully ragged 'Cold, Cold Heart,' an intimate early version of 'Sweetheart Like You,' an intense 'I and I,' with Mark Knopfler and Mick Taylor and Dylan on guitars, and you just might find yourself digging the totally rockin' 'Jesus Met the Woman at the Well.' There are so many more wonderful tracks here.
The 11 minute, 52 second 'New Danville Girl,' slightly rewritten as 'Brownsville Girl' and included on the unremarkable 'Knocked Out Loaded' album, is brilliant. Dylan's voice sounds great and, as Greil Marcus has noted, he sounds "interested" in what he's singing, he cares. For nearly 12 minutes we're right there with Dylan, and because he cares, we care.
The last song on the fifth CD, 'Dark Eyes', is a solo performance by Dylan playing guitar, blowing harp and singing. I don't know if it's better than that great version that ends the otherwise forgettable Empire Burlesque, but this one is so good too. And following 'New Danville Girl,' this superb set ends in a most satisfying way.
Michael Goldberg, a former Rolling Stone Senior Writer and founder of the original Addicted To Noise online magazine, is author of three rock & roll novels including 2016's "Untitled."