Mark Isaacs – Sonata (ABC Classic, CD & digital)
Mark Isaacs is one of Australia's finest pianists, whose career habitually criss-crosses jazz and classical. Possessed of a pitch-perfect ear, he was dabbling with jazz improvisation by age-nine, and composing orchestral works in his early teens.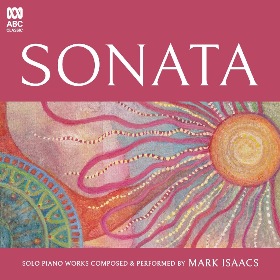 While his new work Sonata is firmly in the classical camp, it warrants attention by anyone who has followed Isaacs' jazz career, from his collaborations with Dave Holland and Kenny Wheeler, to his long-running Resurgence Band. After all, switching between jazz and classical is nothing new. We only need to look to Ellington's symphonic works; or Keith Jarrett's recordings of Bach; or Chick Corea's final recording, which blended Chopin with Bill Evans, Scriabin with Monk.
Sonata comprises three new works for solo piano, and while wholly composed, the album bears affinities with Isaacs' solo improvised recordings, particularly the extended Elements suite (1995), or the miniatures heard on Forgotten Fields (2020).
The opening of the two-movement title track is a haunting piece, measured and constrained, its gentle, isolated notes unfurling via a series of repeated motifs. This gives way in the second part to a more flourishing, strident, romantic episode, which pursues both tension and resolution.
The six-part 'Songs Without Words' – several of which are adapted from Isaacs's jazz recordings – is exquisite, thoroughly majestic in feel, conjuring the impressionism of Debussy, or the elegant simplicity of Corea's Children's Songs.
It is a testament to Isaacs's melodic sensibilities that he can be linked to Jarrett and Corea. Like them, he creates music, irrespective of how we might choose to categorise it.