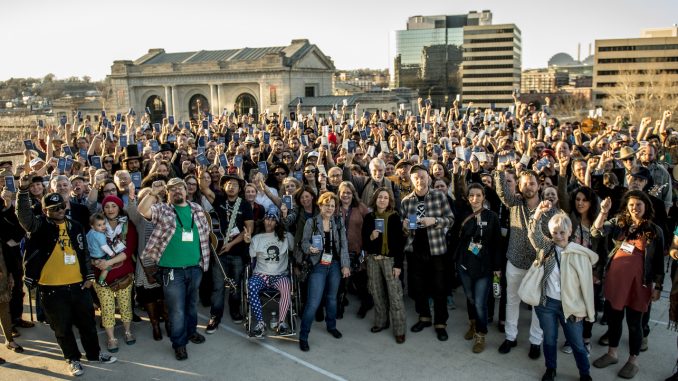 Five-Day Conference Boasts More Than 2,500 Attendees From 20 Countries, 1,000 First-Timers, 200 Official Showcases, over 3,000 Private Showcases, and 50 Educational Panels
Ani DiFranco And Billy Bragg Offer Inspirational Words For The 2017 Conference Theme "Forbidden Folk, Celebrating Activism In Art "
International Folk Music Awards Show Featured 'Best of 2016', Spirit of Folk, Lifetime Achievement, and Inaugural Awards for the People's Voice and Clearwater Award With Appearances By Bruce Cockburn, Kris Kristofferson, Megan Mullally, Paula Cole, and Eliza Gilkyson
First Inductees To the Folk DJ Hall Of Fame Include Oscar Brand, Howard and Roz Larman, Mike Regenstreif, Rich Warren and Gene Shay
"The power of music to bring people together is evident simply in the growth of the attendance at Folk Alliance." – No Depression
"One of the greatest things about the conference is the "private showcase" portion of the event… three floors of the Westin hotel become late-night concert spaces…with the music continuing into the wee hours of the morning." –American Songwriter
"Fans sat on a bed or the floor, crowded into corners and stuffed themselves behind dressers, often mere inches from performers." –Kansas City Star
Kansas City, MO – Long before the results of the 2016 presidential election or the current political climate, Folk Alliance International had chosen the theme for the 2017 conference, "Forbidden Folk, Celebrating Activism in Art." Over the course of their annual five-day conference, more than 2,500 attendees from 20 countries gathered to discuss the timely theme through panel discussions, keynote speeches, and music.
Featuring an all-star International Folk Music Awards Show, daily educational panels and workshops, 200 nightly concerts (Official Showcases), and over 3,000 listening room sessions (Private Showcases), the 29th annual FAI Conference drew 2,900 registrants,1,000 first-timers, industry leaders, and media to Kansas City, MO, February 15-19, to nurture, engage and empower the global folk music community.
Conference highlights include:
Keynote presentations from Ani DiFranco and Billy Bragg
International Folk Music Awards Show, featuring a performance by Kris Kristofferson, and presentations from Paula Cole, Megan Mullally, Bruce Cockburn, and Eliza Gilkyson.
Two Artist in Residency projects in partnership with local prisons, famed Blues artist Rita Chiarelli, Latin-Fusion band Making Movies, and poet Octavio "Chato" Villalobos
Music Camp
Community outreach to four local schools, Children's Mercy Hospital, and the Ronald McDonald House
2nd Annual Kansas City Folk Festival, featuring 6-stages of national, international and regional talent, headline performances by Bobby Rush, David Wilcox, and Billy Bragg, and an artisan market.
During his keynote address, Billy Bragg urged a new generation of folk artists to be visible and take their message to places where it will challenge the status quo. "Empathy plus action, equals solidarity," said Bragg. Read the text from Bragg's speech here.
In her presentation, Ani DiFranco spoke of the importance of staying politically engaged by voting. She urged audience members to "Believe in democracy just enough to show up and make it real," as she urged consistent voter participation. "Apply persistence to your will to vote. Persist in the actions everyday."
The awards show included the presentation of six Spirit of Folk Awards, three Lifetime Achievement Awards and the International Folk Music Awards categories, including Album of the Year, Song of the Year, and Artist of the Year going to Sarah Jarosz for Undercurrent, Michael Kiwanuka & Info for  "Black Man in a White World," and Parker Millsap, respectively.
In a permanent commitment to honor the socially conscious roots of folk music, two new awards were launched this year—The People's Voice Award was given to Bruce Cockburn and The Clearwater Award to its namesake The Clearwater Festival. The first inductees to the Folk DJ Hall of Fame were announced and include Oscar Brand, Howard and Roz Larman, Mike Regenstreif, Rich Warren, and Gene Shay.
"This was our most attended and engaging events to date, one where we saw the folk community reconnect with its core values en masse," Aengus Finnan, Executive Director of Folk Alliance International.
Bringing together global music leaders, musicians, educators and industry professionals to share ideas, network, and promote folk music; Folk Alliance International's conference is the world's largest gathering of the folk community. It is a unique and one-of-a-kind annual event and is known for its community atmosphere, nurturing ethos, and as an industry hotspot for new talent discovery.