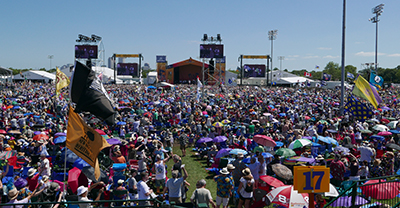 By Brian Wise.
New Orleans Jazz & Heritage Festival 2019
Fairgrounds Racecourse, New Orleans, April 25 – May 5, 2019
The First Weekend
While the 50th anniversary of the New Orleans Jazz & Heritage Festival was notable for the cancellation of the Rolling Stones, perhaps the biggest act the festival had ever signed, it was saved by some great shows, including a brilliant set from Van Morrison on the first weekend.
On the first morning of the 50th anniversary New Orleans Jazz & Heritage Festival it seemed that the fates were against it. Having added an extra day and changing 'family day' to Thursday April 25 to accommodate the Rolling Stones on May 2, the weather conspired to delay the opening for an hour and a half while a wild storm whipped through the city (and a tornado flattened a town further north).
Several more storms lashed driving rain across the festival site at the Fairgrounds Racecourse until the skies cleared late in the day as if someone up there was saying that organisers shouldn't have messed with a good thing in the first place.
Having had the Rolling Stones cancel (due to Mick Jagger's heart condition), then their replacements Fleetwood Mac also cancel just a day after they were announced, festival organisers might have been forgiven for wondering if they were cursed when they woke up and saw the weather.
But the Jazz & Heritage Festival (Jazz Fest) takes more than a little rain to stop it and by the end of that first afternoon; people had forgotten the weather and were looking forward to three fine days for the rest of the weekend. After 25 festivals, I can look back and tell people that we have seen some storms that make that first day's rain look like a mere sun shower! Imagine water deep enough on a festival site to swim in. This was a mere annoyance but it did reduce the crowd to the lowest I have ever seen on any opening day.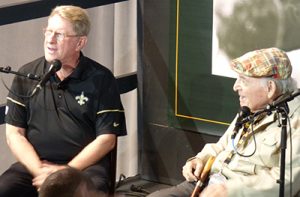 The weather did make me seek shelter in the grandstand where I watched a Q&A session between Festival Director Quint Davis and founder George Wein (also founder of Newport Folk and Jazz festivals. There I learned that of 688 acts this year at least 600 were from Louisiana – that is impressive by any standards. I also learned that you don't mention the word 'compromise' when you question Davis about the line-up.
Having steered the festival since its inception in 1970 (when he was a mere 19 years of age!), Davis bristled and explained the realities of running such an event. Wein piped in that to have a successful festival you need people and to get people you need to have acts that they actually knew. It is not an unreasonable contention and one that every music festival director must grapple with at some stage. So it is, that JazzFest is just about the biggest and the best and, if that isn't the case, then it still has the biggest reputation of them all.
How do you summarise a festival that presents so many acts over eight days with 8 hours music per day? With great difficulty! But there are some highlights that standout – and my highlights might be completely different to those of any other festival-goer such is the breadth of the festival line-up.
On that shortened first day, the Doobie Brothers were surprisingly good. Still, they have been around for the best part of 50 years and they did have Little Feat's Bill Payne on keyboards and appropriately did a version of Little Feat's 'Dixie Chicken.' The current line-up featuring founding members Tom Johnston and Patrick Simmons, alongside long-time member John McFee, swells the band to a ten-piece outfit (with horns) and is a well-oiled hit machine that churns out rather good facsimiles of 'Rockin' Down the Highway,' 'Takin' It to the Streets,' 'Jesus Is Just Alright with Me,' 'China Grove,' 'Black Water' and 'Listen to the Music' (with mandatory sing-along).
Friday April 26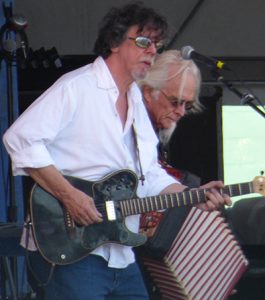 It is amazing what fine weather can do to bring out a crowd and despite some dampness and mud underfoot this second day had the festival back to almost normal. We started with Bonerama and a big dose of New Orleans modern funk and brass band, then stayed at the Gentilly Stage (the second biggest) for the subdudes, who have been one of my local favourites here for several decades. The sound was surprisingly muddy for much of the set and it seemed like a battle for the group but they soldiered on and we got glimpses of their brilliance.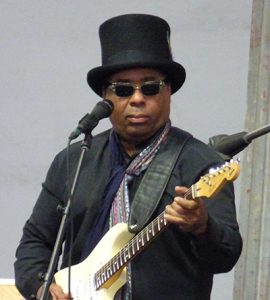 In the Blues Tent, Chris Thomas King is a blues player who, by his own admission, cannot get any respect (as one of his songs suggests) despite the fact that he has sold more than 12 million albums (his claim). He manages to inject some modern touches into the blues but I am still not sure what hard-core blues fans think.
James Andrews & The Crescent City All-Stars run through the full gamut of New Orleans' classics and get the crowd dancing and following a second line parade through the tent.
On the main stage, Santana's set began with a collage of photos from Woodstock and 'Soul Sacrifice', then 'Evil Ways'/'A Love Supreme' and soon after 'Black Magic Woman.' Later, Santana threw in John Lennon's 'Imagine' and Hendrix's 'Voodoo Chile (Slight Return), while Trombone Shorty guested on the Swamp Dogg cover 'Total Destruction To Your Mind.'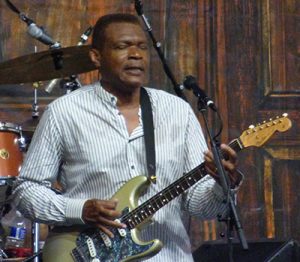 On the way out I managed to catch the last few songs Robert Cray's set, including the classic 'Phone Booth,' and was as impressed as I was when I saw him in Melbourne last year.
Saturday April 27
Mr Sipp, 'The Mississippi Blues Child' was certainly entertaining and had the audience on their feet in the Blues Tent. Maria Muldaur's Tribute to Blu Lu Barker, which formed the basis of her recent album was a great concept and to see and hear it on stage put the career of Barker into better context.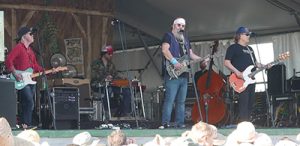 A quick hike over to the Fais Do Do stage to see the end of the Pine Leaf Boys set confirmed that they are sill one of the best contemporary Cajun bands around (something I have been saying since the time I was referring to them as 'one of the best 'young' Cajun bands'). Steve Earle & The Dukes followed with the first part of the set devoted to the Guy Clark songs that appear on Earle's recent tribute album. Earle seems to be almost channelling Clark as his interpretations really capture the essence of the songs.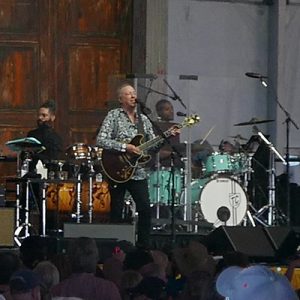 Luckily, I arrived at the Blues Tent to see the final three songs of Boz Scaggs's set: 'Lido Shuffle,' 'What Can I Say?' and 'Loan Me A Dime.' A great way to end the day.
Sunday April 28
We arrived early and parked at the main Acura Stage, determined to get a good spot for Van Morrison later in the day. Sitting in the grandstand at the far end of the field was just about as far away as you could get but the sound was good (from speakers down the field), the view was clear and there was an occasional cool breeze. But sitting out in the sun for hours at a time is hard work, even with an umbrella for shade.
The tribute to Dave Bartholomew and Fats Domino featured Irma Thomas, Bonnie Raitt, Jon Cleary, Davell Crawford and the Fats Domino Orchestra and reminded us of just how great this duo was and how much of a contribution they made to New Orleans' music.
Irma Thomas, introduced by Quint Davis as the Soul Queen of New Orleans, proved that she was exactly that. She also performed 'Time is On My Side' pointing out that the Rolling Stones also recorded it – after her version.
Bonnie Raitt's set was really a nod to New Orleans and all the artists who had influenced her over the years. She even had Jon Cleary back in her band playing keyboards for the afternoon. Raitt paid tribute to John Prine, who had to cancel his show the following weekend, and did a gorgeous version of 'Angel From Montgomery.'
The dilemma for the final spots of the first weekend was one of choice: Van Morrison, Al Green, Johnny Rivers or the Ellis Marsalis Family Tribute. It's a decision that you wish you had to make every day.
In the end, Van Morrison was our choice and, for me, the star of the festival. The bonus was that we could also see (and occasionally hear) the Reverend across on the Congo Square stage from our vantage in the stand!
It is often uncertain which Van will turn up for a show but in the past few years we have enjoyed 'happy' Van and this was no exception. This time, unlike a few recent occasions, he arrived with a full band that really fleshed out the songs.
Sounding absolutely in top form, Morrison had obviously tailored his set to New Orleans. Starting with a Sister Rosetta Tharpe song ('How Far From God'), he followed it with Lester Young's 'Jumpin' With Symphony Sid,' then went into a medley that began with 'Baby Please Don't Go,' whose mention of the city elicited cheers, and continued with 'Don't Start Crying Now,' 'Got My Mojo Working' and 'Gonna Tear Your Playhouse Down.' Later, there was Webb Pierce's 'There Stands The Glass,' John Lee Hooker's 'Think Twice Before You Go' and Sonny Boy Williamson's 'Help Me.' It was nice to hear a musician who had put so much thought into structuring his set list for the locals. Of course, Morrison also included the hits ('Moondance,' 'Wild Night,' 'Jackie Wilson Said,' 'Brown Eyed Girl,' 'Real Real Gone' (teamed with 'You Send Me'), 'Days Like This,' 'Have I Told You Lately.'
There were also a couple of surprises. First, there was 'Cleaning Windows' (a song that name checks many of Morrison's inspirations) coupled with 'Be Bop A Lula.' Then a fantastic version of 'Vanlose Stairway' (from Beautiful Vision) which was magical. Maybe, the highlight of my entire festival.
After that, we had to forego Van's last half dozen songs to hotfoot it to the Blues Tent to catch what were the final two songs of Johnny Rivers' set – 'Memphis' and 'Secret Agent Man.' Rivers sounded wonderful and evoked memories of his heyday. The crowd went wild – and as they were mainly 'boomers,' why wouldn't they?
The Second Weekend
Thursday May 2 – The Non-Rolling Stones Day
While the cancellation of The Rolling Stones (and subsequent cancellation of Fleetwood Mac) threw the extra day into disarray – refunds had to be arranged, new tickets purchased – festival organisers had put all their eggs into a couple of baskets that broke.
Of course, in hindsight it is easy to argue that the Rolling Stones should never have been booked to play the festival in the first place. It meant so many more logistics and complications that were all ultimately stymied. It would have been much better to have booked them at the Superdome (where they already hold the indoor concert record of 92,000). Bruce Springsteen for the festival itself would have been a much better choice, given what he did for the event in 2006 (the performance of which is now to be released on DVD) in one of the greatest shows any of us have ever seen. But that's history. The organisers chose a band that would only play if they got an extra US$110 a ticket and got burnt in the process. No doubt it was a learning experience – for all festivals.
Widespread Panic might have been an uninspiring choice to close the main stage but there were still plenty of highlights. After a solid set on the Gentilly Stage from Marc Broussard (with more than several Stevie Wonder covers) we eagerly awaited Rita Coolidge, who turned 74 just the day before and was serenaded with 'Happy Birthday' by the audience.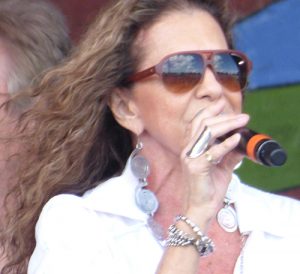 Coolidge's set delved back into the past with songs such as 'Late Again' (written by former partner Kris Kristofferson), the Bond movie theme 'All Time High,' 'Higher and Higher' and Allen Toussaint's 'Shoo Ra.' But she also highlighted songs from her latest album, Safe In The Arms of Time (apt title?) with songs by Graham Nash and Keb Mo'.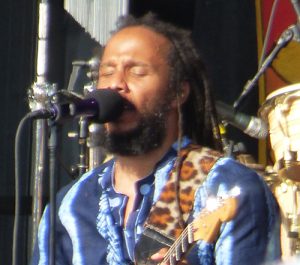 Crossing to the Congo Square stage on the way to the Blues Tent, it struck me that Ziggy Marley is the Gary Ablett Jr of the music world (pardon the Australian Rules football reference). Though he might have sold millions of albums, won Grammys and have a huge following, Ziggy will always be in the shadow of his father. This doesn't seem to worry him because he includes some of his father's songs in his set which was thoroughly enjoyable.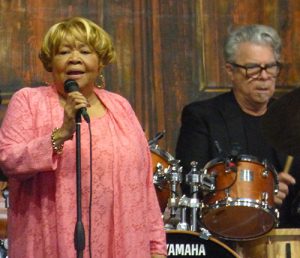 Mavis Staples was recently at Bluesfest in Australia and her forthcoming album is produced by Ben Harper. Mavis will be 80 this year but she seems indefatigable, slowed down only occasionally by the humidity in the Blues tent.
While Widespread Panic were on the main stage Tom Jones, almost as old as Mavis, was on the Gentily stage and apparently ripped it up. A few nights earlier he had made a special guest appearance at Chickie Wah Wah singing four songs with Jon Cleary. People on the bus home were raving about his show here.
Friday May 3
At the Congo Square stage 'Big Chief' Donald Harrison kicked things off with an entertaining mix of jazz, popular covers and the traditional with Mardi Gras Indians appearing on stage. Then it was over to Gentilly where the North Mississippi Allstars opened their set with Sharde Thomas performing on 'Sitting On Top of The World,' a reminder of Luther Dickinson's recent excellent album with Sisters of the Strawberry Moon. The Dickinsons were amongst the busiest musicians during the Jazz Fest nights with Luther doing at least five shows, including one with Alvin Youngblood Hart. The rest of the NMA set was a solid look at the Mississippi Hill Country blues genre, along with Anders Osborne, guesting on a cover of his song 'Move Back To Mississippi.'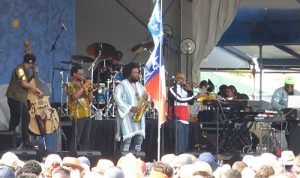 Kamasi Washington's show is always spectactular but I am not sure whether it is suited to an afternoon slot in the bright sunlight: it is much more spectacular at night under lights. This hardly deterred Washington and his ensemble and it was great to see another 'jazz' ensemble occupying a prime slot.
Then there was another clash that made decision-making difficult: Americana superstar Chris Stapleton on the main Acura Stage, Gary Clark Jr (fresh from Byron's Bluesfest) on the Gentilly, Gladys Knight (minus her Pips) at Congo Square and Los Lobos in the Blues Tent. It's a no brainer for me: Los Lobos (who proved to be as brilliant as always).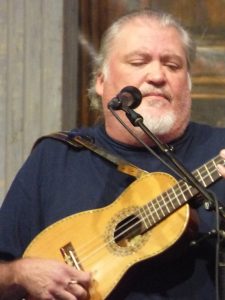 Throughout the festival the sound at the Blues Tent has been variable: from muddy to distorted to only occasionally good. Granted, the tent is cavernous but you would think that after more than a decade in this venue at the racecourse they would get it right every time.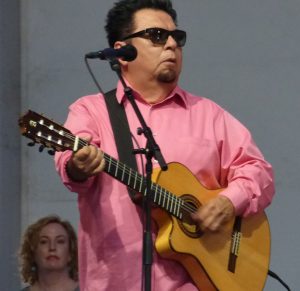 Luckily, Los Lobos prove the exception to the rule and the acoustic bracket that started their set was perfect. (Maybe they had their own sound engineer). As usual the group leant heavily on their Mexican roots. When they launched into a version of 'Guantanamera' – a song we've heard a million times before – they somehow managed to inject it with something new, making it one of the best versions of the song you are ever likely to hear. Then there was 'How Will The Wolf Survive?,' 'Saint Behind The Glass,' 'Everybody Loves A Train' and 'Kiko & The Lavender Moon.' The set finishes appropriately with 'I Got Loaded' (the Lil Bob & The Lollipops cover) and the Grateful Dead's 'Bertha.' A great way to close of the second Friday.
Saturday May 4
Another rain delay and another late start to the festival but after the morning rain the weather cleared and the rest of the weekend was to be fine. It was to be an afternoon in the Blues Tent, despite the appeal of Aaron Neville and Diana Ross on the Gentilly Stage or Dave Matthews (who they love here) on the main stage.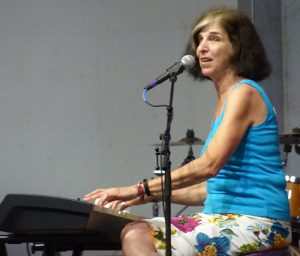 Marcia Ball started early as timeslots got shuffled. A veteran of Jazz Fest, Ball managed to put in a spirited show despite the muffled sound (though she might not have noticed on stage).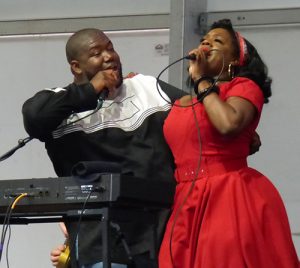 Last year, The War & Treaty were on the smallest stage at the festival: the Lagniappe stage in the grandstand. This year it is the Blues Tent. Next year, it has to be one of the main stages. Word of mouth is a powerful thing. The only other audience reaction I have seen in this tent like the one they elicited was Rhiannon Giddens who received a standing ovation after every song. Michael and Tanya Trotter, fresh from a Bluesfest triumph, did almost exactly the same thing. The crowd went wild and you couldn't help but feel that you had seen something special. It has been a slow burn from the duo but they are able to develop an immediate rapport with an audience like few others acts. This was clearly shown at Bluesfest a week earlier and they proved it again here.
The War & Treaty was always going to be a hard act to follow – even for John Prine, who had been forced to pull out due to a sudden illness and was replaced by not one but two acts: Elvin Bishop and Robert Randolph.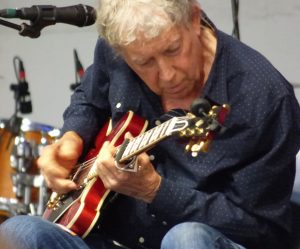 But veteran bluesman Bishop proved equal to the task with his Big Fun Trio, that includes Bob Welsh on piano and guitar and Willy Jordan on cajón (a hand-held drum) and vocals. Maybe Bishop is not taken seriously enough because of his wicked sense of humour but he sure knows how to combine great playing with entertaining songs. 'Something Smells Funky 'Round Here' is the perfect comment on what is happening in US politics at the moment and received a warm response from the audience. 'Old School' delivers the line 'don't send me no email, send me a female' amongst a litany of complaints about the modern world (which almost of all of the audience applauded and no doubt identified with). Of course, there is the hit, 'Fooled Around And Fell In Love' which Bishop introduced by claiming that it is now 142 years old! There was the rollicking 'It's All Over Now' and a couple more chances for Jordan to shine on 'I Can't Stand The Rain' and 'Higher and Higher.' Robert Randolph and his Family Band were due to follow Bishop in a shortened but as we had seen him a few nights earlier with The Word we closed out day with Elvin Bishop before heading back into town for a gig.
Sunday May 5
It's with some sense of sadness that we reached the final day of Jazz Fest; yet there is also a sense of relief that we had survived all eight days (the first, hopefully last, time the festival will go this long). A couple of factors helped to mitigate the experience: the weather was mostly excellent and the rain delays were minimal. It was still hard work sitting in the sun if you want to be at one of the main stages but temperatures were only in the 29C-30C, making it a lot more bearable.
On this final day I decided to park myself at the Gentilly Stage but this might not have been the best move. Jon Cleary & The Absolute Monster Gentlemen put in a solid set of New Orleans funk, as always.
Cleary and crew were followed by Little Feat, who prompted the question, when should a band just call it quits? Don't get me wrong. I love the band and Lowell George is probably my favourite musician of all time but I have some serious qualms. The current line-up features Bill Payne (who played with the Doobie Brothers the previous weekend), Paul Barrere, Kenny Gradney and Sam Clayton from the Lowell George era, along with multi-instrumentalist Fred Tackett and drummer Gabe Ford. It is much more authentic, apart from missing Lowell, than a lot of other bands who are still touring. So you can hardly begrudge them that. And there is also the fact that they are still playing as well as ever. But without a great lead singer – and Shaun Murphy and Craig Fuller in the past were good – it sounds very much like a jam-band version to me. Eight songs in an hour and ten minutes – including an extended version of 'Willin'/'Don't Bogart That Joint' – seems to be evidence of that. Maybe it was because the set was also plagued with sound problems, including some jarring distortion, that it lacked spark.
Local rock legends The Radiators included several Stones covers in their set – including 'Sympathy For The Devil.' In fact, Stones covers could be heard throughout both weekends, as if to emphasise the fact that the band's absence created a gaping hole, if not in the festival itself then in the psyche. At the other end of the racecourse Jimmy Buffett drew a huge crowd of Parrotheads.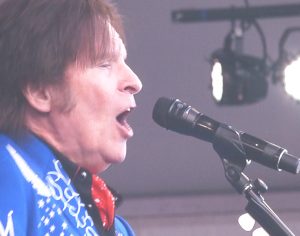 Finally, our 2019 Jazz Fest wound up with John Fogerty, someone who I had been very much looking forward to seeing. Trombone Shorty was being anointed by the Nevilles as their successor on the main stage while Herbie Hancock was in the Jazz Tent, Buddy Guy closed the Blues Tent and The Mavericks were on the small Fais Do Do stage. That's some choice right there.
But one of my favourite Jazz Fest experiences of all time is listening to Fogerty start his set with 'Born On The Bayou' as the sun goes down over Bayou St John nearby. It is almost irresistible and it happened again after some film clips of Woodstock and Creedence in the '60s. Things were looking and sounding good as Fogerty raced through 'Green River,' 'Lookin' Out My Back Door,' 'Who'll Stop The Rain,' 'Hey Tonight' and 'Up Around The Bend.'
Then Fogerty explained that the show was a tribute to Woodstock and the '60s era (which was partly weird because Creedence were never in the film or on the album). Suddenly we got 'With A Little Help From My Friends' (a la Joe Cocker's version), The Who's 'My Generation' (sung by Tyler Fogerty), Sly & The Family Stone's 'Everyday People' and Dance To The Music,' John Lennon's 'Give Peace A Chance' and 'The Star Spangled Banner' (a la Jimi Hendrix, played by Shane Fogerty). Much as I applaud Fogerty's efforts to boost his sons, the whole segment seemed gratuitous. Why does one of the great songwriters of the late '60s early '70s need to pay tribute to anyone else? Luckily, things veered back to Fogerty's own material for most of the rest of the set (which included 'Jambalaya', which he originally did as The Blue Ridge Rangers, Gary Us Bonds' 'New Orleans' and 'When The Saints Go Marching In.' It will be interesting to see what show Fogerty tours if comes to Australia in the next year.
At the end of Jazz Fest it was easy to pick Van Morrison as the undoubted highlight for me. There will be many others with different choices, depending on what sort of festival they did. No doubt the whole event was overshadowed by the unfortunate cancellation of possibly the biggest act ever to have been booked for the event but, overlooking that, there is still plenty to make this still the best music festival in the world.