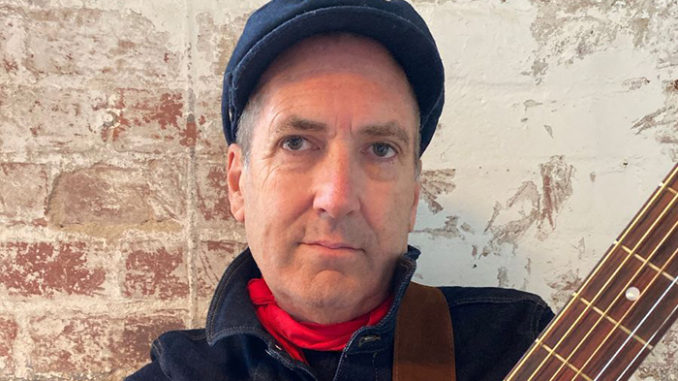 Singer/songwriter and multi-instrumentalist Bruce Hearn is a former student activist and union rep and now a Senior Lecturer in Industrial Relations who loves music with roots. The former Strange Tenant is releasing several singles in the lead to a new album: 'This Land Is Your Land' and 'Brother Can You Spare A Dime?'
Bruce came to prominence as a musician in the early '80s as a singer/song writer for iconic Melbourne ska band, Strange Tenants, but his musical roots run as deep and as wide as his social awareness and activism. A fan of folk music since his parents took him to see Pete Seeger play in 1968, and more recently the leader of Australian Blues Music Awards-nominated finalist for best album and band, Hurricane Hearn, Bruce is an unsung roots renaissance man whose musical palate had always looked beyond the sounds of early '60s Jamaica and early '80s London.

Bruce returns to his first musical love – folk – with the release later this year of two albums. His first solo album The Word Is The Music The People Are The Song presents ten Hearn originals alongside ten interpretations of folk classics.
The live album Bruce Hearn & The Machinists Live at the Athenaeum: A Tribute to Woody Guthrie features guest appearances from a host of local folk and roots greats including Eric Bogle, Margret RoadKnight, Jan 'Yarn' Wositzky, Kavisha Mazzella, Mic Conway, Kerri Simpson as well as the thirty-strong Victorian Trade Union Choir. Ambitiously – some might say foolishly – both albums are doubles, and the two double-vinyl sets (and double CDs) will be released simultaneously on October 2, on Bruce's new label ISKRA Records. (Note – ISKRA means 'spark' and was the name of the Bolshevik newspaper which launched the Russian revolution in 1917!)

In the lead up to the release, Bruce will release several digital singles representing each album. The first two singles are out today. Representing The Word Is The Music The People Are The Song is Bruce's timely rendition of the iconic indictment of poverty "Brother, Can You Spare A Dime?", written by lyricist Yip Harburg and composer Jay Gorney, and popularised in 1932 at the height of the Great Depression. The live album Live at the Athenaeum: A Tribute to Woody Guthrie is represented by a stirring all-in version of Guthrie's most famous song "This Land Is Your Land", the grand finale of the 2019 Athenaeum Theatre concert performance from which the live album is taken.

'Brother, Can You Spare A Dime?' is also the album's first video; by award-winning director Fiona Cochrane and filmed around Melbourne's inner west, it visualises the relevance of the song to the social circumstances of today.
Singles – BRUCE HEARN "BROTHER, CAN YOU SPARE A DIME?", and BRUCE HEARN & THE MACHINISTS "THIS LAND IS YOUR LAND" – out now.

Double Albums – BRUCE HEARN "THE WORD IS THE MUSIC THE PEOPLE ARE THE SONG", and BRUCE HEARN & THE MACHINISTS "LIVE AT THE ATHENAEUM: A TRIBUTE TO WOODY GUTHRIE" (with Special Guests Eric Bogle, Mic Conway, Margret RoadKnight, Kerri Simpson, Jan 'Yarn' Wositzky and the Union Choir) – out October 2, 2020.

brucehearn.com.au
brucehearn.bandcamp.com