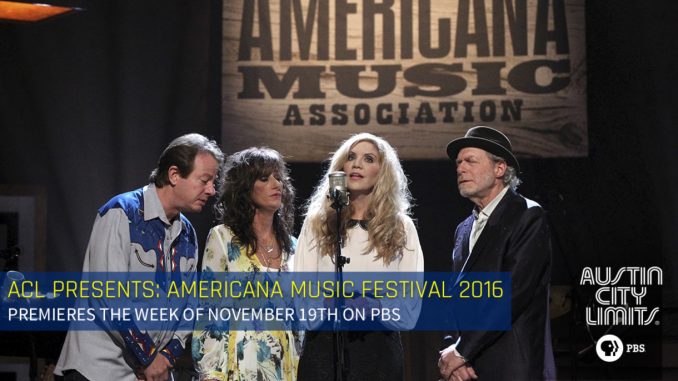 Special Episode of Austin City Limits Premieres November 19th on PBS
PERFORMERS INCLUDE GEORGE STRAIT, MARGO PRICE, JASON ISBELL,
BONNIE RAITT, BOB WEIR, STEVE EARLE, DWIGHT YOAKAM, PARKER MILLSAP,
WILLIAM BELL, THE LUMINEERS, ALISON KRAUSS,
NATHANIEL RATELIFF & THE NIGHT SWEATS, EMMYLOU HARRIS & RODNEY CROWELL
Austin City Limits (ACL) returns to Nashville for a special broadcast featuring performance highlights from this year's Americana Honors & Awards. ACL Presents: Americana Music Festival 2016 premieres November 19th on PBS and delivers dazzling performances that represent the genre's diversity and excellence.
The music-filled hour features many of the night's award winners and honorees, including buzzed-about newcomers and icons who helped define the genre; among them: George Strait, Margo Price, Jason Isbell, Bonnie Raitt, Bob Weir, Alison Krauss, Steve Earle, Parker Millsap, Dwight Yoakam, William Bell, and Emmylou Harris & Rodney Crowell.
The special airs November 19th on PBS at 8pm CT/9pm ET. ACL airs weekly on PBS stations nationwide (check local listings for times) and full episodes are made available online for a limited time immediately following the initial broadcast. The show's official hashtag is #acltv.
Recorded live at Nashville's historic Ryman Auditorium on September 21st, The Americana Music Association's 15th Annual Honors & Awards ceremony is a celebration of music that is authentic, diverse and original from many genres, both traditional and contemporary. "If you can taste the dirt through your ears, that is Americana," says Americana Music Association Executive Director Jed Hilly.  "It is music that is derived or inspired by American roots traditions."
The show was co-produced by High Five Entertainment and its President Martin Fischer and ACL Executive Producer Terry Lickona.
Episode setlist:
Bob Weir "Mama Tried"
The Lumineers "Angela"
Bonnie Raitt "Gypsy In Me"
Parker Millsap "Heaven Sent"
Jason Isbell "If It Takes A Lifetime"
Steve Earle "Desperados Waiting For A Train"
Dwight Yoakam "What I Don't Know"
Margo Price "Tennessee Song"
Nathaniel Rateliff & The Night Sweats "Wasting Time"
William Bell "Three of Me" feat. Bonnie Raitt
Alison Krauss "Gloryland" feat. Stuart Duncan, Melonie Cannon & Buddy Miller
Emmylou Harris & Rodney Crowell "Bring It On Home"
George Strait & Jim Lauderdale "King of Broken Hearts"
The complete line-up for the full 14-week season of Austin City Limits, including seven new episodes to air beginning January 2017, will be announced shortly.  Viewers can visit acltv.com for news regarding future tapings, episode schedules, and live stream updates.