The thunder box proved to be one hell of a boom box! The bass pumping out of the P.A. reverberating that little plastic Tardis like a flushing sub-woofer. Clean though. Despite a good roll-up of all-aged rockers (and rootsers) the dunnies maintained a no-revulsion decorum. And the over emphasis of bottom end was happily confined to the block of ablution cubicles, the front of house sound mix for the entire weekend having been a model of tasteful, detailed balance and effective volume. Service delivery, from the shuttle bus running between Agnes Water and the festival site in  the neighbouring town of 1770, to the food outlets and super friendly bar area was likewise exemplary. Ample seating was provided, removing that dreaded festival chore of schlepping around camp chairs, thus leaving hands free for the more practical pursuit of carrying grog.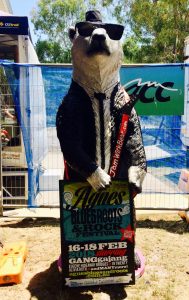 The music was sensibly programmed each day, beginning with less known (and, it has to be said in some instances, less professional) acts, building to engrossing, experienced performances from a colourful cast of characters. On the Friday night that meant that we went from the 'saving-money-by-not-hiring-a-band-but-looping-everything-instead' solo act, to the 'let's-play-everything-in-one-chord-on-three-stringed-cigar-boxes' jam band antics, to be finally rewarded with a colourful and dynamic set from Eugene 'Hideaway' Bridges and his crack rhythm section. Already the sound check promised evidence that these gentlemen could really play. And play they did! From the first welcome blues shuffle of the night, Eugene and Co. produced a well-paced set of songs that highlighted their proficiency in a wide variety of feels, bass and drums providing sympathetic, swinging bedrock to the main man's gutsy singing and tasteful guitar machinations. Just the right mix of show and swagger. Mr. Bridges' warm anecdotal song introductions got the eager crowd engaged and his lively soloing, not just restricted to B.B. King style single note runs but involving multi-string, chordal inventions as well, got them dancing. From a couple of slower, smouldering blues ballads, the set built to a rowdy rhythmic burst of songs at times having touches of Creedence Clearwater Revival and Tony Joe White. A very satisfying performance from exceptionally professional players.
Marshall and the Fro capped off an entertaining first night with their raucous brand of almost frantic rock-blues, which certainly appealed to the younger elements of the crowd and which kept the generous dance floor well peopled.
Although Saturday's proceedings kicked off with a cigar box guitar workshop at the bracing hour of 9 am, I found it impossible to resist the lure of sun, surf and sand on offer directly in front of my caravan site at Agnes Water Beach.This really is a stunning stretch of coastline, well worth deviating the 50klm off the Bruce Highway at any time of the year. When finally, with salt-encrusted skin and sunburn I did reach the festival site at 1770 (the town, not the hour), a 1920's type jazz-blues band was (almost) swinging through a set of  Cab Calloway jive numbers and other assorted covers (not Jolene again!) featuring unison horns and double bass.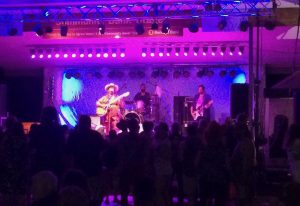 The afternoon's entertainment continued with more covers bands until the early evening's refreshing onslaught of spirited original songs from a vibrant "All Strings Attached", six superb musicians playing with verve and vision, a marvellous melange of Klezmer, Turkish, Middle European, Gypsy and Celtic music. Whipped into a feel-good frenzy by the dexterous fiddling of the lead lass, the band executed complex time signatures and sharp tempo changes with the effortless ease of well-rehearsed players. When not sawing the bejesus out of 'Frederic', her 146-year-old violin, Ms. Fiddler whipped her bow like a jockey riding home a winner, or waved it menacingly in the air like a mad wizard casting spells. And spellbinding it was! Great sound from the hard working tech crew meant that none of the harmonic interplay of lead guitar and violin was lost and a delicious sonic tension could be maintained. A real find, this band!
As was the following act. I'd heard of the band 1927 before, but not 19-Twenty. Double bass, drums and electric resonator guitar, they burst out of the gates like wounded bulls, pumping out a unique brand of manic pogo pop, with an energy and intensity that did not let up throughout their hour-long set. Like a John Butler Trio but without the pretension and fake Jamaican accents of that entity, but with added self-deprecating humour. Actually, nothing at all like John Butler. Funny, down  to earth, inclusive banter kept the crowd involved between closely arranged, well played songs, as the singer/guitarist darted about the stage, leaping on and off the drum riser, dodging the slapstick bass antics of his co-conspirator who was flinging his bull fiddle about as if it were a flyswatter. The drummer kept up the relentless pace with fine skin work in a reworking of the old classic, 'Wipeout', after which their current tour is named. When they drew their sweat-soaked set to a close with a 'beat that and play fair' swagger, the massive tent rose as one in appreciation of a superb performance.
Festival headliners 'Gang Gajang' were next with their own brand of sophisticated adult pop. A band such as this from a bygone era, relies quite a bit on the nostalgia people feel as the soundtrack to part of their earlier lives is replayed. I'm sure I wasn't the only one present who, not knowing many of their other songs, was waiting for that big one, the old 'seeing lightning crack over cane fields, this is Australier' of advertising fame.
As Sunday morning dawned hot and sunny, the 9 am 'All Strings Attached' workshop, "Around the World on the Four Chord Express" came in second for this little festival goer, being beaten by a refreshing dip in the briny at Agnes Water beach. A hurried dash in the shuttle bus saw me reach the festival site in time for a reprise performance from 19-Twenty which I did not want to miss. Showing remarkable energy and enthusiasm at what for musicians was an ungodly hour, the lads again produced a flat-out gem of a performance, the highlight of which was a truly moving solo spot from guitarist Kane, singing a heartfelt ballad about looking for his grandfather's grave on the World War I battlefields of France. A difficult feat at a festival where people mainly want to party, but his sincerity and skill carried the hushed crowd with him. More frenetic and good humoured double bass flinging followed, providing, to this scribe at least, the festival highlight.
The mini Minnie Marks hit the stage next, growling and buzzing her way through some raw blues and slide punctuated with precise foot percussion.
And finally, wrapping up a most satisfying festival, was something you wouldn't see at too many of these festive gatherings;-  band uniforms!  I thought they'd been banned, but here they were, a nine-piece show band called 'The 8-Tracks', smartly attired in matching clobber, serving up a tasty medley of Motown classics. Fronted by four feisty female vocalists, they played a very professional set of familiar hits from the Motor City studio of Berry Gordy and the Funk Brothers.
The festival finishing up at around four in the afternoon left enough time to again wallow in the wonderful surrounds of Agnes Water Beach. I will be back.
Hank Vann