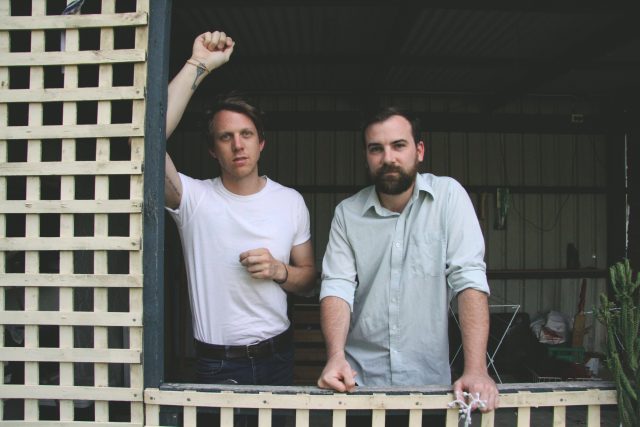 After an incredible response to The Ahern Brothers forthcoming self-titled debut album and national tour, which will take in Queensland, New South Wales, Victoria and Western Australia, they have added additional dates.
The tour will begin Thursday, June 29 in Byron Bay and will wrap up in Perth on August 6. Tickets for all shows are on sale now.
The album, which is due for release on CD, vinyl and digitally on June 23, can be pre-ordered now with the first two singles 'Comb That River' and 'Today's The First Time' available immediately when pre-ordering through iTunes.
You can pre-order the album at the following links:
iTunes: http://bit.ly/theahernbrothers
Google Play: http://bit.ly/theahernbrothers-googleplay
Bandcamp: http://bit.ly/theahernbrothers_bandcamp
You can watch the video for 'Comb That River' HERE
Josh Rennie-Hynes and Steve Grady formed The Ahern Brothers after a trip to the United States. With the help of engineer and producer Roger Bergodaz, the resulting album, tracked completely live over two days, captures the spirit and real performance of each song, with strictly no overdubs.
Immediate comparisons to Simon and Garfunkel or The Everly Brothers in terms of storytelling and harmonies are to be expected, but this is an album that stands on its own. The singing and performances are world class, but freedom and playfulness are what make The Ahern Brothers incredibly refreshing. Organic, cohesive, pure and spacious, these are two extremely talented young songwriters who joined their skills to create the best songs they possibly could.
Simply put: this is an album that needs to be heard.
The 'Brothers' answered a few questions for Rhythms:
Your two voices have that rare spark together, when and where did you first discover that and did it just happen straight away or was it something you had to work at together?
Josh – We've toured together quite a lot in the last few years under our own names (Josh Rennie-Hynes and Steve Grady) and through that we've built a strong musical connection. We both love harmony and singing harmony, so it always felt quite easy and natural from the outset.
The writing began on a road trip in North West USA, did you plan the trip as a writing collaboration or just a holiday? 
Steve – The trip was organised by a friend of ours. He'd lined up a few house concerts in Northern California and Oregon with some camping along the way. We flew into San Francisco in the morning, got back to our friends' apartment, pulled out the guitars to jam and the songs started flowing. So from then on, we wrote as much as we could for the next two and half weeks; got to the end of the trip and had an album's worth of songs. The album was recorded in the order we wrote the songs.
How much collaborative writing, if any, had you each done prior to this? 
Josh – We hadn't written together at all, that's why it worked so well; there was a spontaneity and excitement to the whole thing. It was something new that we were both discovering together.
The Ahern Brothers Track Listing:
Comb That River
When The Rains
Today's the First Time
Bury Me Here
8 Years On The Run
Call, My Lover
Your Nam
Our Last Day
AHERN BROTHERS TOUR DATES
Thursday, June 29 | Treehouse, Byron Bay, NSW
FREE ENTRY
Friday, June 30 | 5 Church Street, Bellingen, NSW
Tickets: http://bit.ly/theahernbrothers-bellingen
Saturday, July 1 | Royal Mail Hotel, Ipswich, QLD
FREE ENTRY
Friday, July 7 | Woodford Open Space, Woodford, QLD
Tickets: http://bit.ly/theahernbrothers-woodford
Sunday, July 9 | Secret Show, Brisbane, QLD
Friday, July 14 | Flow Bar, Old Bar, NSW
FREE ENTRY
Sunday, July 16 | The Junkyard, Maitland, NSW
FREE ENTRY
 Thursday, July 20 | Django Bar, Sydney, NSW
Tickets: http://bit.ly/theahernbrothers-sydney
Saturday, July 22 | The Wesley Anne, Melbourne, VIC
Tickets: http://bit.ly/theahernbrothers-melbourne
Friday, July 28 | Green Door Wines, Ferguson Valley, WA
Tickets: http://bit.ly/theahernbrothers-greendoor
Saturday, July 29 | The Church, Donnybrook, WA
Tickets: http://bit.ly/theahernbrothers-donnybrook
Sunday, July 30 | The Pottery-Restaurant, Bridgetown, WA
Tickets: http://bit.ly/theahernbrothers-bridgetown
Thursday, August 3 | Secret Show, Mandurah, WA
Tickets: http://bit.ly/theahernbrothers-mandurah
Friday, August 4 | Wild Vinegar, Bunbury, WA
Tickets: http://bit.ly/theahernbrothers-wildvinegar
Saturday, August 5 | Secret Show, Fremantle, WA
Tickets: http://bit.ly/theahernbrothers-fremantle
Sunday, August 6 | Secret Show, Perth, WA
Tickets: http://bit.ly/theahernbrothers-perth
The Ahern Brothers self-titled debut album will be available on June 23
For all media enquiries, interview requests or information about The Ahern Brothers please contact Chris O'Hearn chris@thrillhillmusic.com \ +61 413 382 717
www.facebook.com/theahernbrothers
www.instagram.com/theahernbrothers