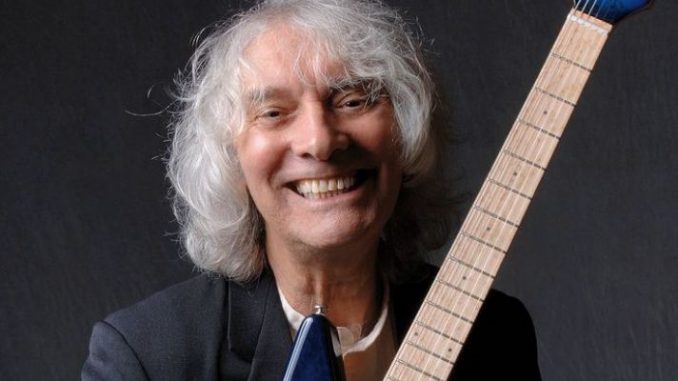 By Brian Wise
It is perhaps fitting that Albert Lee is not only starting his forthcoming Australian tour at the Melbourne Guitar Show but also including the Adelaide and Sydney Guitar Festivals in his schedule. As one of the most respected guitarists in music history, Lee is sure to be in plenty of demand from fans who want to know about his technique and his collection of guitars or those who just want to see his dazzling playing.
Beginning his career in London in the early 1960's – with influences such as Cliff Gallup, Scotty Moore and James Burton – Lee went on to work with Chris Farlowe & The Thunderbirds and Jimmy Page before joining country-rock outfit Head Hands & Feet and releasing three albums as well as touring Europe.
By 1973 Lee set out to pursue a solo career that would have him working with The Everly Brothers on and off for 20 years, five years with Eric Clapton, Emmylou Harris's Hot Band (replacing James Burton) and even The Crickets. For many years he has also a member of an outfit called Hogan's Heroes with Gerry Hogan and tours with them regularly, attracting celebrities such as Clapton, Dave Edmunds, Emmylou and Rodney Crowell, to jam with them at their gigs.
Lee moved to the USA in 1974 and lives in Malibu. With more than a dozen solo albums, Lee has also been an in-demand session player over the years. Apart from his work with The Everlys – as well Emmylou on classic albums such as Luxury Liner and The Ballad of Sally Rose and Eric Clapton on Just One Night, Another Ticket and Money and Cigarettes – Lee has worked with a stunning array of musicians,
Over the decades he has played with Bo Diddley (The London Bo Diddley Sessions), Jerry Lee Lewis (The London Sessions), Herbie Mann (London Underground), John Prine (The Missing Years), Jackson Browne, Rosanne Cash, Earl Scruggs, Ricky Skaggs, Rodney Crowell, and dozens of others. (He even played on The Return Of Spinal Tap, though I am not sure he would put that at the top of his CV!)
We're looking forward to seeing you here in Australia in August.
Oh, thanks. Yeah, I'm looking forward to coming.
You're kicking off your Australian tour at the Melbourne Guitar Festival on August 4. In fact, you're playing the Adelaide and Sydney Guitar Festivals, as well. What does an appearance at a guitar festival usually involve for you?
Normally, just doing a regular set. I usually do it with the band and I'm actually bringing the band over with me. No, I just do my normal set.
Do you do any workshops or anything like that?
Well, occasionally they ask me to do them, yeah. So I do like a kind of a workshop clinic thing where I play along with my iPod and just talk about guitar and how I learned to play and so on. I'm not sure what they have in mind for me there, so we'll see.
I noticed that guitarists can be very obsessive, can't they, in their fandom?
Yeah, yeah, especially heavy metal guitar players.
If you could see and talk to any one of your heroes at a guitar festival, who would it have been, or who would it be?
I've spoken to most of my heroes, but I never did get to meet Hank Garland. I'd love to have known Hank Garland.
Tell us about Hank.
He started out as a country player. He played with Hank Williams. He moved to Nashville and he ended up becoming a great jazz player, even though he was playing on a lot of country and rock and roll records. He played on a lot of Elvis's records.
You actually met people like Cliff Gallup? He's one of your heroes?
No, no, I didn't meet [Cliff]. No, there's another one I didn't meet. No. I would have loved to have met him, of course. I did write to him when he was still alive, but I never did hear back. Apparently, he – I don't think he really knew that he had such a following. He created quite a stir with the two albums that he played, which you had mentioned. He just didn't like being on the road. He had a decent day job and that's what he continued to do for the rest of his life.
I suppose back in those days the instrumentalists were kind of in the background, weren't they, in a lot of cases?
They rarely were recognised. The only example of that I ever saw on a record … There was a record in 1956, '57 with Sanford Clark, called The Fool. On the label, it said, 'Featuring the guitar of Al Casey.' I thought that was pretty cool. It was a well-deserved mention. I think it was only later on that Ricky Nelson began – maybe because his father was a bandleader – I think he started to mention some of the players on his records. Of course, he always mentioned James Burton who is, of course, another hero of mine.
I would imagine that most albums in most days wouldn't have even credited the guitarist in many cases, would they?
That's true. Ricky's was the exception, really. He used to mention James Burton and Joe Osborn and the piano player, Richie … Oh, the drummer, Richie Frost. They always got a mention on his album covers. That was unusual, I guess.
Can I ask you, how many guitars do you actually own?
I get asked that quite a bit, but it's a long, long time since I had a count-up. Oh, I don't know … 30 or 40, maybe.
How many of those do you use in concert?
Only one. I have my own signature music MusicMan and I tend to just take one on the road with me.
Is this like a car collector who has a lot of cars in the garage but only drives one?
I have friends who are guitar collectors. They're really obsessive. I know guys, especially guys in Japan. They want every year a Strat and Telecaster. I can't see the point, really, 'cause they're all different anyway and you might get one that's made like two days later. It'll be totally different, in the same year. It doesn't quite make sense to me, but I've acquired a few down the road. I try not to double up on things that I have. I do have a couple of Gibson Everly Brothers and I've two Gibson J-200s, mainly because they belonged to famous people. I've managed to acquire them. My signature model, MusicMan, I don't know … I've probably got about eight or 10 of those.
Some people might say having 30 or 40 guitars is fairly obsessive.
Yeah, but believe me, the last guitar I bought was about seven or eight years ago. I hadn't bought one before that for about 20-odd years. I've been lucky to acquire guitars. People give me guitars. I've had some nice guitars given to me.
Who did you acquire those Gibson guitars from, the J-200s?
Don Everly. I was working with Don Everly. It's one of his black Gibsons with the white pickguards from 1958.
The last guitar that I bought was a guitar that Elvis played in a couple of movies that a friend of mine had … His father had acquired it from Paramount Studios. My friend had it for 20 years or more. I know when I first saw it, I said, 'If you ever wanna get rid of this, please let me know first.' To my surprise, he called me up one day, long after his father died. He's now living in France. I think the guitar was at his brother's house. Anyway, he called me up and said, 'I'm thinking about selling the Elvis guitar.' It's one of those guitars I couldn't pass up.
I'd imagine that would be a treasured possession, having been played by the King.
For sure, yeah. Of course, yes.
You mentioned you were bringing your band with you to Australia. Tell us about the band, because you've been with them for a while now, haven't you?
My band has changed over the years. I'm bringing my American bass player, who I've been working with for the last five years or more. My regular American drummer can't make it 'cause he works in a band with his wife, who are particularly busy in August, so I'm actually bringing the drummer from my English band over. We've been playing together for about two years and the keyboard player, because my regular American keyboard player works with Bruce Hornsby, as well. He has to put Bruce first. He pays a bit more money than I pay at the moment.
I guess you'll be playing a selection of material from your entire repertoire, will you?
Yes, mostly country rock stuff that I did with Emmylou and one or two things I've written. It's mostly kind of country rock, but I do ballads, too. I'll play the piano.
I notice that you have or you are about to play at some stage a gig at the Half Moon in Putney with Peter Asher.
That's right. I just played with Peter last week in Japan.
Tell us about that. Peter Asher has been around for longer than you've been around, I think, in terms of the music career.
Not really, no. I did my first tour in 1960. He didn't have his hits until '63 or '64. He was playing in pubs for like a pound and a pint of beer before that.
It's an interesting combination.
It is, yes. It wouldn't have been my suggestion, but it came through Peter's manager. He said, 'Hey, why don't you guys do some shows, just the two of you, with acoustic guitars and tell your life story and sing some songs from your various careers?' That's the way it works out. It's been good. It's been interesting.
Yes, he would have plenty of stories to tell about the industry, wouldn't he?
Certainly, yes. We figured out that between us, we have 100 years of stories.
Have you been recording recently, either with other people or doing any solo material?
I've done some records, but they've been mainly live records. We've recorded a number of sets with the different bands. Excuse me. There are a couple of live things out there. I haven't done a serious studio album for a while. It's certainly time to do one. I'm going to be 75 this year.
What about working with other people? Have you been recording with anyone else?
No, I haven't, no. Not recently. I don't get called to do too many sessions.
Just one more question. You mentioned the Everly Brothers, you mentioned Ricky Nelson and you mentioned the fact that you'd be playing country rock, a lot of country rock. I've read on a couple of occasions that Ricky Nelson was one of the pioneers of country rock, but he often doesn't get credited for it.
That's probably true that people don't really think about him when they're … I always think of The Flying Burrito Brothers and The Byrds as my influence in country rock, but there were so many people doing that. In the late '60s, a lot of people started to do it all at once. Country sort of looked back on the rockabilly era, which is kind of country rock, really.
Lovely to talk to you. Look forward to seeing you in Melbourne when you get here. Have a good trip over.
All right, mate, all right. Thanks. Thank you for calling.
ALBERT LEE TOUR DATES
August 4 – Melbourne Guitar Show
August 4 – Caravan Club, Melbourne
August 5- Skylark Room, Upwey
August 8 – Flemington Bowls Club
August 9 – Thornbury Theatre, Melbourne
August 10 – Meeniyan Hall
August 11 – Adelaide Guitar Festival
August 12 – The Charles Hotel, Fremantle
August 15 – Blue Mountains Theatre, Springwood
August 16 – The Basement, Canberra
August 17 – Brass Monkey, Sydney
August 18 – Sydney Guitar Festival
August 19 – Sydney Guitar Festival
August 21 – Lizottes, Newcastle
August 22 – The Art House In Wyong
August 23 – The Zoo, Brisbane
August 24 – Sound Lounge, Gympie Muster
August 26 – Gympie Muster