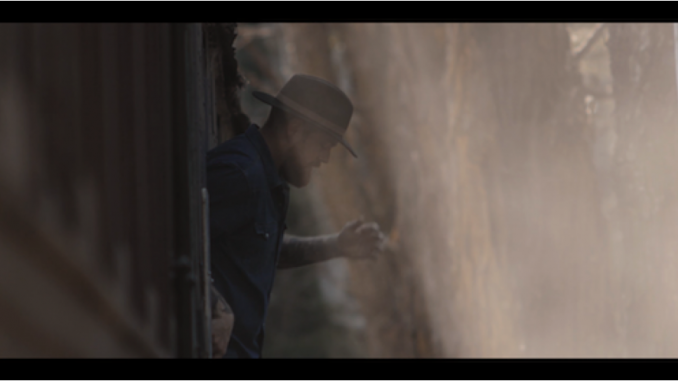 ANDREW SWIFT RELEASES BRILLIANT MUSIC VIDEO FOR LATEST SINGLE, RUNAWAY TRAIN!
The official music video for Andrew Swift's latest single, Runaway Train, is the second clip released in support of his upcoming album release, Call Out For The Cavalry, out on 2 March via indie label, Social Family Records.
Beautifully shot and directed by Josh Favaloro of The Filmery, Runaway Train examines commitment issues, delivered with wry humour and infectious instrumentation, and was filmed at Swift's local miniature railway in Narre Warren. Starring Tatiana Kotsimbos as the rather clingy lady friend from a questionable night before, the clip finds Swift trying to make his way out of the train through a sea of disgruntled and intriguing local extras with Tatiana in hot pursuit.
The album, Call Out For The Cavalry is a remarkable songbook that shifts in mood and subject matter, blurring Swift's own experiences with deft flourishes of fiction. His songs often counter his inherent wistfulness, melancholy and self-deprecation, with robust, jubilant melodies. Across the impressive track listing is a recurring theme – an observation of our need for sage advice or a shoulder to cry on.
TRACK LISTING
01 Runaway Train
02 Reckless Desires
03 Georgia
04 The Devil & His Sin
05 Jezebel
06 Fire & Ice (feat Catherine Britt)
07 Ball & Chain
08 Unforgiven Sins
09 Blood Moon High
10 King of the Sky
Call Out For The Cavalry is available for pre-order now via digital platforms, with any pre-orders receiving the first single, Reckless Desires, and second single, Runaway Train, instantly. Those who still love a good old CD can also pre-order a hard copy via Sanity, JB Hi-Fi or pre-order via the SFR Store for exclusive signed CDs, a bonus Andrew Swift sticker, and full album digital download on release day, plus the chance to win a House Concert featuring Andrew Swift and Gretta Ziller!
Pre-order Call Out For The Cavalry here:
http://smarturl.it/CallOutForTheCavalry
CALL OUT FOR THE CAVALRY ALBUM LAUNCH DATES
Friday 2nd March | The Skylark Room | Melbourne *** Full band show
with Embers
Tickets – www.theskylarkroom.com
Saturday 3rd March | City Sider | Tamworth
with Gretta Ziller
Tickets – www.andrewswift.com.au
Sunday 4th March | The Stag & Hunter Hotel | Newcastle
supporting Charlie A'Court
Tickets – www.stagandhunter.com.au
Monday 12th March | The Spotted Mallard | Melbourne
with Lyn Bowtell
Tickets – www.moshtix.com.au
FOLLOW ANDREW SWIFT