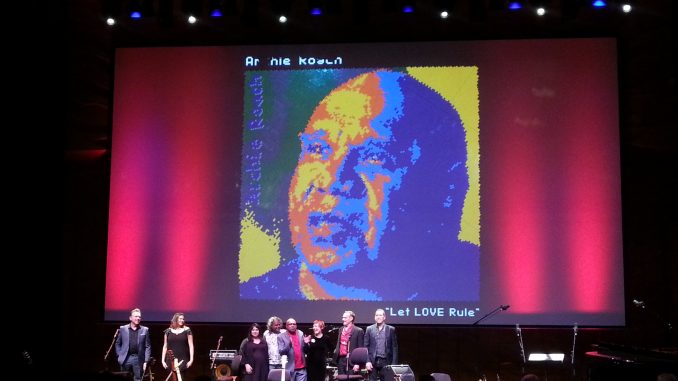 A friend recently declared she was 'over big auditorium shows'. She'd stick to low-key, intimate and informal gigs from now on. The following night, I'm in the stylish surrounds of the Melbourne Recital Centre with its immaculate acoustics, as Archie Roach presents new songs from his 10th studio album Let Love Rule. As at any venue I've heard him play, the room takes on the ambience of a lounge room, a kitchen table, a campfire… A couple of relatives engage Roach in banter briefly between songs. "We're proud of you", foster sister Mary calls out. She and a niece take Roach by surprise. Roach chuckles. 'I knew you were coming', he says. 'But I wasn't expecting that!' He presses his hand to his heart. He's both bemused and deeply moved. This is what the new record is all about. The power of love.
Local elders Carolyn Briggs and Jack Charles deliver a warm Welcome to Country, a serene balance of familiar and formal. To open the show, opera star Deborah Cheetham leads the Dhungala Children's Choir presenting original songs, accompanied by grand piano. The kids come from various corners of Country.  Members of the Short Black Opera choir join them for one song. Both groups later accompany Roach with evocative harmonies, as they did for the recording. A short video screening before Roach's set shows these singers during rehearsals reducing him to tears of pride and joy. Roach is a keen supporter of upcoming talent and young songman Corey Theatre plays an impressive support set, much of it sung in Language. His assured guitar work and folk-tinged vocals signal 'one to watch'.
Sweeping birds-eye film footage sweeps over Gunditjmara country – Roach's mother's country. A place that sang to me as a child. Spirituality is a major theme on the new record and the sprawling landscape speaks more history than a thousand scriptures. From a visit to his father's Country, the story of three grandmothers inspired country rocker 'Mighty Clarence River'. One of Roach's musical heroes, Solomon Burke inspired his vocals on the track and on  'Always Be There'. Styles move easily to include balladry and blues.
It's nearly four years since the release of award-winning Into The Bloodstream. ("An album about healing.") As part of AWME, the co-launch (along with Kutch Edwards' Blak & Blu) was an emotional presentation, with Roach returning to the spotlight after enduring a string of hardships. A lesser artist would've given up the game. But now, here he sits, rockin' a grey suit, red t-shirt and runners, ready to welcome and entertain. Behind him, a projection of the album cover depicts Ai Weiwei's portrait of the artist. It conveys the gentle humour, simple wisdom and dignity of the man.
Despite reduced lung capacity, Roach sustains powerful notes at the climax of heartfelt song-stories. And what a compelling collection the new material is.  Songs about love of Country, of kin, care for future generations and the need to hold onto the ties that bind. 'Please Don't Give Up On Me' speaks to those who've stayed true through thick and thin. Guitarist, album producer and 'old mate' Craig Pilkington (The Killjoys) was among the eminent and beautifully arranged line-up, along with Nancy Bates (guitar, vocals), Jen Anderson (strings), Bruce Haymes (keys), Lara Patterson (bass), Pete Luscombe (drums) and Russell Smith (yidaki). It was one of those nights. Another evening with an 'old mate' for fans of this Australian music icon, survivor and cultural healer.
By Chris Lambie