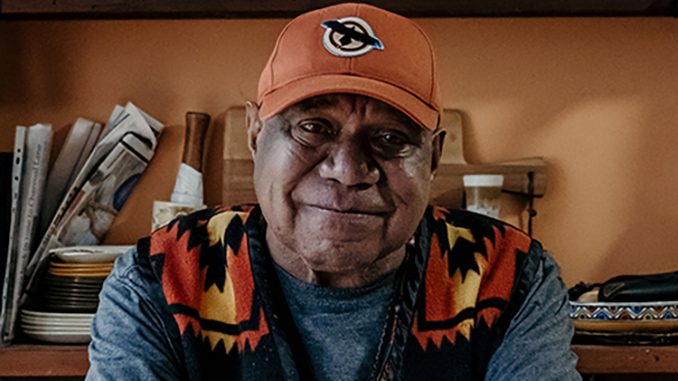 Archie Roach is curating a new stage for the Port Fairy Folk Festival and is presenting Kitchen Yarns, a YouTube series of interviews.
By Brian Wise.
He might not be able to tour at the moment but Archie Roach has remained busy since we saw him at Womadelaide earlier this year. He has just announced the inaugural Archie Roach Foundation stage for 2022 Port Fairy Folk Festival. The stage will be curated by Archie Roach and the local Gunditjmara community of southwest Victoria, and will provide the opportunity to share the ancient knowledge of the Gunditjmara people through dance, art, music, storytelling and conversations about native plants and bush medicines.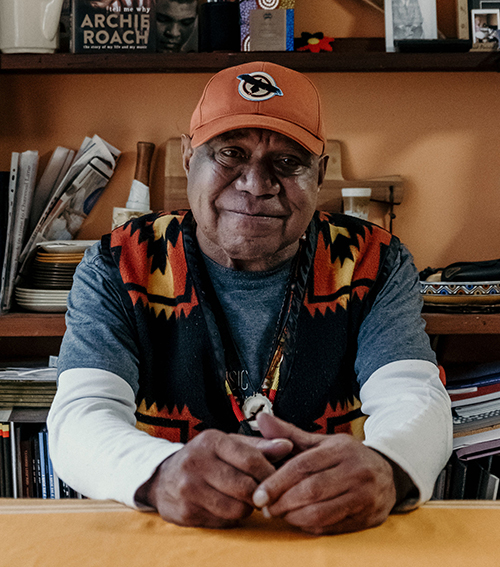 "We've been thinking about it, the stage, and how to curate a stage," explains Archie when asked about how it was initiated. "Fortunately, we were able to get that up and going, but I just need to figure out what that's going to look like, and talk to community up here and see what they can present also as part of the stage. So, it'll be interesting, I think."
"Oh, it is," he replies when I suggest that Port Fairy must be one of his favourite festivals. "I can't remember the first time I played it…….way back. It's one of those great festivals. You get to know people and you see that acts that come back. The great thing about playing festivals is that they have other acts that you've never seen before – especially Port Fairy. They support local and Australian artists as well. So, that's the good thing about it, as well as overseas artists. That's the great thing about Port Fairy."
"It will just give, I suppose, a little bit more understanding of the mob down this way," he continues, "the culture and also their music and dance and whatever we can present and things like that. So, it'll be good. We've certainly got some ideas, and I've talked to community over there, and they're eager and keen to present something."
Archie has also unveiled the Kitchen Table Yarns – a twelve-part YouTube series initiated to support emerging Aboriginal and Torres Strait Islander singer songwriters. It'll be a story of intergenerational celebration and connection through music. The first episode saw Archie invite talented Yorta Yorta woman, Allara Briggs Pattison to yarn with him (via Zoom) at his kitchen table to share stories about her songs, her community and her language. The second and third episodes featuring Rulla Kelly-Mansell and Marlon Motlop and Lydia Fairhall will be available in the next two weeks. New episodes will be released at 5pm AEST on the first Wednesday of each month thereafter, all available to stream on Archie Roach's YouTube Channel (YouTube channel www.youtube.com/archieroachmusic).
"Well, we did something last year, a YouTube series on Charcoal Lane – Songs of Charcoal Lane – and the inspiration behind that," explains Archie when asked about how the series came about. "So, we thought that this time it'd be good if we could perhaps talk to up and coming First Nations singer-songwriters, and just have a yarn with them about community and their music and songs, and inspiration behind their music. And it's at the kitchen table."
"Well, some we already know, like Allara, our first one," says Archie talking about how he chose the acts to have a yarn with. "In Adelaide, we ran into Rulla Kelly-Mansell and Marlon Motlop, who sang their song 'Black Swan' to me acoustically, which just blew me away. Others, some from Victoria, a few that we'd already heard of, and others that we haven't actually. But that's good too, you know, so we can have a yarn to them."
What's it like being a video star now, being on camera and having his own video series?
"At first, I didn't know what to think. I thought, this is a bit strange," he replies. "But it was fun, the show we did last year, it was really good, and I reckon this'll be good as well too. It's good, and having conversations with each artist, it's very exciting."
Archie will certainly be bringing attention to a lot of artists that most people would not have heard of, which must have been one of the main aims to do this series.
"That was I think the main reason that we wanted to do this," he agrees. "When I started playing music people didn't know who the heck I was, what I was about. I remember doing a show somewhere and somebody yells out from the audience, goes, 'Who are you?' I went, 'Oh, my name's Archie Roach, and I sing songs.' It was a bit of an awkward moment. Also, because they get a chance, if they wish, to ask me questions, and then hopefully I can give maybe some sound advice and some tips."
Archie Roach's YouTube channel can be found here: (YouTube channel www.youtube.com/archieroachmusic).