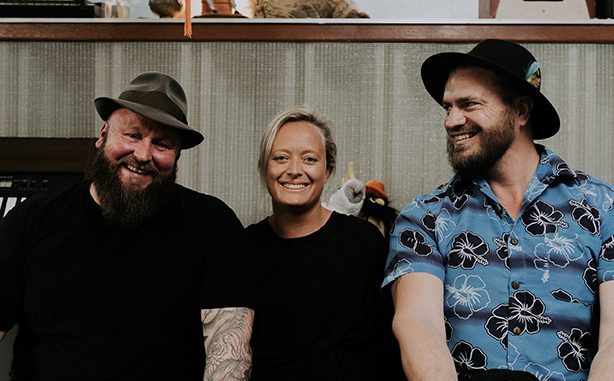 Having played at the 2019 Airlie Beach Music Festival last November and a special set at The Bearded Lady on Boxing Day, August River Band are excited to announce their official launch show for their latest single "Blue Light" at The Milk Factory on Saturday 15 February!
August River Band are a three-piece alternative originals outfit from Brisbane consisting of Eev Ferreira, Lil Burrows, and Gerard Kerr. The band have the ability to instantly draw in listeners through their unique sound which offers a wild and beautifully juxtaposed chemistry between the tortured singer songwriter, the classically trained violinist and the hard hitting rock and roll drummer.
August River Band's new single "Blue Light" is a punchy, quirky song that examines relationships in the digital age, unapologetically pushing the boundaries of the folk rock genre. Delivering tightly arranged odd time signatures which dissolve into soaring choruses whilst maintaining a soulful beckoning of the dark and the beautiful, "Blue Light" is sure to excite fans of Dave Matthews Band and The Roots.

"Blue Light" was inspired whilst Eev was being scowled at by "a very gorgeous and very stern Estonian barista", explaining that following the interaction "I considered how we all long for just a little connection. I remembered my own longing as a partner spent much of her time with her nose in her cell phone. This is a longing we all share and a connection we are all guilty of withholding from the ones we love. The song cries out to us all to look up from the Blue Light." It is the special connection between the August River Band which makes them so unique.

Live at The Milk Factory on Saturday 15 February