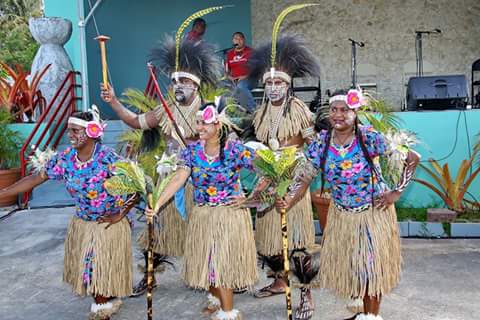 The 19th Rainforest World Music Festival (RWMF) features two acts from Australia each sharing the artistic richness of their respective cultures. Dya Singh is a master musical interpreter of the traditional Sikh hymns (Shabad) incorporating influences from around the globe. Singer/musician Singh is one of the foremost keepers of the Sikh mystical musical tradition. As a child, Singh learned the songs and singing style that originated in Punjab (North India/Pakistan) from his father, a renowned Sikh spiritual minstrel from Malaysia. After a break of 15 years, Dya Singh returned to public performance in 1992. He's since toured throughout Australia and internationally and released over 26 CDs. I asked Singh about the upcoming Sarawak festival performances where he'll be joined by daughter Jamel Kaur on backing vocals and Ravinderjit Singh on didge and djembe.


Having toured widely around the globe, is it particularly exciting for you to perform in Malaysia?
The RWMF has been on my 'bucket list' for about ten years now. I have, of course a very soft spot for Malaysia because I was born there. I remember Jun-Lin Yeoh (RWMF Artistic Director) telling me about 10 years ago…that if the opportunity came up she would get us back as a 'balek kampong' (back to the village) themed RWMF. Unfortunately she then left RWMF! But now she is back and I am certainly looking forward to it and very excited to come back 'home' so to speak.
You began singing at a very early age, later having an extended break before returning to public performance. What brought you back?
The catalyst was the attack on our (Sikh) Golden Temple complex in Amritsar, Punjab in June 1984 by Indian government troops which left an indelible mark on my psyche. I have a very strong affinity with my faith. The strongest weapon where my faith is concerned is not the sword, nor the pen, but spiritual music. I left my vocation as an accountant to pursue my spiritual music – for not only fellow Sikhs but in the mainstream, to show that we were not potential terrorists as we were being portrayed then, but peace-loving folk, seeking the betterment of all humanity.
It must be rewarding to reach a wide range of people from various backgrounds and faiths with your sacred music. What reactions have surprised you and most validated the importance of this art?
When someone comes up to me and says, 'Thank you. Your concert brought me inner peace' or someone says that it  helped them overcome some form of grief, especially losing a loved one. I once had a gentleman come up to me declaring that he was a committed atheist, and commented, 'If only more people, especially committed followers of major religions, could believe in the kind of God that you espouse, this world would be a more peaceful place.' It is a God who does not show favouritism towards the adherents of one particular religion, but judges us according to our actions as human beings, especially towards fellow human beings, notwithstanding race, religion, background, colour, gender, age or even social or economic status. In short, treating all human beings as equals without exception, without judgement. I also get a kick when youth and children say that they enjoyed our music!
In addition to the night concerts, what can afternoon workshop audiences expect at RWMF from your group?
Vocal training and music as meditation and enhancing self-confidence; rhythm as a healing aid; various forms of non-denominational meditation.
Also performing at the Sarawak Cultural Village for RWMF 2016…
Naygayiw Gigi
Has there ever been a better time to celebrate the common ground between people from different shores? Forming in 2015, dance troupe Naygayiw Gigi or 'Northern Thunder' hail from the Northern Peninsula Area of Queensland. Their mission is the maintenance and revitalisation of the culture of Bamaga and Seisia Saibailgal, reviving the strong dancing traditions, stories and songs. Children are taught dances, songs, stories, language, arts and crafts, customs and traditions, marine craft, genealogies, ecology and astronomy. The current performance showcases celebratory ceremonies, gardening and battles with neighbouring clans and islands. Naygayiw Gigi enjoyed a special opportunity for cultural exchange performing in Papua New Guinea for the celebration of the 30th anniversary of the Torres Strait Treaty. Awards include a prize-winning performance at the Laura Aboriginal Dance Festival and first place at the Dance Rites Indigenous Dance Competition in Sydney.
Will this be the first time the troupe has performed in S-E Asia?
This will be our 3rd overseas tour since the inception of the troupe and our first in SE Asia and hopefully not the last. Previously we have toured Guam and PNG in the Pacific region.
Coming from so far north of Australia, did the performers find common ground with the people of PNG perhaps even more than with other fellow Aussies?
Our ancestral homeland is Saibai Island in the Torres Strait on the Australian side of the border with Papua New Guinea and 6 km from the PNG mainland. Torres Strait Islanders are Melanesians and we share aspects of culture, language and heritage with our Papua New Guinean people. In stating that, it must be noted that we are a distinct cultural group that exist between two oldest enduring cultures and share traits from both these Aboriginal and Papua New Guinea people. As we have close ancestral ties with neighbouring tribes in PNG, the existence of the Torres Strait Treaty allows us to continue the practice of engaging in traditional activities with them which includes trading and bartering of goods.
Some materials used in our dance apparatus and regalia are obtained from the coastal villages of PNG.
Our trip to Port Moresby last year was a first time for most of us to visit the country. We were warmly welcomed as kindred and the PNG people were pleasantly surprised to learn of our commonalities and close proximity geographically.
When preparing for performances, will props and regalia items be sourced from local materials from the jungle surrounds?
We are always vigilant about quarantine regulations each time we travel abroad. Australia has the most strict laws. Some of the materials we use are sourced from PNG and have passed through quarantine for shipping. Our materials are treated and subject to inspection. We've had no issues thus far with our equipment, even in the very quarantine-conscious country of Guam. We will be using materials like bamboo in our workshop so if that doesn't pass customs and quarantine, it would be one material we will be sourcing locally.
Is there a growing emphasis on the importance of preserving language in your region? Have you seen young people return to culture attracted by your performances and practices?
We are committed to maintaining and revitalising our language and view dance as a focal point from which to start. We teach that we cannot dance without knowing the songs, and not sing without knowing the language and not understand the stories we sing about without knowing the language, customs and land. We attract young people keen to learn language and traditional dance to join us and are approached by parents to teach their young children. The young people in our troupe are leading the way for others; seeing them pursue their passion in a cultural art form and reaping rewards from it is what they want for themselves. It's encouraging to see this positive movement toward embracing our culture with pride.
What has been the reaction of the communities to the success of the group?
It has been one of immense pride for local communities in the Torres Strait region, Northern Queensland and elsewhere in the country. They use social media like Facebook and YouTube to share our images and videos.  We have inspired a resurgence in traditional dancing and seen how certain elements of our style have influenced other Torres Strait Islander dance groups.
Chris Lambie