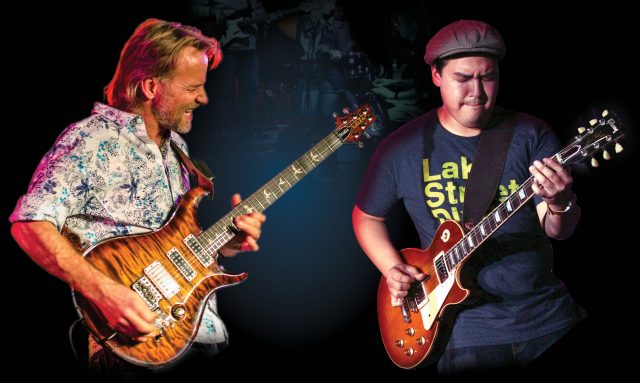 Another Mile, Another Love Tour
It's not all that often that artists have to share their awards, but that's what happened to Aussie Blues legend Geoff Achison, and young Melbourne outfit The Justin Yap Band at the 2017 Chain Awards when they were asked to share the award for 'Duo or Group of The Year'.
So in the spirit of 'if you can't beat 'em join 'em' Achison and Yap have teamed up and are headed out on the road this winter on the 'Another Mile, Another Love' tour – with the aim of giving blues lovers on the east coast a night to remember.
Geoff Achison is a heavyweight of the Australian blues world, who has recently returned from a lengthy UK-US tour. Geoff also picked up the 2017 Chain Awards for 'Album of the Year', 'Song of the Year', 'Artist of the Year', and 'Producer of the year'.
Justin Yap Band, which also features Nadia Rose on vocals, are the young guns of the Melbourne scene, their second release 'Let Love' hit number one on the Australian Blues and Roots Radio Airplay Charts and sat in their for a massive five months.
Friday, 14th July 2017
The Old Castlemaine Gaol, Castlemaine, VIC
Doors: 8:00 pm
$20 + bf
Tickets: http://bit.ly/2swninh
Saturday, 15th July 2017
Live at the Bundy, Bundalaguah, VIC
Doors: 8:00 pm
$35 + bf
Tickets: http://bit.ly/2t8XaN1
Sunday, 16th July 2017
The Flying Saucer Club, Elsternwick, VIC
Doors: 2:30 pm
Allocated Seating $27 + bf, Standing Room $18 + bf
$20 at the door
Tickets: http://bit.ly/2swog2x
Thursday, 20th July 2017
The Basement, Sydney, NSW
Doors: 7:30 pm
$20 + bf online
Tickets: http://bit.ly/2shAFFD
Friday, 21st July 2017
The Old Manly Boatshed, Manly NSW
Doors: 8:00 pm
$10
Tickets at the door
Saturday, 22nd July 2017
The Stag and Hunter Hotel, Mayfield, NSW
Doors: 7:00 pm
$15 + bf online, $20 at the door
Tickets: http://bit.ly/2szwUOI
Sunday, 23rd July 2017
The Harmonie German Club, Narrabundah, ACT
Doors: 3:00 pm
$15 for CBS members / $20 for non-members
Tickets: http://bit.ly/2sJq1KL