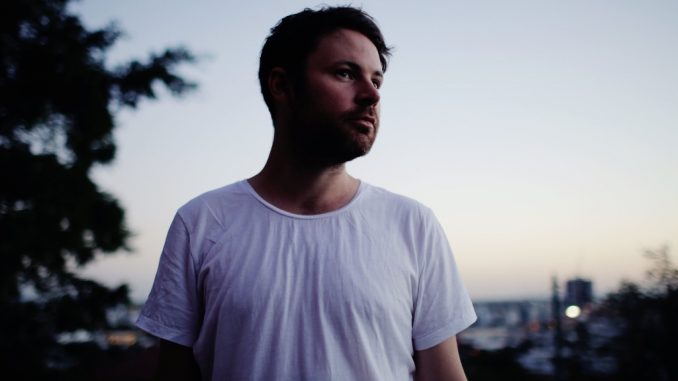 Following the announcement of a brilliant line-up for Bello Winter Music, organisers have named Bellingen–bred and nationally renowned singer songwriter Jack Carty as the first official patron of the unique little festival that takes over his hometown.
To celebrate Jack Carty will be joined onstage at the festival by close friend and composer Gus Gardiner (Papa vs Pretty) and The Satellite Strings(featuring members of The Australian Chamber Orchestra) to premier work from a forthcoming collaborative album.
"Having grown up in a small town before moving to the city and diving headlong into a world of independent artists, the two constants in my life so far have been music and community," said Jack Carty "They coexist in a perpetual cycle, each informing and fostering growth in the other. I can't think of a better expression of that than Bello Winter Music – a collaboration with, and celebration of, the community I still call home today, even after years of travelling. I am honoured to be Bello Winter Music's Patron for 2017 and look forward to the friendships, collaborations and discoveries it's bound to bring".
"For me, the Patron is someone who represents the cornerstones of the festival – community, collaboration, discovery and great music!' said Festival Director Glenn Wright "I invited Jack Carty to be the first Patron of Bello Winter Music because of his strong connection to Bellingen, his musical influence in the community but also nationally. He's a truly inspiring local musician who continues to develop as an artist in an already impressive career.'
"As Festival Patron Jack will be a constant presence at Bello Winter Music – he's performing every day, including a debut performance of his new collaboration, and he will mentor a young up-and-coming artist as part of the festival's Youth Mentorship Program," said Wright "We're thrilled he is committing himself so generously to the festival."
It certainly has been a massive couple of years for Jack Carty. His recent album Home State was independently released in Australia in August 2016 and debuted at #36 on the ARIA Albums Chart and #1 on the AIR %100 Independent Album Chart. His talent for melody, wit and a gorgeous turn of phrase won him a much-coveted, biannual APRA Professional Development Award; saw him play Spain's famous Primavera Sound Festival and tour nationally with Josh Pyke. 
Carty is currently in the middle of his 'Home State, High Ceilings' national tour taking his ever-growing swag of well-travelled songs to some of Australia's more beautiful towns focusing on performing in theatres, halls and churches. In much the same way Bello Winter Music brings the festival into the gorgeous intimate venues throughout the town of Bellingen.
Jack Carty will touchdown in his hometown for Bello Winter Music (6-9 July) following a huge UK tour throughout April. Jack Carty performs at Bello Winter Music on Thursday (Opening Night Gala), Friday (with Gus Gardiner and the Satellite Strings), Sat & Sun.
About Bello Winter Music
Bello Winter Music (6-9 July) is a small, family-friendly event that takes over the streets, cafes and halls of the NSW Mid North Coast town of Bellingen. This year's line-up of more than 90 acts includes Joe Pug, Ben Ottewell (Gomez), Bec Sandridge, Salmonella Dub and Tinpan Orange. Bello Winter Music is the love-child of Spring's Mullum Music Festival and has sold out each year so book early.
Tickets and camping information are available now at bellowintermusic.com.
BELLO WINTER MUSIC Held throughout the township of Bellingen, NSW.
THURS 6 JULY – SUNDAY 9 JULY
TICKETS NOW ON SALE!
www.bellowintermusic.com | T: 02 6684 6195
Jack Carty on Indiemood Sessions
Bello Winter Music 2017 Line Up
Salmonella Dub (NZ), Husky, Joe Pug (USA), Ben Ottewell (UK), Tinpan Orange, Bec Sandridge,
30/70, The Senegambian Jazz Band (Africa), Radical Son, Mama Kin + Spender, Courtney Marie Andrews (USA), Epizo Bangoura (West Africa), Miles and Simone, Buddy (US), Jack Carty & Gus Gardiner w/ The Satellite Strings, The Teskey Brothers, Vaudeville Smash, The Coconut Kids, Ukulele Death Squad, Archer, King Curly, Lucie Thorne & Hamish Stuart, Greg Sheehan, Gold Member, Dustyesky, Hussy Hicks, Juzzie Smith, Tullara, Jo Jo Smith, Kaya Boom, The Brothers, Yhan Leal, Sara Tindley, The Long Johns, Madeline Leman and The Desert Swells, High and Lonesome, LadySlug, The Strides, The Ninth Chapter, Hello Tut Tut, Low Down Riders, Leah Senior, Walrus and The Carpenter, Katie Crane, Ben Wilson, Then Jolene, Mat Brooker, Sultry, Guyy & The Fox, Shanteya and Jo, Eastern Brown, Luke Escombe, South Arm, Sali Bracewell, Matthew Engerer, Geoff Turnbull, The Barkers Vale Brothers, Bellingen Afrobeat Ensemble, The Shake DJs, Rear Wheel Drive, Little King, Dose Guise, JuiceBox, Titan Sky, The Stained Daisies, Soar, Sohum Women's Choir, The Daughters of The Rum Rebellion, Chaos Magnet, The Vegetable Plot, Pitts Family Circus, Roundabout Theatre, The Magic Bus, Leaf Festival, workshops and more.   BELLO WINTER MUSIC Held throughout the township of Bellingen, NSW.
THURS 6 JULY – SUNDAY 9 JULY
TICKETS NOW ON SALE! www.bellowintermusic.com | T: 02 6684 6195