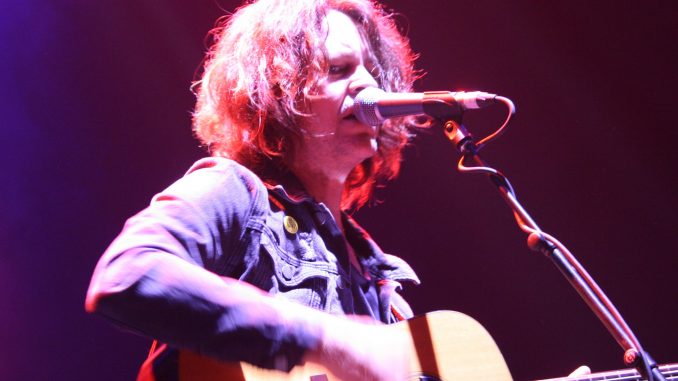 The venue may have been the iconic and stunning Newcastle Civic Theatre, but on this night it became Bernard Fanning's living room. Fanning, obviously very comfortable and enjoying himself, held the crowd in the palm of his hand as if he was singing to each one individually back in his loungeroom.
Fanning was joined for most of the night by his band the Black Fins – Sallie Campbell on violin and keyboards (who almost stole the show with amazing solos on 'Songbird' and 'Thrill Is Gone'), Andrew Morris on guitar (who let rip with his version of Steve Miller's 'Jet Airliner'), and John Bedgood on drums. Morris and Bedgood are also members of the Wilson Pickers.
Featuring songs from the new album 'Civil Dusk', earlier solo songs and a couple of Powderfinger songs, Fanning moved, as he said, 'from Terry Alderman to Mitchell Johnson pace'.
Fanning's other sporting reference to Andrew Johns didn't go down as well!
Highlights included 'Songbird', a solo 'Sail The Wildest Stretch', 'Not Finished Just Yet', and the single 'Wasting Time'.
Fanning turned the idea of an encore on its head and encouraged the audience to madly cheer while still on the stage before finishing with 'Wish You Well' and a surprising mash-up of Powderfinger's 'These Days' and Prince's 'Purple Rain'.
Fanning is obviously very comfortable as a solo performer now and appears to be enjoying himself immensely. That he was able to impart that joy and pleasure to his audience is a tribute to his talent.
By Steve Britt