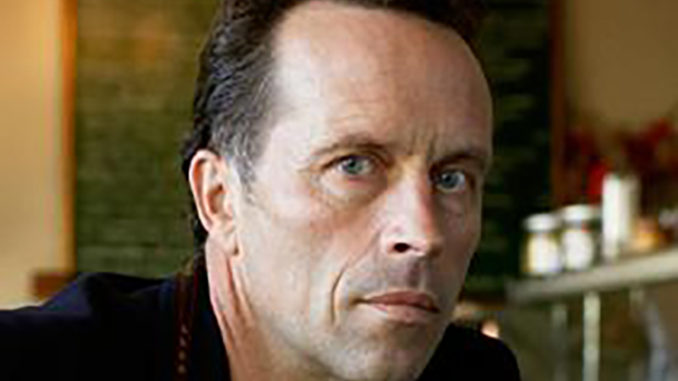 Mark Seymour changes things up for his 10th solo album. And the result is a career highpoint.
By Jeff Jenkins.
In 'Against My Will,' one of the many standout tracks on his new album, Slow Dawn, Mark Seymour sings: "I'm not worried, I'm just paranoid."
In the lead-up to making the album, Seymour believed that his manager and record company were talking behind his back. So, he called a meeting.
"Look," Mark said, eyeballing them. "You guys have got to tell me what you want. I know there's all this dialogue going on and I'm not in the room."
Reflecting on the encounter, Seymour recalls, "They kind of looked at me like, 'What's he talking about? Seymour's paranoid.' And I have to admit, I've got form."
Soon after the meeting, Michael Roberts – who has been Seymour's manager for 35 years – sent the artist an email, explaining: "It would be good if you just tried to do things differently."
Seymour accepted the challenge. He told Roberts and his label, Michael Gudinski's Bloodlines, that he wanted to make a record with Nick DiDia, the American producer who relocated to Byron Bay after working with Powderfinger.
The result? Arguably the finest album of Seymour's storied career.
"There are stories we tell our children as they drift into sleep," Mark Seymour observes in the liner notes of Slow Dawn, his 10th solo studio album, and the fourth to be credited to Mark Seymour & The Undertow. "Stories we invent to explain the impossible, and others we carry with us all our lives. Stories of fear, love and light."
Mark Seymour is a storyteller. And there's a searing honesty to his work. He once told me: "Songwriters will tell you, 'I'm just telling stories, it's not me …' But I just think that's bogus, it's just a way of hiding. You can fictionalise these experiences, I get that, but you have to have had a reason to go there in the first place."
Slow Dawn takes the listener on an unforgettable trip that starts in Pascoe Vale and ventures to the 'Kliptown Mud' of South Africa, to Utah and Nevada in America, Williamstown in Melbourne, and Kelly Country in Victoria. These are epic tales of everyday heroism. "Time to count your blessings and sing this ragged song," Seymour sings in 'The Demon Rum'.
Slow Dawn is a landmark album in more ways than one. For a start, Seymour has now released more albums solo than with Hunters & Collectors. But it's the quality of the work that really sets it apart and marks Seymour as a great artist. More than 40 years after he formed his first band (The Schnorts, named after a Belgian tennis racquet), he is still striving to make great albums. And with Slow Dawn, he has crafted a classic.
"I just don't stop writing songs," he says. "It's my lifeblood. I don't not write – it's what I do all the time. And I've learned over a long period of time that the more you do that, the better the outcome."
Seymour also knows there's power in the union, highlighting the contribution of The Undertow – Cameron McKenzie (Horsehead) on guitars, John Favaro (Boom Crash Opera, ex-Badloves) on bass, and Peter Maslen (Boom Crash Opera) on drums. "They're a seriously great band," he says proudly.
Seymour knows a thing or two about great bands. A few years ago, he told me: "Music, I think, is about the quality of relationships. There has to be some sort of fusion of ideas and beliefs. Relationships are really important to me, they are critical to my creative energy. And I put everything into my relationships with other musicians."
He expands on that belief when explaining the power of The Undertow: "The thing about them is they're all really secure – their egos are secure, so you don't have to negotiate territory with them, they're just interested in the songs.
"It's not easy [assembling a great band] – it's like putting a bunch of people together to sail in the Whitbread yacht race. Everyone's on a boat and they've all got to get around the world as quickly as possible, with no one getting in anyone else's way. It's very rare to find a group of people who can do that. People talk about chemistry. I don't know if it's chemistry, really; it's just serving the song."
Seymour laughs. "You could write a thesis about this, particularly with men. They play to the space, which is a lot to do with ego. You have to have ego, but you have to park it at the right time, so you can listen to what the song's offering and just play to the song."
Seymour also highlights a newcomer, Dorian West, who provides some keys, trumpet and guitars to the album. "Lots of black swans on this record," Seymour remarks in an email after our initial chat. "The unforeseen effect of combining Nick DiDia and Dorian West. I could talk about it forever!"
Aside from collaborations with The Undertow, the album features two co-writes – 'Night Driving', which Seymour wrote with his good friend James Reyne, and 'Joanna', which was a collaboration with Charles Jenkins.
To launch the album, Seymour is doing a joint tour with Reyne, who is also releasing a new album, Toon Town Lullaby.
Seymour planned to call his album "Creatures Of The Deep" – a line in 'Against My Will'. But then he settled on Slow Dawn. The title track was inspired by Seymour's memories of primary school in Beaufort in Central Victoria in the mid-'60s when two Aboriginal girls arrived. Seymour – and the rest of the students – had never seen an Indigenous Australian before.
"It was a real indicator of how utterly buried in the Australian consciousness Indigenous Australia was. It was just not there. But things have shifted so much in the past few decades, and that song is about the awakening."
Slow Dawn also features another quote:
"To see yourself in the suffering of others is to see the life you've had for what it really is, not how you wished it might be."
I went searching for the origins of the quote, only to discover that it's a Seymour original.
"When I did Westgate [his 2007 album], it had a lot to do with my politics, the inequity that exists within society and just how exploited people are," he explains. "I just opened my mind up to that again. I grew up in a very politically aware household, but I kind of abandoned that when I became a rock musician – I just got caught up with the whole idea of entertaining people.
"But then I really started to look at history. There is a system that exists, that we live with, and I try to be open and honest about it, about how it makes me feel.
"I also have questions about my own worth, who I am. I've managed to stay active creatively for a long time now, and I need to ask those questions."
Seymour takes nothing for granted. On the album, he sings, "I swear it's been a miracle to believe I'd last this long." Remarkably, he seems to be getting better with age – he's a better singer and a better songwriter.
Another big statement:
In a world where hot cross buns appear in supermarkets on Boxing Day and we seem to be living on fast-forward, I made the call on January 2: Slow Dawn is the album of the year.
Rock critic hyperbole? Perhaps. But I doubt that a better album will be released this year.
It's an Aussie classic.
Slow Dawn is available through Bloodlines.
This story originally appeared in the March/April 2020 issue of Rhythms.