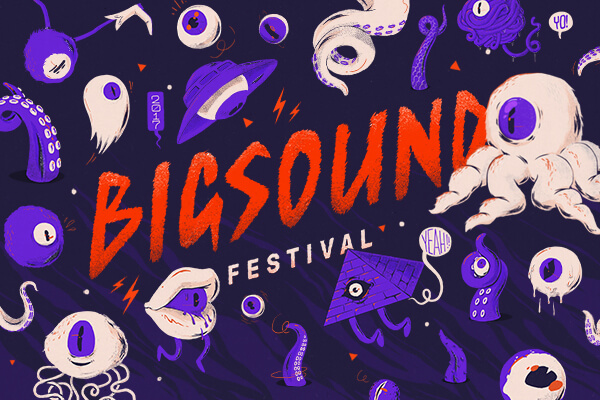 Everyone knows that BIGSOUND is the place to be for musicians wanting to be seen by the music industry – but did you know that we'd like to create that same opportunity for visual artists? 
Visual artists are an important part of the Australian music industry and we'd like to see BIGSOUND become a place where those artists also benefit from having so many of the world's music industry in one place.
If you're a talented and motivated visual artist with the ambition to work with musicians or music festivals from around the world, we'd love to hear from you!
Two options exist for visual artists to participate in BIGSOUND 2017:
This is an open call for Australian artists of all disciplines who wish to exhibit existing works to a music industry and public festival audience during BIGSOUND 2017. Works may be exhibited in the public realm or within live music venues in Fortitude Valley.
Join The BIGSOUND Festival Design Team!
Splendour in the Grass Senior Creative Manager Janne Scott will join BIGSOUND this year as the event's production design mentor. Janne will assemble a team of up to 10 artists to work alongside her on the design of bespoke artwork for BIGSOUND Festival.
To be eligible, you need to: • Be a resident of South-East Queensland
Be available to attend workshops on July 4, 5 and 29.
Be flexible in your availability to work on the production and delivery of the final works between July 31 and 5 September
Have a compelling portfolio of existing work
Convince us you've got a great idea!