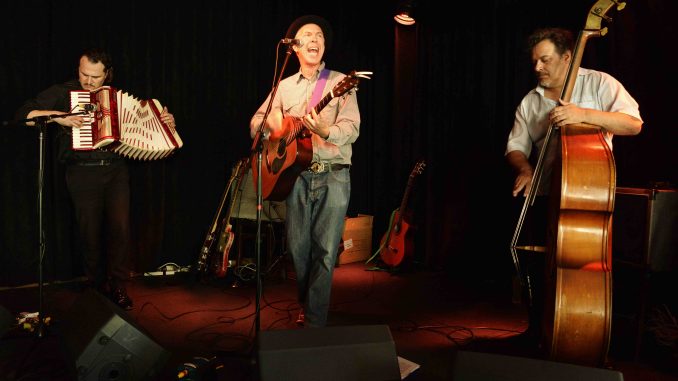 Their first album of new material in over a decade, Close Your Eyes And See finds The Blackeyed Susans near the height of their powers, delivering one of their strongest collections of songs to date, masterfully arranged and performed by a band with over 25 years experience together.
Led by chief songwriter Phil Kakulas and producer Dan Luscombe, Close Your Eyes and See combines the honeyed vocals of singerRob Snarski with long, reverby trails of pedal steel, tremolo guitar, violin and keyboards. The result is a meticulously crafted album of dreamlike torch songs, bruised ballads and atmospheric rockers that sounds both classic and contemporary.
Lush, beautiful and mysterious, Close Your Eyes and See is a response to the wonderful and woeful world we live in – an appeal to keep your dreams alive, even when it feels as if you're living in a nightmare. If the outside world poses difficult questions, the answers may just lie within.  But don't take our word for it. Close your eyes and see.
Formed in Perth in 1989, The Blackeyed Susans have built a reputation for their moody romanticism and op-shop stylings. Declared national treasures by Rolling Stone magazine, they have toured the world, played with the likes of Johnny Cash and Leonard Cohen and released numerous albums of occasional beauty. The Blackeyed Susans were born when members of The Triffids, Chad's Tree and Martha's Vineyard formed a holiday band to play a handful of shows one particularly hot Western Australian summer. The group endured, long after that summer was gone, relocating to Sydney and then Melbourne, galvanising along the way around the voice of singer Rob Snarski and the songs of bassist Phil Kakulas, along with a swirling array of famous friends. Boasting members of The Cruel Sea, Dirty Three, The Jackson Code, Augie March, The Drones and Hungry Ghosts, the group's credits read like a who's who of Australian alternative music. Along with Snarski and Kakulas, the current group features long time members Mark Dawson (drums), Kiernan Box (keyboards), J.P. Shilo (guitar/accordion) and Graham Lee (pedal steel).
TOUR DATES
Sat 1 April | Republic Bar, Hobart, TAS Tickets
Sat 8 April | Corner Hotel, Richmond, Melbourne VIC Tickets
Fri 19 May | Lizotte's Restaurant, Newcastle, NSW Tickets     
Sat 20 May | Leadbelly, Newtown Sydney, NSW Tickets
Sun 21 May (matinee) | Leadbelly, Newtown Sydney, NSW Tickets
Fri 26 May | Mojos, Fremantle WA Tickets
Sat 27 May | Badlands, Perth WA Tickets
Fri 9 June | Bearded Lady, Brisbane QLD Tickets
Sat 10 June | Bearded Lady, Brisbane QLD Tickets
Sat 29 July | The Wheatsheaf Hotel, Adelaide SA Tickets
Sun 30 July (matinee) | The Wheatsheaf Hotel, Adelaide SA Tickets