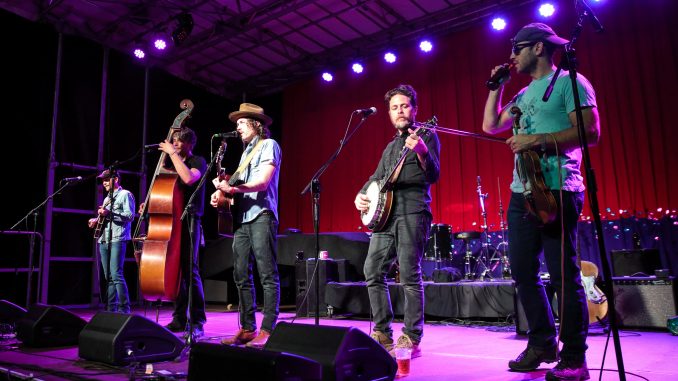 From start to finish the 23rd annual Blue Mountains Music Festival was a success. Showcasing musicians from all over the world, as well as a multitude of home grown performers, playing a range of genres from bluegrass to Reggae to Neo-traditional Scottish music there was a chance for everyone to discover new sounds, and exciting new artists.
All weekend long the weather gods shone down upon us to give us a delightful few days full of sunshine, and warmth. Atop of the sunshine there was great music to be found in every tent, and one of the many highlights was British slide-guitar aficionado Jack Broadbent.
The folk bluesman channelled his inner Lowell George for Saturday afternoon's performance on the Guinness stage, performing an array of covers and originals including Little Feats' Willin', and an intoxicating rendition of Jimi Hendrix's The Wind Cries Mary. With his trusty flask in hand Broadbent was sliding and howling his way to the heavens on the fast pace, stompin' Blues tracks, he then stripped it down for mesmerising performances of This Town, and Van Morrison's Moon Dance.
One of the most talked about acts of this year's festival was Malcura, performing all three days, they took The Shed by storm on Saturday evening. The young Melbourne based acoustic trio blew some brains with their high energy 'rock meets flamenco', with impeccably tight drumming, and prodigious guitar playing, they managed to get every person in the room either grooving in their seat or dancing front and centre and joining in on the huge conga line that erupted. Malcura are truly tapping into something unique, and their sound is one that left an impression on all who were lucky enough to catch one of their sets this weekend.
As always Aussie blues veterans The Backsliders were bright eyed and bushy tailed, putting on a fiery show, with harmonica player Joe Glover stealing the limelight with his Matt Taylor-esque blowin'. However, it was Lamine Sonko & The African Intelligence, the following act on the Lurline Pavilion stage, who captured the crowds' attention, and had hordes of people swarming in to the tent to dance to their Afro grooves. With members from across the globe, including Senegalese front-man and dancer, Sonko, they ran through a percussive range of genres including Reggae, Jazz, funk and Soul. The Santana style guitar playing, and the magnificent horn section were quick to get people off their feet, and had many reeling on into the night.
To follow up Lamine Sonko & The African Intelligence's lively set, San Francisco based Rock & Roll Bluegrass band The Brothers Comatose performed an energetic, crowd inclusive, harmony heavy set in The Big Top tent to not only finish off a tremendous day of music, but close out their time at the festival. The group powered through originals and a few covers including The Stones' Dead Flowers, The Zutons' Valerie, and CCR's Bad Moon Rising which they performed with members from the crowd (including myself) as well as Jack Broadbent. People were vigorously grooving from two songs in, and the violin and banjo battles were enough to keep the crowds up front and dancing until the end of the encore.
Despite all of the standout male artists, this year's line-up was in fact packed full of over 60% female performers, many of whom left a lasting imprint. Sunday's standout performance came from HatFitz and Cara, a couple duo who absolutely tore the roof of the Guinness Stage.
Cara's soulful, gutsy vocals were easily the best of this year's festival. With hints of Susan Tedeschi, and a seemingly small gospel choir living inside her, the hilarious, Blues singing, drum beating woman put on a performance good enough to make a grown man cry. Her partner Hat Fitz had some Howlin' Wolf style growls and hollers himself, along with playing blues guitar throughout the set he also sang an endearing love song to his former beer fridge, Kelly. A snazzy, spirited, and wildly entertaining pair who easily outshone both Missy Higgins, and Kate Miller-Heidke on the last day of the festival.
Headliners Higgins and Miller-Heidke had people spilling out of the Big Top tent on Sunday afternoon, both running through an array of their greatest hits, new tracks, and a few covers, most notably Miller-Heidke's angelic piano ballad rendition of Whitney Houston's I Wanna Dance With Somebody. Although fans enjoyed their sets, both Higgins and Miller-Heidke lacked presence, and weren't awfully engaging when compared to the smaller acts of the day.
Someone who did capture the heart and soul of Katoomba's people was Harry Manx who performed all three days of the festival, accompanied by strings on Saturday night his cover of Van Morrison's Crazy Love was easily the most spellbinding song of the evening, and his solo performance on the much smaller Guinness Stage on Sunday afternoon was filled with just as much spiritedness, playing well known originals such as Don't Forget To Miss Me, as well as his award winning cover of The Boss' I'm On Fire.
Two more of the festivals best included solo songster Adam Page, and five piece Cornish Bluegrass group, Flats & Sharps. The Flats & Sharps set was chock full of banjo, beautiful harmonies, and witty banter. On the other hand, looping lover Page improvised all of his sets, and on Saturday night after a few tracks, and some sensual saxophone playing he mentioned to the criminally small crowd that all of what he was playing had never been played before. He used an audience members name to make a hilarious song, encouraged loads of crowd interaction, and by the end of his performance had proven himself to be an incredibly talented multi-instrumentalist and a one man force to reckon with.
Aside from the music there was tasty food around every bend, and the wonderful Rolling Records was parked on site to feed peoples' vinyl addiction. As always the family friendly Blue Mountains Music Festival delivered in spades, and was everything a folk, blues, and roots lover could hope for and more. Is it time for the next festival yet?
CHLOE KAY RICHARDSON